This 10 day Costa Rica itinerary gives you everything you need to explore this wonderful country with limited time!
Costa Rica is at the top of many travellers' bucket lists. And with good reason. The country boasts breathtaking scenery, wildlife spotting opportunities to rival Africa and plenty of thrill-seeking activities too. There's plenty to keep a visitor occupied, but if you're limited to just 10 days in Costa Rica, this itinerary is the best way to see most of the country in a short space of time.
Day 1: San Jose
Most international flights arrive into Juan Santamaria airport in San Jose, and while many tourists will leave the capital as soon as they arrive, I urge you to spend just a little time to get to know the city.
Arrive in San Jose
After touching down in San Jose, head to the centre and get ready to explore. Spend the day on a tour of the city, taking in your pick of the sights on the way. There's something for everyone, from culture vultures to shopping addicts and art lovers. Despite being the country's largest city, it's fairly compact so you could see most of it by foot if you know where you want to go.
If shopping is on your agenda, San Jose has many shopping streets for you to explore in the heart of the downtown area. Even if you don't want to shop, the Central Market is worth a visit to people watch and find out more about Costa Rican culture. As well as the normal souvenir shops, you'll also find greengrocers, traditional clothes shops and little old ladies selling all manner of haberdashery tools and accessories.
While the city is the hub of commercialism in Costa Rica, there's still plenty of green areas and parks to satisfy the nature lovers. The Morazan Park especially is a haven for people wanting a bit of quiet in an otherwise crowded city. There's a bandstand and an art installation – the golden wings of Mexico, but you might also spot an old gent pushing a little trolley and ringing his bell. No, he's not the village crazy, he's actually an ice cream man!
There's plenty for the architecture lovers in San Jose too. Though it's a shame that many of the beautiful old buildings, for example the former national library, was knocked down and turned into a car park before we had a chance to visit. Thankfully, the National Theatre still stands with its opulent domes, fancy chandeliers and a beautiful sweeping staircase that visitors stand in awe of whenever they go inside.
If museums are your 'thing', head to the National Museum of Costa Rica – set in the Bellavista Fortress, which played a huge part in the civil war in 1948. You can still see the bullet holes outside on the tower walls! Inside, visitors can learn about the fascinating history of Costa Rica – did you know it has since abolished its military? If you prefer art to history, check out the Jade Museum. The building itself is made to look like a piece of jade and is home to the largest collection of pre-Columbian jade artefacts in the world. It's definitely the place to find out more about the precious gemstones that Costa Ricans love despite not having any naturally occurring jade anywhere in the country.
Where to stay in San Jose
The best area to stay in San Jose is right in the centre. You're then in the perfect place to explore the city on foot. For that reason, try the Hotel Presidente, which is less than a 5 minute walk from all the main sights. It also has a rooftop bar overlooking the city, a free breakfast buffet and stylishly designed rooms. What's more, the hotel has a fantastic sustainability and social responsibility programme, so you can do good while you stay somewhere good too. All this from just £55 a night. What's not to love?!
If you want to stay in a quieter area but still within walking distance of the city, try Hotel Aranjuez. For around £30 a night, you'll get a really authentic Costa Rican lodging experience with rooms split across five wooden houses. It's another eco-friendly hotel, set in tropical gardens that you're free to explore at your leisure. Who knows what exotic delights you might discover here?
Where to eat in San Jose
While Costa Rican food isn't widely known outside of the country, it's simple, wholesome and definitely worth a try. Our favourite place to eat in the city was La Tortillería de San José Centro. Here you can take your pick of dishes, all containing various combinations of rice, beans, plantain, salads, vegetables, cheese and corn tortillas. Most dishes contain meat as well, but you can ask for the meat to be left off if you prefer. When you arrive at the canteen, you need to choose and order your meal at the desk at the front, and then take your table number to your table while you wait for your food. You then pay at the till in the centre of the canteen when you're ready to leave.
For your fix of Asian food in Costa Rica, try Tin Jo. The menu is full to the brim of different styles of Asian cuisine, from Chinese to Indian. They even have a dedicated vegetarian menu page with one of the biggest selections of vegetarian food in the city. The restaurant is designed with an inside-out feel, with trees, plants and fountains decorating the main dining room to make you feel like you're eating al fresco.
For more of a treat, head to Tournant, which serves up a wide variety of food from pasta and sandwiches to curries and rice dishes. The food is delicious, and set in an old art gallery. You can see the art on the walls of the restaurant, as well as downstairs in its cellar. The dining room is bright and airy, but you can also eat outside on the terrace. The restaurant often has live music on the weekends, so do check with the restaurant beforehand if you're planning a quiet night!  
Day 2: Tortuguero
Your first stop on your 10 day tour of Costa Rica is Tortuguero. It's primarily a place to spot wildlife, with its National Park home to some fascinating species of plants and animals in a tropical rainforest setting. The little town of Tortuguero is a backpacker's paradise with bars, cafes and lodges all with an eco heart.
Travel to Tortuguero
Tortuguero is located in the north-east of Costa Rica, approximately 120km from San Jose. Most lodges in Tortuguero offer transport for the 3 hour transfer between the two destinations, in which case you can sit back and relax as you take in the beautiful scenery on your transfer. It's a spectacular drive that will take you high up into the mountains, eventually arriving on the Atlantic Coast as you near the Tortuguero National Park. Transfers often allow time for a lunch or rest stop, so you'll have a chance to stretch your legs on the way.
Once you're in the area, the town itself can only be reached by boat, so you'll hop aboard a canal boat as your boat captain whisks you along the riverbanks. This is where the wildlife opportunities start! You're almost guaranteed to spot birds and lizards, but you may also be lucky enough to see the animals that give the National Park its name – turtles!
When you arrive in Tortuguero, you'll be able to explore the area around your lodge or take in some of the activities on offer. At Turtle Beach Lodge, where we stayed, there's a night boat tour that gives you a chance to spot the wildlife that only comes out at night, or simply relax around the pool.
Make sure you're fully prepared for the jungle by reading my jungle clothes packing list next!
Day 3: Tortuguero
To make the most of your time in Tortuguero, this 10 day Costa Rica itinerary includes a full day in the National Park.
If your lodge offers early morning boat trips, definitely do it! You stand a good chance of spotting wildlife along the river banks and among the mangroves before they hide away out of the sunlight, all before breakfast. Keep your eyes peeled for beautiful birds, including toucans, herons and hummingbirds, and watch out for the lizards and snakes that camouflage themselves in the branches and leaves along the banks. If you're really lucky, you could see sloths, monkeys or even leopards!
After breakfast, your lodge may offer nature walks into the rainforest. This is a fantastic opportunity to get up close to the wildlife as you creep through the pathways. Our guide gave us rubber boots to protect our feet from stinging insects and poisonous snakes, as we headed into the rainforest in search of whatever we could find.
If you're passionate about conservation, the highlight of your time in Tortuguero may be a visit to the Sea Turtle Conservancy. You'll watch an introductory video that explains the work of the volunteers and how the conservancy was set up by Archie Carr. The small museum gives you extra information, but the best part is the opportunity to talk to the volunteers to find out more about their work.
Finally, explore Tortuguero Village to find souvenirs, or simply to relax with some coconut water fresh from the shell.
Where to stay in Tortuguero
Despite being so small and remote, there's plenty of choice when looking for somewhere to stay in Tortuguero.
Turtle Beach Lodge is a remote resort, 8km north of Tortuguero Village. It's set in 175 acres of land, which gives you private beach access, jungle trails and a private canal that plenty of wildlife now call home. Just like on safari, the price of your stay includes the room, full board, three wildlife tours with expert guides and a transfer from San Jose. Only drinks and any additional activities, such as kayaking or canoeing is extra. The bedrooms are simple but sadly don't have air conditioning. There are ceiling fans to keep you cool, but from experience these do very little to help with the fiery humidity of Tortuguero!
If you want to be close to the 'action' in Tortuguero, it's best to stay in the village itself rather than in a remote lodge. La Casona de Tortuguero is great for people wanting to visit on a budget, thanks to the choice of private or dormitory style rooms. All rooms have views of the hotel's beautiful garden where you can relax in a hammock whilst listening out for bird calls. Though tours aren't included in the stay, La Casona works with a local tour operator to give you a wide variety of activities in the area. They have a strong recycling programme, which is great for ethical travellers.
View the full selection of accommodation available in Tortuguero at booking.com
Where to eat in Tortuguero
If you're staying in a remote lodge like Turtle Beach Lodge, all food and snacks will be included in your stay. For people staying in Tortuguero Village itself, try Mi Nino. It's on the main street in Tortuguero, and offers a good variety of food for decent prices. The cocktails are also delicious!
With arguably the best view in Tortuguero, Budda Cafe is set right next to the river, giving you a beautiful view of the sunset or a great chance of spotting wildlife as you sip your drink. The food is European inspired, with pasta and salads, and a good choice of vegetarian dishes too.
Day 4: La Fortuna
Your next destination is La Fortuna – the adventure capital of Costa Rica. It's where the adrenaline junkies come to explore all that the countryside has to offer, but even if you're not a thrill-seeker, there'll be plenty for you to do here too.
Travel to La Fortuna
Your first task is to reach La Fortuna from Tortuguero, which you can either do by public transport, shuttle buses or by renting a car. If you stay at a remote lodge like Turtle Beach Lodge in Tortuguero, your onward transfer may also be included. Read more about how to get around in Costa Rica here.
As with the journey to Tortuguero, the scenery on the way to La Fortuna is spectacular so do keep your eyes peeled for waterfalls, rolling valleys and mountains too. The journey can take around 4 hours depending on the traffic, uneven road conditions and water levels in the rivers. We visited during one of the driest seasons they've ever had, so the river was too low to navigate. While this gave us more time to spot wildlife, it also added an extra hour or so onto our journey so it's best to plan ahead.
Due to the uncertain journey times, most of your day will be spent travelling to La Fortuna. You might have some time to explore the town when you arrive. It's a very safe area so you can spend some time walking up and down the main street, with plenty of restaurants, bars and souvenir shops.
Day 5: La Fortuna
Today, your task is to see as much of La Fortuna as possible with a full day here with wildlife, activities or opportunities to relax.
If you're a wildlife lover, head to Ecocentro Danaus when it opens at 7:30am to stand the best chance of spotting the local bird population, beautiful butterflies and the resident two- and three-toed sloths. Though it's called an eco-centre, it has no fences, meaning the wildlife is free to come and go as they please. This can make things difficult to spot, but if you treat yourself to a tour, you'll get an expert guide to show you things you could never dream of finding yourself.
For the thrill-seekers among you, find a tour operator to take you out on one of the many adrenaline-fuelled activities in the afternoon. GetYourGuide has a huge variety of tours on offer, including white water rafting, zip-lining, mountain biking, waterfall jumping and kayaking across Lake Arenal.
Check out the full range of activities available in La Fortuna
You could also relax in one of the hot springs with waters heated by the famous Arenal Volcano that overlooks La Fortuna. If you fancy getting up close and personal with the volcano (don't worry – it's currently dormant), you could do the famous hike around its base called the 1968 Lava Trail. Sadly it was too wet and misty for it to be worth us doing while we were there, but we'll definitely be going back to try again.
Spend the evening in La Fortuna, relaxing with dinner after your busy day.
Where to stay in La Fortuna
La Fortuna has plenty of places to stay, and there's something to suit all tastes and budgets. Hotel Monte Real is walking distance from the town and even has its own frog garden and piece of jungle that's ripe for exploring. The staff are all too happy to point out wildlife when they find them in the grounds! The rooms are comfortable, there's a swimming pool to help you cool off after a busy day, and a delicious breakfast is served in the cafe next door.
You'd be forgiven for thinking Casa Torre Eco-Lodge would be expensive, what with its spectacular views of the Arenal Volcano, but you'd be wrong! You can get a room for as little as £17 a night with a shared bathroom, or one of the private bungalows with balcony and en-suite for just £31. The trade-off is that it's a little out of town, so you probably won't be able to walk into town, but if you're after a little slice of paradise in La Fortuna, this is it.
Choose your accommodation for La Fortuna with free cancellation at booking.com
Where to eat in La Fortuna
Nanku is an excellent option for lunch or dinner in La Fortuna. The menu is mostly made up of international cuisine, from burgers and sandwiches to fajitas and seafood. They've styled it like a tiki hut, with a thatched roof and staff wearing brightly coloured shirts. It's a friendly place to go with a great atmosphere, especially when the sun goes down.
For something a little fancier, head up to the top of the town and into Rancho Perla. It is a little more expensive than other places in La Fortuna, but the food is good and plentiful. Due to its large car park, you can often find it's full of coach tours so time your visit to avoid these.
Day 6: Monteverde
If you've ever seen photos of people on suspension bridges and appearing to walk through clouds, it was probably in Monteverde. At nearly 1,500m above sea level, the elevation brings cooler temperatures and wetter weather than other parts of the country. It's no surprise that Monteverde literally translates as green mountain! But that's what makes it such a haven for wildlife and a must visit on your 10 day trip to Costa Rica.
Travel to Monteverde
From La Fortuna, your journey will likely involve a boat trip on Lake Arenal. If you're lucky and have clear skies on the day of your transfer, you'll get a great view of the Arenal Volcano and its perfectly conical shape. After crossing the lake, you'll need to start heading up. Thanks to Monteverde's position at the top of a mountain, it can take a while to navigate the windy roads up to the town. But remember no matter how long the journey, you'll be treated to spectacular views on the way and it will be worth it when you're there!
You should reach the town of Santa Elena (the area's main town) in time for lunch, so you'll have time to explore in the afternoon. The numerous cafes, souvenir shops and bars will keep you entertained.
After the sun goes down, head to a night-time nature walk in one of the nature reserves. As you'll have learnt in Tortuguero, many animals only come out at night on the hunt for food, giving you a great opportunity to see them. Of course, you're at the mercy of the animals themselves so you might see nothing, but you might also see armadillos, snakes, tarantulas, fascinating insects and bats too. Take your pick of tours from Get Your Guide.
Day 7: Monteverde
Start the day with an early hike in Santa Elena Cloud Forest. Get a guide to show you around, and he'll help you identify curious insects, beautiful bird species including the resplendent quetzal if you're lucky (we weren't ?).
A short walk away from the Santa Elena cloud forest reserve is Selvatura Park. It's an adventure park with zip-lining opportunities, a hummingbird garden and hanging bridges. The hanging bridges here are some of the best in the country. There's a series of 8, ranging from 50m to 170m in length, and up to 60m in height. Though the views might be shrouded with mist, the feeling of walking through clouds is something everyone should try when they visit Costa Rica!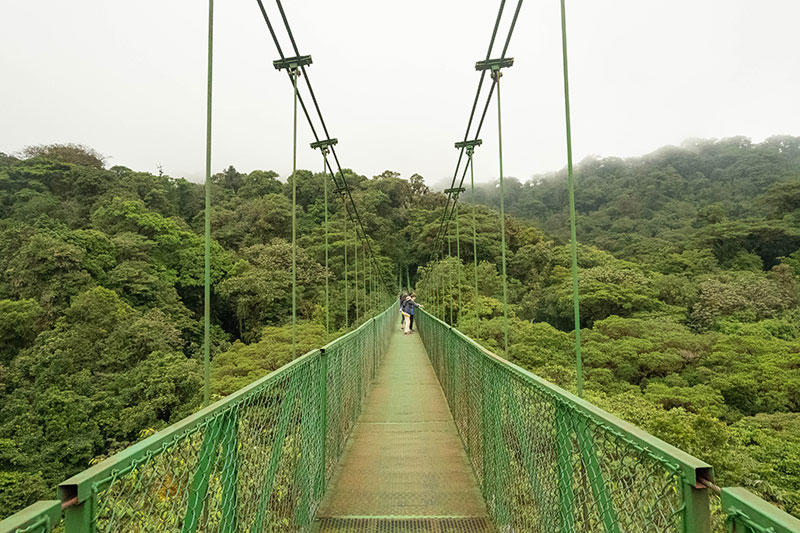 In Selvatura Park's hummingbird garden, you can watch the various species of hummingbird whizz past your ears on the way to drink sweet nectar from the bird feeders. It's an incredible thing to witness!
After lunch at one of Santa Elena's welcoming cafes, spend some time at the Monteverde Institute to learn about their incredible reforestation project. Why not help out by volunteering to fill bags with soil or clear the nursery floors? More on this, coming soon!
Where to stay in Monteverde
Most accommodation is situated in the town of Santa Elena – the main hub of the area with shops, cafes and most other amenities you might need.
Hotel Ficus might be one of the more expensive places to stay in Monteverde, but if you want to be walking distance from the town of Santa Elena, while staying in a spotlessly clean room with air-conditioning and beautiful views out over the mountains, this is the place to be.
Alternatively, Rainbow Valley Lodge is a more budget option. Rooms are well-appointed – some even have a small kitchenette to make up for the fact you're further out of town than other hotels. But the real beauty of this hotel is its views out over the mountains of Monteverde, which you'll be able to see from your bed or from your patio/terrace. It's simply stunning.
Where to eat in Monteverde/Santa Elena
There are so many great places to eat in Monteverde and Santa Elena, so you could easily spend your entire time eating! But please don't… there's much more to do than that!
Taco Taco in particular is a real treat, specialising in delicious Mexican food and drinks. Having been unable to meet demand from their small taco truck, the owners opened a permanent restaurant at the bottom of the hill in Santa Elena that is usually filled with hungry visitors. Try the battered avocado tacos – they're filling, but ohsogood!
Another treat for tourists is the Orchid Cafe. This is the closest you'll get to a hipster cafe in Santa Elena, thanks to the matcha and chai lattes on offer, and the incredible selection of healthy salads, hearty paninis and indulgent cheesecake. Out the back, there's an orchid garden that attracts birds and insects, but the food was enough of a draw for me!
A little further out of the town is Tramonti– an authentic pizzeria and Italian restaurant. The menu is huge, giving you a choice of pastas, salads and pizzas cooked in a wood-burning oven. It's all delicious, if a little rich, so please do be careful if you have a sensitive stomach.
Day 8: Manuel Antonio
Manuel Antonio is worth visiting if you're a lover of beaches, wildlife, scenery… so, everything really! It's home to Manuel Antonio National Park, which is one of the smallest national parks in Costa Rica, but one of the most beautiful thanks to its enviable position on the Pacific Coast.
Travel to Manuel Antonio
Spend the morning travelling from Monteverde to Manuel Antonio. Your journey will be mostly downhill, so take the opportunity to sit back and enjoy the views as the scenery changes from spectacular mountain sides to glorious coastline.
On the drive, you could go over Tarcoles Bridge which is famous for its resident family of American crocodiles that has become an unlikely tourist attraction. Some are as big as 4m long, and they're fun to watch from a distance but please don't be tempted to feed them. They're wild animals and should be treated as such.
You should get to Manuel Antonio just in time for lunch, giving you the afternoon free to spend at the beach. You'll be thankful for this rest when you have a busy day tomorrow!
Day 9: Manuel Antonio
Try to get to Manuel Antonio National Park just as it opens, as it can become crowded even in the off-season. There's a boardwalk path running through the national park, helping to keep the animals at a safe distance from visitors whilst still giving you an excellent view of the resident monkeys that run overhead and sloths that spend their days sleeping in the trees. There's also deer, bats, plenty of birds, frogs, spiders, snakes, crabs and insects in the park too. The main walk through the centre is good, but our guide told us there were plenty more opportunities to see wildlife if you take the path that runs parallel but to the left.
Once you reach the end of the main boardwalk, you can walk down to the beach following the road on the right. Feel free to stop here for a swim or sunbathe, but if you want to see even more wildlife, I'd recommend talking the trail called Cathedral Point that climbs up into the headland. As fewer visitors take this walk, you're likely to get the trail to yourself and snap some photos uninterrupted. Just on one small section of the trail, we saw a whole family of capuchin monkeys, agoutis, racoons, iguanas and plenty more.
If you've still got some energy left to burn, you could take a catamaran tour out on the Pacific Ocean, where it's possible to spot dolphins or whales. Whales migrate past Costa Rica between December and March, and then between July and December, but you're not always lucky enough to get a good view. Even if you don't see any marine life, there's still plenty on board to keep you occupied. All boats have plenty of room to relax and look out to sea, and some give you snorkelling equipment for a quick dip too! The boats go from the port down in Quepos, which is easy to get to by bus from Manuel Antonio. Alternatively, some tour operators will pick you up from your hotel.
Where to stay in Manuel Antonio
Most of the accommodation in Manuel Antonio is set on a steep hill between the National Park and the main town of Quepos. There's a cheap public bus that runs every 30 minutes along the hill, so don't let this put you off.
Villas Lirio is a premium hotel set in tropical gardens, with swimming pools, a games room and a bar that serves fantastic caipirinhas (trust me!) The rooms are big and comfortable, and the breakfast is delicious too. It's a little expensive, but worth it for a good night's sleep.
If you're on a budget, try Nomada's Paradise. It's a little further away from the main bus route, but you can still walk to it within 5 minutes from the closest stop. At just £22 for a clean double room with private bathroom, you'll be able to save even more money thanks to the shared kitchen where you can cook your own food. 
View the full range of accommodation in Manuel Antonio at booking.com
Where to eat in Manuel Antonio
For a good lunch after a busy morning in Manuel Antonio National Park, try Marlin opposite Playa Espadilla. They serve good international cuisine for reasonable prices and most tables have great views out over the sea.
Further up the hill, try the Falafel Bar for another fantastic lunch. They serve fresh falafel (no surprise there) with homemade hummus, salads, chips, pitta bread and it's all absolutely delicious. We ate there twice because we loved it so much!
For dinner, head to El Avion. There's a real cargo plane in the centre of the restaurant that has been turned into a bar for some great photo opportunities. The food here is good, but the portions are massive. I'd recommend sharing if you're not too hungry!
Day 10: Return to San Jose
You could have the morning to yourself to explore the beach or other activities in Manuel Antonio, but if you're planning on flying out of San Jose today, I'd recommend leaving as early as possible as the traffic can be awful going into the city in the afternoon.
How to get around Costa Rica
Costa Rica's small size makes it a very easy country to get around. Plus, with an estimated 1.7million tourists visiting Costa Rica per year, there's a lot of infrastructure in place to cater for them.
The public bus network across Costa Rica is fairly cheap and reliable, but transfers are heavily focused in San Jose. That means your journey could be much longer than expected if you need to keep returning to San Jose before continuing onward. Most buses require you to book a ticket in advance and take an assigned seat, so take a look at the Visit Costa Rica website for an up-to-date bus schedule.
Shuttle buses run by Interbus are more expensive than public buses, but faster and more spacious. They also take you door-to-door between your destinations.
There are plenty of group tours available in Costa Rica, through companies such as G Adventures or Intrepid, which will take you across the country in comfort and style! Alternatively, check out Desafio or Get Your Guide for a huge choice of shorter tours that often include transfers.
If you prefer private transfers, taxis are a good option and can be reasonably priced, even for long distances.
Of course, you could also rent a car and navigate your own way across Costa Rica. This can be more daunting than having someone else drive you across dirt roads filled with potholes. It's also expensive when you consider the need for a 4×4 car when driving over the dirt roads during the wet season.
What to do with more time in Costa Rica
Remember, this is only a suggested itinerary. There are plenty of other towns or cities in which you could spend 10 days in Costa Rica, but this itinerary is the one I followed and the one that gave a good balance of travel, sights and lots of wildlife (can you tell I'm an animal lover?!)
If you have the time to spend a few more days in Costa Rica, I really would recommend adding an extra day in each destination rather than an additional stop so you don't feel too rushed. 
***
10 days in Costa Rica will fly by faster than the hummingbirds that call the country home. However you choose to spend your time, you'll definitely be left wanting more.
Like this? Pin it for later >>