24 hours is rarely long enough to conquer any city, but you can give it a damn good go in Budapest. Read on to hear my favourite things to do in Budapest, as well as the best cafes and bars to get your much needed energy. So, if you're up for the challenge, my itinerary below will help you spend your 24 hours in Budapest in the best way possible!
The itinerary shown below is the exact itinerary we followed on our one day in Budapest. Sure, there's a lot of walking but that's the beauty of Budapest – the compact Hungarian capital city makes it easy to pack it all into one day.
The routes shown are split out into morning and afternoon routes around the city. Of course, the timings can be adjusted to better fit your energy levels and preferences, but this itinerary really does cram in all the best bits. You might be shocked to see there's not a thermal bath in sight on my itinerary. The famous baths are quite far out of the city and impossible to walk to. Because of that, I don't think they belong in a list of things to do with only 24 hours in Budapest.
8:30 am: Tour the Hungarian Parliament
Yes it's an early start, but you've got a lot to pack in today! Your first stop is to possibly the most beautiful building in Europe – the Hungarian Parliament. Believe it or not, it's actually the tallest building in Budapest – tied with St Stephen's Basilica.
Book tickets in advance for a fascinating 45 minute tour. This will save time on the day (incredibly useful if you've only got 24 hours in Budapest!) and help avoid disappointment. You'll hear from an expert guide all about the history as well as how the Hungarian parliament works today.
9:30 am: Walk along the Danube to the WWII memorial
From the Parliament Building, walk along the banks of the Danube past the incredibly moving memorial, Shoes on the Danube. The iron shoe sculptures commemorate the tragic murder of Hungarians who were shot along the river during WWII, leaving only their shoes behind. It's a very sobering sight, but an important story to remember.
10:00 am: Try gelato at Gelarto Rosa
Take your time wandering along the river bank – you'll be spoilt for choice of where to point your camera! Then, head east towards St Stephen's Basilica and make a pit stop at Gelarto Rosa ready for when it opens at 10am. The artistic staff at this fantastic little ice cream cafe spend their days crafting your choice of flavours into the most beautiful creations. I mean, just look at this!
10:30 am: Visit St Stephen's Basilica
St Stephen's Basilica is a Roman Catholic church in the heart of the city. It's not the most amazing of the things to see in Budapest, but the square it sits in is a great place to people watch and tuck into your ice cream. Inside the Basilica, marvel at the intricately decorated interior and take the elevator up to the dome to look out over the city.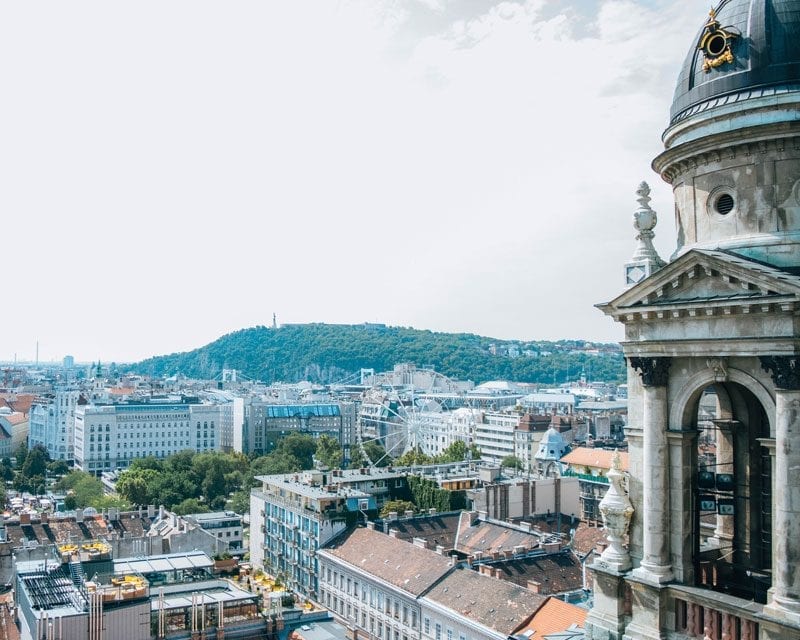 12:00 pm: Have a traditional Hungarian Langos lunch
Surely you've worked up an appetite by now! Just 5 minutes walk from St Stephen's Basilica is a delightful street food stall serving up delicious fried bread. A langos is a traditional Hungarian dish made up of deep-fried dough topped with your choice of savoury topping. The original (and, in my opinion, the best) is sour cream and cheese. De-licious!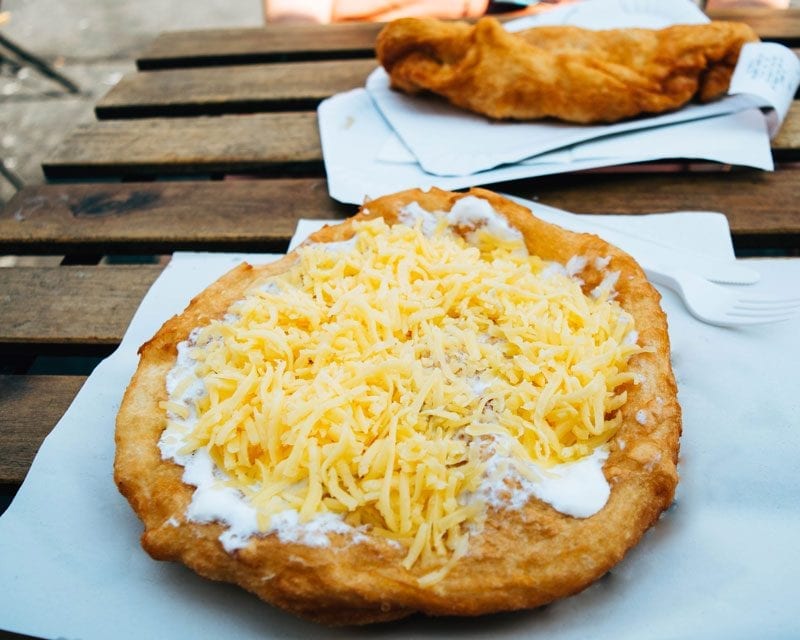 1:00 pm: Walk over the Chain Bridge
With your belly full of yumminess, walk back towards the Danube and walk over the Chain Bridge. When you reach the other side, you have two options. You could either take a steep walk up to Buda Castle, or you could pay 1,200HUF for a trip on the funicular. If you've only got 24 hours in Budapest, you're already pressed for time, so I do recommend the funicular on the way up, and the walk on the way back down. You might have to queue a little while, but you are treated to incredible views on the way up. The views are always worth it!
2:00 pm: Explore Buda Castle and Fisherman's Bastion
After your leisurely ride or dastardly hike up the Buda Castle, spend a few hours exploring the Castle District and Fisherman's Bastion. Unless you're a fan of art, history or libraries, there's no need to pay to go inside. Instead, the beautiful grounds and exterior of Buda Castle are the main attraction here.
Just a few minutes' walk from Buda Castle is one of the most instagrammable spots in Budapest – Fisherman's Bastion. It's a series of intricate turrets and beautiful towers and look out points, offering incredible views out over the city.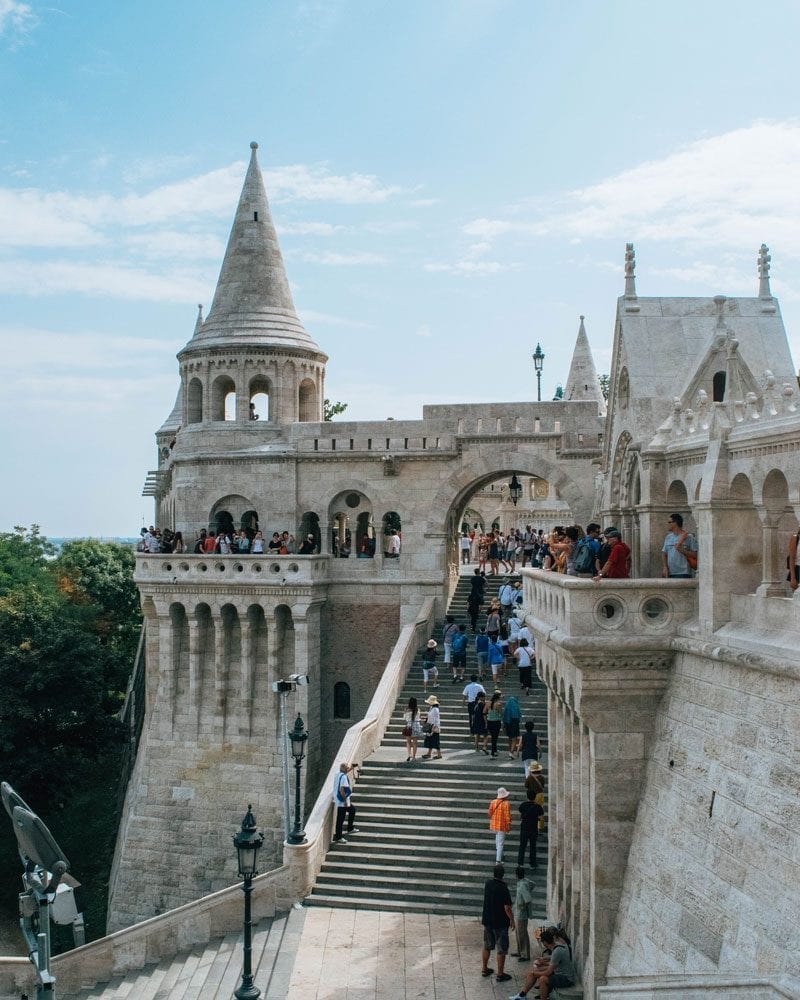 5:00 pm: Try a sweet Hungarian bake
Wander down the hill and along the banks of the Danube on the opposite side of the Parliament. This makes a fantastic photo opportunity of the building in all its glory! From there, head into Budapest's main shopping district on Vaci Street towards Molnar's Kurtoskalacs.
Kurtoskalacs, also known as chimney cakes, are delicious desserts so-called because of their cylindrical shape. They're made by twirling long strips of dough around a giant rolling pin and then roasting over coals. At Molnar's, the coked cakes are then dipped in your choice of flavours from cinnamon sugar, chocolate, chopped nuts, coconut or vanilla. Be warned, they're pretty big so you'll probably want to find someone to share it with!
6:00 pm: Enjoy a sunset boat tour along the Danube
You can't come to Budapest without a trip along the Danube! Head to Dock 7 along the river bank to take your pick of companies that offer near enough the same tour. Top tip: take a seat on the right hand side of the boat. Most tours head up the river towards the Parliament Building before spinning around towards the Chain Bridge. That way, you'll always be in the best spot for photos!
Depending on the time of year you visit, you might be lucky enough to be on a tour as the sun sets. The city becomes illuminated at night and is absolutely beautiful.
7:30 pm: Take your pick of street food delights at Karavan
You are spoilt for choice with places to eat in Budapest, but my favourite was Karavan food court. It serves up a huge variety of international street food under one canopy. Take your pick of Hungarian goulash, pizza, noodles, and the most delicious vegetarian cheese burger you will ever eat. I mean, the burger is actually deep fried cheese – divine!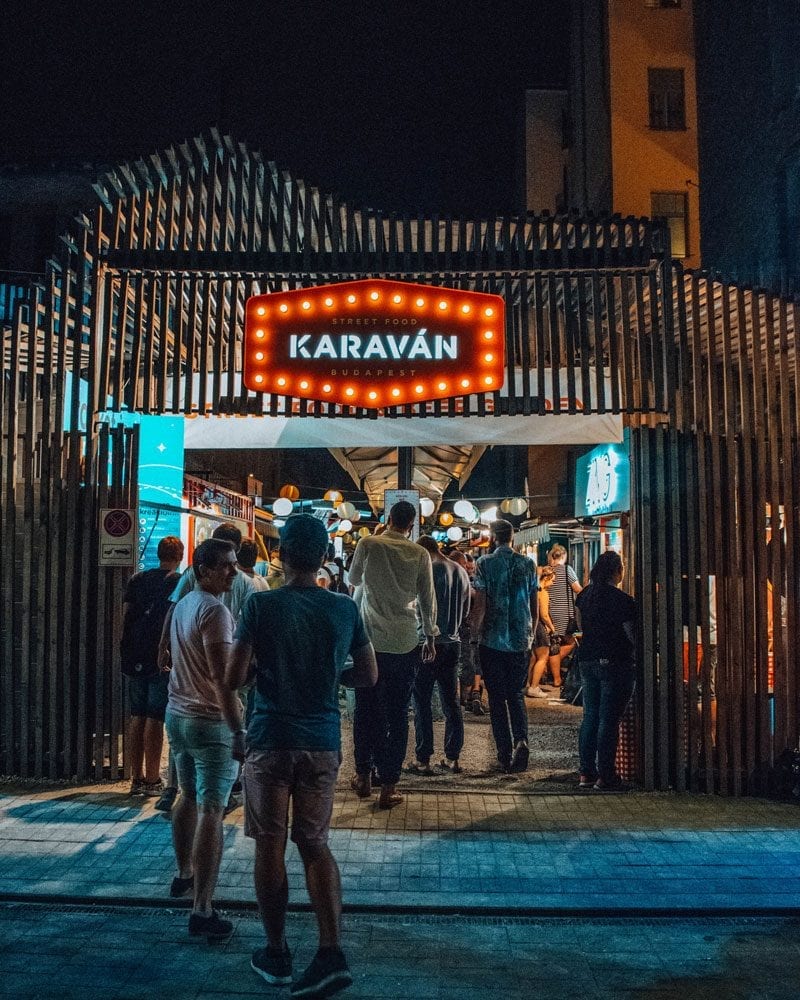 9:30 pm: Have a Drink (or 10) at a Ruin Pub
Right next door to Karavan is the number one tourist attraction in Budapest, Szimpla Kert. Szimpla is the most famous of Budapest's 'ruin pubs' – a group of bars characterised by unique surroundings, quirky furniture and a buzzing atmosphere, every hour of every day. You can also take a pub crawl of the Ruin bars if you fancy it!
Szimpla is a sprawling maze of corridors, balconies and bars serving up drinks in rooms filled with random junk and walls jam-packed with graffiti. Each bar serves different drinks, so don't ask for a glass of wine in the beer room unless you want to be snarled at by the terrifying bar staff like I was.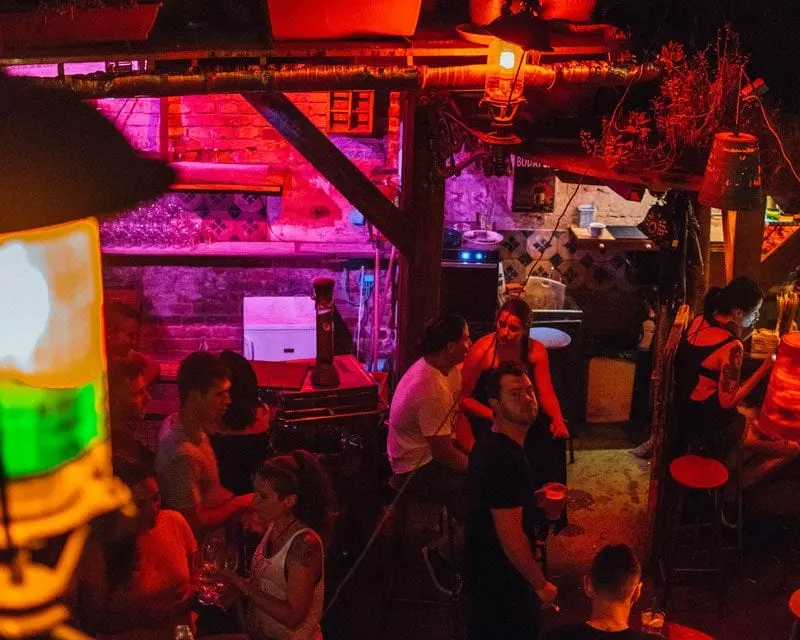 ??:?? Sleep when you feel like it!
After drinking your way through each room in Szimpla (now there's a challenge for you!), it is time for a well-earned rest. We stayed at Hotel Parlament – a boutique design hotel just a few minutes' walk from the Parliament Building. The breakfasts here are plentiful and the beds super comfy.
What are your must-visit places on a 24 hour trip to Budapest? Let us know your favourite things to do in the city in the comments below! Already been to Budapest? Perhaps you'd like to try 48 hours in Istanbul. Check out my post to find out where to eat, sleep and go in this stunning Turkish city.
Pin me for later >>>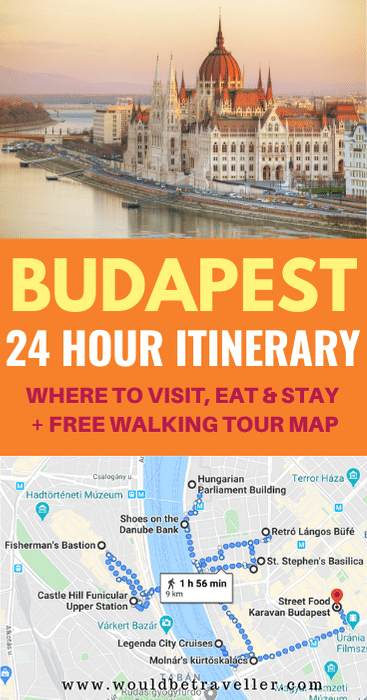 Disclaimer: This post contains affiliate links.