Every garden deserves a teepee. Thankfully, these super fun tents are making a huge comeback as we're spending more time at home and in the open air. But where can you find an adult teepee, large enough to fit all your friends? Spoiler alert: Tucson Teepees on Etsy!
Disclaimer: While this post contains affiliate links, I did my own research on XL teepees before buying my own at full price.
Tucson Teepees from Arizona
In my opinion, the best adult teepee you can buy for your home is this stunning XXL version from Tucson Teepees on Etsy. All teepees from this seller are handmade by the owner and her team of mums in Arizona, USA.
There's a huge range of teepees available, with different sizes, different designs and various upgrades. Though I love the boho and lacy bridal styles (perfect for a festival party or even a wedding!), I ordered the plain one so I could decorate it depending on my mood and the season.
For my teepee, I chose the XXL teepee in the outdoor fabric (you purchase this fabric upgrade as a separate product on the Etsy store), with an XL ground cushion, also with upgraded fabric sold separately. This means it will resist growing mildew and mould if kept outside, but I store it inside to keep it extra safe.
Just as a quick note on the ground cushion, XL is the largest size sold. Designed to fit the XL teepee perfectly, it still fits nicely inside the XXL but with space around each corner. To overcome this, I bought extra scatter cushions and an outdoor rug so that nobody has to touch the grass once they're inside.
You can tie the front door flaps back to keep the teepee open or fold them down for extra privacy. Some teepees also come with windows to one side, which is a great feature if you want to keep an eye on the weather or other comings and goings in the garden.
It's incredibly easy to put together. Mine came already assembled, I just needed to extend the bamboo poles once out in the garden to their full width and it was done!
The XXL teepee has five sides, making it large enough to fit multiple adults and children when sat down. At 5'5", I can just about stand upright in it too! That's thanks to the four huge 8ft poles that are made of bamboo, making them extra sturdy but also very difficult to store. Thankfully, we have an empty cupboard upstairs that's ceiling height to keep them in.
As I'm based in the UK, I paid more for the postage and packaging (just over £100 in total) than US customers and delivery took a little longer than stated as a result (a little over 3 weeks in total). Another cost I didn't consider at the start was the customs charge once my parcel had arrived in the UK. This was an additional £75 in May 2021, but charges may have changed since then and will vary depending on what you buy.
For customers in some other countries, you may need to purchase another delivery surcharge, but make sure you message the seller beforehand to confirm.
Regardless of the extra cost and time involved in getting a teepee shipped over from the US, I am so glad I did. I just wish I had bought my new favourite toy sooner so I could make the most of the beautiful weather last year!
Why you deserve a teepee as an adult
There are plenty of reasons to buy an adult teepee, but my favourite reason has quickly become my motto for life: why should kids have all the fun?! If you need more convincing than that, how about these benefits:
A teepee makes a beautiful addition to your garden furniture. Even when you're not using it, the natural coloured fabric will blend seamlessly into your garden.
An adult teepee is large enough to entertain in. You could comfortably fit three adults (or more if you don't mind getting close!) in the XXL teepee, or even more children if you're kind enough to let them enjoy it too!
You'll be protected from the sun and heat. Even on the hottest summer days, the temperature inside your teepee will stay remarkably cool. The shade offered by the canvas fabric will also protect your skin from the sun.
You can enjoy some peace and quiet away from friends or family. If you're desperate for some alone time, you can release the front door flaps and hide away in your teepee with a good book or a glass of wine. Or, why not both?
A teepee can transform into your own private cinema. The plain canvas sides are the perfect backdrop to project your favourite movie onto. It's something I can't wait to try when I can afford to buy a projector!
How to style your garden teepee
All Tucson teepees look great on their own, but to make yours even more comfortable, try adding a few stylish accessories.
I bought some tribal print cushions to lounge on, a blanket for extra cosiness when the sun goes down, a bamboo tray to keep my drink upright, and a bean bag to hold my iPad and other devices.
I also picked up an outdoor rug from Homescapes to keep my ground cushion dry, as well as some outdoor fairy lights for some extra magic at night.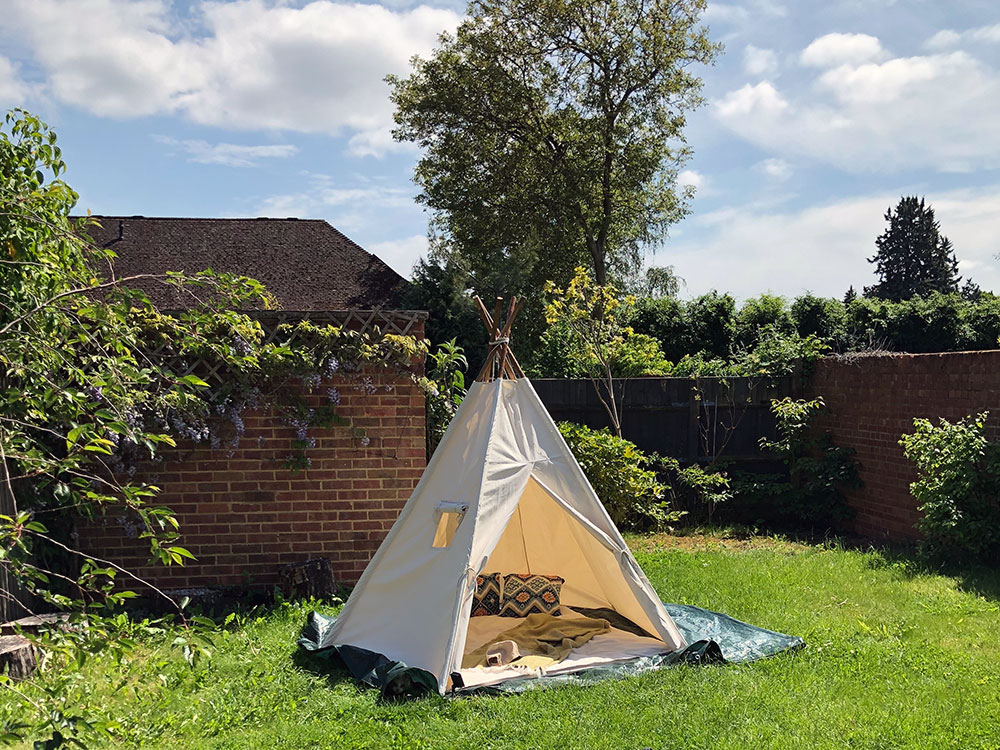 3 more of the best teepee stores
If you're after something a little different, check out these other teepee stores for your new favourite home and garden accessory:
HausProjekt sells a stunning range of teepees that are designed for kids, but it's the accessories that set these apart. Fairy lights, waterproof mats and bunting are included in the teepee packages sold, so make sure you check these out too before buying your teepee!
Heyzee Teepee creates adult and kid-sized teepees from their workshop in the UK. They even sell one small enough for just the pets, so they don't feel left out.
Things That Do stocks teepees big enough for children to play in, with each one also including a range of free accessories. Fairy lights, a cushioned base, bunting, storage bags and more will keep the kids occupied while you relax in the garden on a beautifully sunny day.
Now you know where to buy your garden teepee, it's time to add it to the basket so it will arrive in time for summer! Remember, you can do that over here on Etsy.