Packing for humidity can be a real challenge. After all, whatever you choose to wear when it's hot and humid will likely be drenched in sweat within a few hours of you stepping away from the air conditioning. 
But, never fear! This post shares my favourite things to wear in hot and humid countries to keep you cool, comfortable and stylish too. So take a look at the full humidity packing list below, and you'll be ready to go in no time!
T-Shirts and vests
One of my favourite items of clothing to wear in high humidity is a lightweight t-shirt or vest. By wearing something loose-fitting, you're giving your skin an opportunity to release sweat to keep your body cool and comfortable. 
My top picks for ladies:
And for men:
Head to the Craghoppers website to view the full collection, and use the code TRAVEL15 for an exclusive 15% off!
Long-sleeved tops
While it may seem counterintuitive to wear long sleeves in high humidity, the extra fabric on your arms actually has many hidden benefits. Not only can long sleeves protect you from the sun and biting insects, but they also come in really handy when you're moving between the humid conditions outside and the cool temperatures inside. Roll your sleeves up when it's hot, and down when it's cold!
My top picks for ladies:
And for men: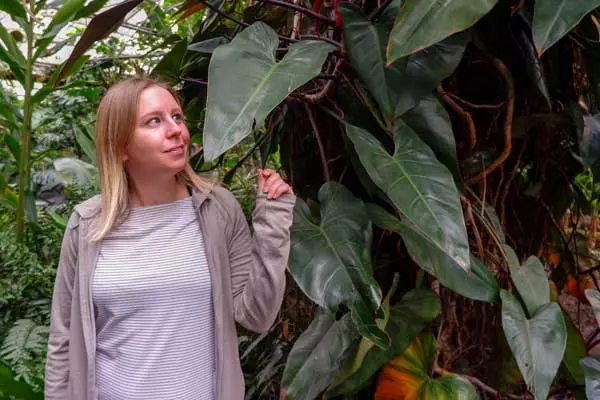 Heading somewhere humid? You'll love Singapore! Check out my post all about Singapore's most iconic hotel, the Marina Bay Sands, next!
Sweaters
When packing for tropical climates, most people make the mistake of expecting it to be hot and humid all the time. However, you don't want to be caught out if it cools down in the evening or there's a day when the temperature dramatically drops. But most importantly, humid countries will likely have air conditioning indoors to make the heat more bearable. What if that air conditioning is on too high? You'll need a sweater!
My top picks for ladies:
And for men:
Raincoat
If you're travelling to a humid country, you'll more than likely be caught out in a rain storm. It, therefore, makes sense to pack a lightweight raincoat to keep you dry. There are plenty of raincoats to choose from, so I've made it easier for you to pick the perfect one for you by listing my favourites below.
My top picks for ladies:
And for men:
Shorts
Shorts are the order of the day when it's hot. Choose breathable fabrics in light colours to protect your skin from the sun and heat. Elasticated waistbands also make sure you stay comfortable whether you're sitting, standing or trekking, so opt for these if you can.
My top picks for ladies:
And for men:
Trousers/Pants
Lightweight trousers or pants made from linen and other breathable fabrics will keep you cool, even on the hottest days. Choose baggy, loose or wide-leg pants to give your legs lots of space to breathe and move, no matter what your day has ahead.
My top picks for women:
And for men:
Dresses and skirts
Choosing a floaty dress or lightweight skirt, your legs will feel bright and breezy, even in the most humid of conditions outside. Again, go for light fabrics, and choose a length and style that you're comfortable with wearing both day and night. Loose is best in humidity, to help your skin breathe and any sweat to easily evaporate. 
My top dress picks:
And skirts:
Footwear
You can't forget shoes when you're packing for humidity! But make sure you're packing for your environment too. Flip flops are perfect for beach days or lounging around by the pool, but you'll need comfortable, breathable shoes when exploring a city or when travelling. Heading to the jungle? Make sure you've got a pair of sturdy walking boots that will protect you from the rainforest floor. 
Shoes
My top picks for ladies:
And for men:
Sandals
My top picks for ladies:
And for men:
Socks
Socks are vitally important in hot and humid countries. Without them, the sweat on your feet can cause walking shoes to rub and develop blisters. Choose a pair of breathable socks designed for hot weather. I've picked out my favourites below:
My top picks:
Light Scarf
Packing a light scarf can be a great way of protecting your skin from the sun, but also of keeping you warm when the sun goes down or if the air conditioning is up too high. Plus, they're really easy to pack in a day bag and have many uses! Fold into a head scarf, wrap it around your neck, unravel as a blanket or simply drape it over your shoulders. Opt for light cotton or another lightweight material to best suit the heat and humidity.
My top picks:
Sun Hat
Heat, humidity and the sun are a lethal combination, so make sure you protect your head too. Choose one with a large enough rim to shield your eyes and face from the sun. Breathable fabrics will allow heat to escape, thereby regulating your temperature too. 
My top picks for ladies:
And for men:
Travel Accessories for Humidity
Now that we've got the best clothing for high humidity sorted, it's important to consider what other accessories you might need to take with you. These range from electronics and devices to keep you cool, to toiletries that guard your skin against the sun and biting insects. 
Mosquito Repellent 
With more skin exposed due to the hot temperatures, your body is at a higher risk of being bitten by insects or mosquitoes. Make sure you are as protected as possible by packing a high-quality mosquito repellent in your bag with you. 
My top picks:
Sun Cream 
Humid countries can often be hazy, with clouds and fog hiding the sun. However, it's just as important to have effective sun protection with you to make sure you don't burn or soak up harmful rays. 
My top picks:
Day Bags
You'll need a day bag to carry these items in, so make sure you choose one that won't weigh you down or be uncomfortable to carry. It should be large enough to store your belongings, but not large enough that you're carrying extra weight when you don't need it.
My top picks:
Reusable Water Bottle
Dehydration is all too common in hot and humid countries and is a very dangerous condition too. It's essential to drink enough water to keep yourself cool and your body hydrated, especially when it's hot. 
Tap water is not always safe to drink, so make sure you take a reusable bottle with you everywhere you go and take the opportunity to fill it up at drinking fountains you may spot on your travels. There are plenty of different water bottles to choose from, each with different features, materials and styles. I've picked out just a few of my favourites below. 
My top picks:
Portable Fan
Trust me. A portable fan will be your new favourite travel accessory once you've travelled to the most tropical countries in the world. A paper fan works just as well, but if you prefer a battery-operated one, you can just hold it and let the fan do all the hard work for you. It's the perfect way to cool down!
My top picks:
Other Cooling Accessories
If you prefer other ways of keeping cool instead of a portable fan, check out these other cooling accessories that are perfect to use in hot and humid climates. I've included some of my favourite items below, that will keep you cool, calm and collected. 
My top picks:
***
So there you have it, my round-up of the best clothing and accessories for high humidity. Now, get packing and enjoy your trip. Stay cool!