In this Water-to-go review, I share the pros and cons of the reusable water bottle with a filter that means you can drink safe water wherever you travel to. Read on to find out if this is the bottle for you!
You know the score… you get thirsty on a trip abroad and find yourself counting out your coins and heading out to the nearest corner shop to buy water in a plastic bottle. Once you've drunk your water, you can't refill the bottle because the tap water's unsafe. Instead, it's going to end up in landfill or, worse, in the mouth of a poor marine animal that mistook it for food. 
Thankfully, those days are long gone thanks to Water-to-go. With their super-intelligent bottles, you can now save both the environment and money, and still have access to safe drinking water wherever you go. It's easily the best reusable water bottle there is.
>> Already convinced? You can now get 15% off the Water-to-go reusable water bottle range using my discount code WBT15. Click here!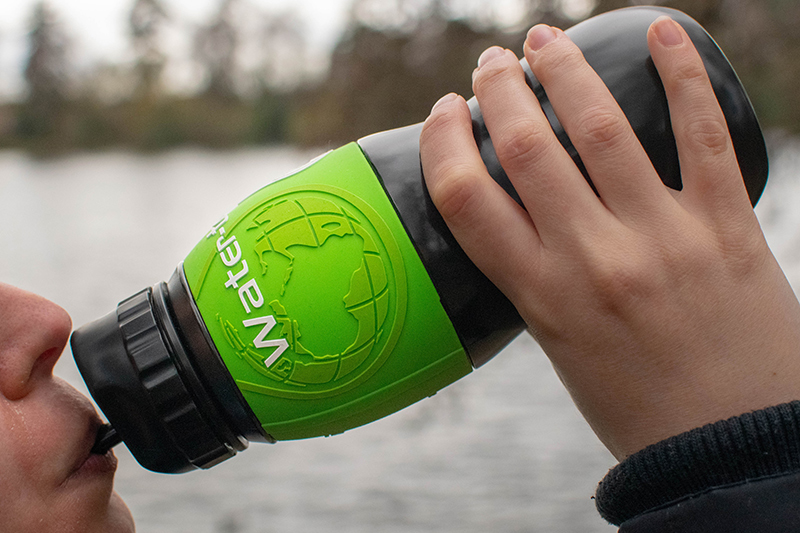 The best bit about Water-to-go bottles is that they turn almost any water into drinking water. Didn't think you could drink the tap water in Germany? With the Water-to-go, you can. Run out of water on a trek? The Water-to-go bottle will filter that river water as you drink. Even if you simply don't like the taste of the tap water in your own kitchen, the Water-to-go bottle filters out the bits you don't like to give you filtered water as you sip. It really is incredible.
How the Water-to-go reusable water bottle works
The thing that sets the Water-to-go bottle apart from other filtration bottles is the fact the filter takes out 99% of the bacteria and other contaminants from tap water, and even the water sourced from rivers or lakes. In fact, the only water you shouldn't use it with salt water (the kind you get from the sea), but the Water-to-go filter will turn all other water sources into safe drinking water.
It works thanks to a combination of mechanical and electrical filtration, as well as activated carbon which eliminates bad tastes and odours. I won't go into the science of it here, but if you're interested, there's plenty of information available on the Water-to-go website!
There are a few things you'll need to do to keep the filter working well – for example, the filter needs to be replaced every 3 months or 200 litres – that's enough for 266 re-fills!
You can buy a twin-pack of filters for just £9.99, which is a fraction of the cost of buying a brand new bottle of water each time you get thirsty. You also need to activate the filter before your first use, to make sure the filter is working perfectly and won't let any harmful bits through when you use it. 
Reduce your environmental impact with Water-to-go
Of course, my favourite thing about the Water-to-go bottle is the fact that it helps to reduce your impact on the environment.
We all know the damage caused by plastic getting washed up on beaches and drifting out to sea – Water-to-go itself states that over 1 million seabirds and 100,000 mammals die as a result of entrapment or ingesting plastic waste. These figures are terrifying, and I could not live with myself knowing that I was contributing to that statistic.
By replacing the disposable water bottles with the Water-to-go one, you will reduce the amount of plastic that goes to landfill whilst enjoying delicious, filtered water wherever you are. You can argue that plastic bottles are recyclable, however a recent study by National Geographic estimates that still only 20% of plastic bottles are actually recycled. The only way to stop this is to buy yourself a bottle that you actually do re-use.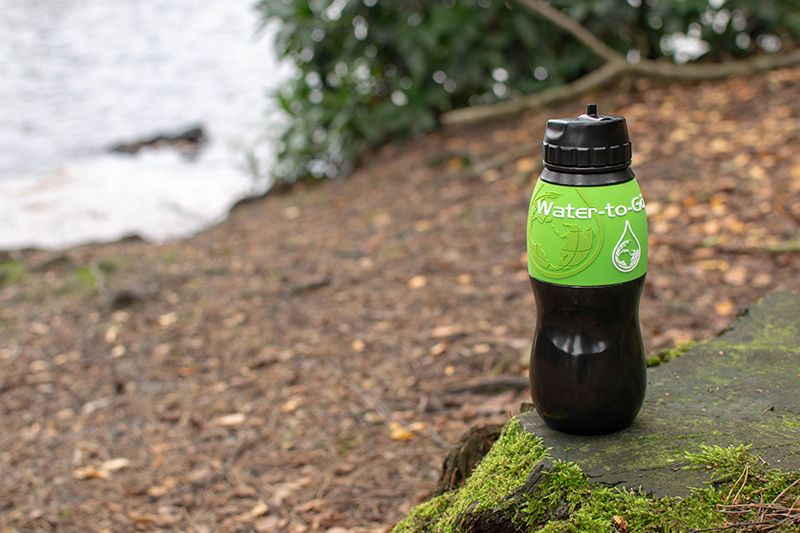 There are loads of different styles of bottle available, from clear 50cl bottles that are perfect for everyday life, to black 75cl bottles that will keep you going for a little longer. The black bottles come with sleeves in a host of different colours, including my green one.
You could also choose a bottle that demonstrates your support for a charity thanks to Water-to-go's partnerships with some great charities across the world. For example, by buying one of the African Wildlife Foundation bottles, you're indirectly contributing to the protection of African animals, and the conservation of their habitat. Other charities include those helping to fight malaria and world hunger.
With these bottles, you can support a great cause while you sip!
Where to buy a Water-to-go bottle
Water-to-go bottles are sold in many outdoors stores, but you can buy them from the Water-to-go website with free delivery and 15% off when you use my code WBT15. I will receive a small commission if you purchase using this code, but it won't cost you any more. In fact, you'll save 15%!
>> Buy the Water-to-go bottle now with 15% off using the code WBT15. Click here!
So if you're serious about wanting to reduce your impact on the environment whilst drinking safe, filtered water, the Water-to-go bottle really is the bottle for you. 
Disclaimer: Water-to-go gifted me a 75cl water bottle, but I am very happy to recommend them and the opinions stated in this Water-to-go bottle review are my own. I make a small commission on any purchases made using the code WBT15, which won't cost you any more but helps keep my site up and running. Thank you for your support!