Going on an African safari is a dream come true for so many people; it certainly was for me! But with so many places to stay in Kenya, finding the right one for your budget and style can be harder than spotting the elusive leopard! That's why I've collaborated with some of my favourite fellow travel writers to share some of the best safari lodges in Kenya. 
Most visitors to Kenya spend their time in a number of different National Parks, so I've split the lodges out to the best places to stay in Lake Naivasha, Amboseli, Nairobi National Park and, of course, the Maasai Mara. 
Disclaimer: This post contains affiliate links. 
Lake Naivasha Safari Lodges
Lake Naivasha forms part of the Great Rift Valley in Kenya, north west of Nairobi. As a safari destination, it's well known for its resident hippo population as well as over 400 different species of birds. 
Here's our pick of the best safari lodges in Lake Naivasha, Kenya:
Sawela Lodges
Sawela Lodges come recommended by Mario from Rest & Recuperation.
One of my favourite places to stay in Kenya is Lake Naivasha, a couple of hours' drive by car, northeast of Nairobi. Here you can enjoy a boat ride to see hippos and the many birds that call the lake home too. You can also visit Crescent Island, a small park where you can walk freely and see many wild animals. Alternatively, you can hike Mount Longonot, one of the most beautiful inactive volcanoes in Kenya's Rift Valley.
The perfect accommodation to explore all that Naivasha has to offer is the Sawela Lodges, right on the lake. It stands on a very large area of land, big enough to go for your morning runs without getting bored. With its few conference rooms, it is also a perfect venue for business meetings, and is the site of many Kenyan and international organisations' conferences.
It is also perfect for a relaxing holiday. The rooms are huge and of the highest standards, with a big en-suite bathroom and a nice balcony. Accommodations are in two-storey villas, isolating you from any noise. The Sawela Lodges also have a swimming pool to enjoy the equatorial sun.
The best part of this hotel is the park. You will find many birds and cats in the area, as well as sometimes fearless smaller game. Beyond the fence, on the river or the lake, many animals come to eat and drink. You are almost guaranteed to see families of zebras and giraffes, especially at sunset. It makes a great view for children, but also for the older ones too!
Sopa Lodges
Sopa Lodges are recommended by Alison from Alison in Andalucia 
Sopa Resort, on the edge of Lake Naivasha, has 21 two storey cottages forming a crescent around the lawns which, come nightfall, become the grazing area of Lake Naivasha's resident hippos. 
We were lucky to stay in a top floor room which meant that we were able to view the waterbucks, zebra, giraffes and monkeys that roamed around the reserve during the day from our balcony. As darkness fell, the hippos began to emerge from the lake and, for this reason, we were warned not to leave our rooms without a guard. 
When it was time to go for dinner, we had to call ahead to reception for someone to accompany us. On our way to the restaurant, our guard, armed with a stick, led us to the grassed area where the hippos were grazing (there was a wooden fence for extra protection should we need it) so that we could see these huge creatures on dry land and at close quarters. Quite an experience! 
After a delicious buffet dinner, we enjoyed a nightcap by the huge log fire in the bar area before being accompanied back to our room where a houseman had been to plug-in mosquito repellent to ensure a good night's sleep on the comfortable king size bed. 
Sopa Resort also has a swimming pool and a small gym which, after spending so much of our safari in a jeep, meant I could hit the treadmill and stretch my legs. 
To fully experience everything that Lake Naivasha has to offer, I'd highly recommend taking a boat trip to Crescent Island. Passing groups of hippos wallowing in the water, you can disembark and take a guided walk. This is the perfect opportunity to get up close and personal with some of Kenya's iconic animals – giraffe, zebra and gazelle – all of whom wander freely. This leads to encounters just not possible when in a jeep, not to mention fantastic photo opportunities too.
Masai Mara Safari Lodges
The Masai Mara features at the top of the list for most visitors to Kenya, and with good reason! The reserve is home to some of the biggest populations of big cats in the country, as well as being a site of the Great Migration. 
Some of the best safari lodges in Kenya are in the Masai Mara, and here's just some of our favourite lodges: 
Sanctuary Olonana
Sanctuary Olonana comes recommended by Christina Pfeiffer from Travel2Next.
If you would like to experience a luxury safari camp on your Masai Mara safari, you can't go wrong at Sanctuary Olonana. This boutique luxury camp on the Mara River was named after a famous Masai chief. 
It has 14 contemporary suites that are spacious and beautifully decorated. Each suite has floor-to-ceiling glass doors opening out to views of the Mara River, and if you're travelling as a family, there are two-bedroom suites as well. Furnishings are as luxurious as you would expect in a city pad, and the African safari chic décor reflects the destination.  One of the unexpected luxuries is the bathrooms. After bouncing around all day in the back of a safari vehicle, there's nothing better than a hot shower in a beautiful bathtub.
Meals are served in the main lodge, and picnic breakfasts or lunch in the bush are an excellent way to experience the Masai Mara. You'll also love the sundowners, watching the wildlife wandering around as the sun sinks below the horizon with your favourite drink in hand.
One of the advantages of staying at Olonana is it's well-positioned for anyone wanting to see the annual migration when around two million wildebeests arrive at the Masai Mara from Tanzania. As it's a very small camp, you'll need to book in advance if you want a suite during their busiest time of the year.  Another activity is to visit the Olonana Masai village to see first-hand how the Masai live. The mud huts are a contrast to the luxurious furnishings at the camp. Other activities include going on nature walks with an experienced safari guide, floating over the Masai Mara in a hot air balloon and paying a visit to a local school.
Visit TripAdvisor to book your stay at Olonana now! 
Mara Explorer Tented Camp
Mara Explorer Tented Camp is a 5-star camp in the Masai Mara, housing 10 luxurious tents furnished with super comfy beds, hand-carved mahogany furniture and antique chests. Each tent has an en-suite bathroom with twin sinks and a shower. But that's not all… Outside on your private verandah, a free-standing bathtub means you can enjoy open-air bathing whilst looking for hippos and other wildlife along the banks of the Talek River. You really can't beat Mara Explorer Camp for its position in the African bush!
Game drives happen three times a day in 4×4 safari jeeps with open sides and pop-up roofs for excellent wildlife viewing and photography opportunities. The lodge's Gold standard guides remain dedicated to helping you get the most out of each day's sightings. You also have the option to head out on hot air balloon safaris, nature walks and cultural visits to nearby Masai villages.  
Back at the camp, there are sofas, a bookshelf and a fully-stocked bar in the central lounge to keep you entertained in between game drives and mealtimes. Speaking of which… the resident chefs serve beautifully presented and delicious food at Mara Explorer Tented Camp, making it one of the best safari lodges in Kenya for foodies! The meals are served on a central verandah overlooking the river, but you can also opt for bush dining experiences for an extra special treat. 
Check the latest prices for Mara Explorer Tented Camp now
Porini Mara Camp
Porini Mara Camp is set in the Ol Kinyei Conservancy, close to the Masai Mara National Park. The conservancy is a beautiful area of wilderness, with a huge variety of landscapes and wildlife. In the rivers, you might spot crocodiles and hippos, while on the open plains, you have an excellent chance of seeing big cats, including cheetahs and lions. Even leopards have been known to frequent the acacia trees surrounding the camp. If you're really lucky, you might spot one!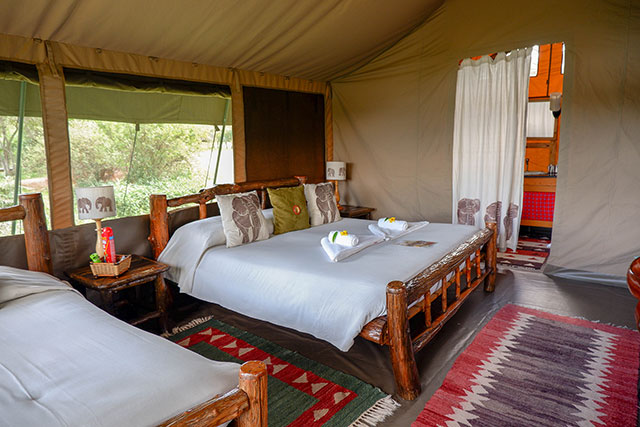 Being set in a conservancy rather than the national park, you can enjoy sundowners and picnic breakfasts out in the wild. You can even opt to head out on a nature walk with one of the Masai warriors to learn about the plants, tracks and animals surrounding the camp.
As with all Porini camps, there's a communal mess tent with comfy chairs and dining tables where delicious breakfasts, lunches and dinners are served by the camp's friendly, welcoming staff. 
You own tent is fully equipped with all the essentials – comfortable beds, a writing desk and chair, wardrobe and an en-suite bathroom with plumbed in toilet and bucket shower. Each tent overlooks a plain where the animals are free to roam. From our tent, we saw bush bucks, zebras, giraffes and impalas go about their days as we relaxed during the afternoon. During the night, you can fall asleep to the sound of hyena chattering and lions roaring in the distance, making it a very authentic place to stay in Kenya!
The Best Amboseli National Park Lodges
Amboseli National Park and its surrounding conservancies make for excellent wildlife viewing. Being so close to Kilimanjaro National Park, safaris are often conducted with the majestic mountain as a backdrop, making for beautiful photos. The National Park is home to all of the big 5, but the park's huge populations of elephants with huge tusks steal the show here. 
Find out the best safari lodges in Amboseli National Park:
Tortilis Camp
Tortilis Camp by Elewana is recommended by Ed Gold – a digital marketer and traveller who loves writing about all things relating to Kenyan safaris.  
On a pre-kids flash-packing trip through East Africa, my fiancée and I were lucky enough to spend a couple of nights at Tortilis Camp, a luxury safari lodge set in a conservancy right on the edge of Amboseli National Park in southern Kenya. The park is well-known for its large elephant herds and views of the majestic Kilimanjaro rising above the surrounding plains. 
The location of Tortilis is just about perfect. It's laid out on and around a hill in one of Amboseli's areas of Acacia Tortilis woodland. The main lodge and restaurant are at the top of the hill, providing quite stunning views of Kilimanjaro. Often it was clouded over, but cleared up during sundowners one evening and left us awestruck. Much nearer to the lodge is a large watering hole that brought the wildlife in at dusk, for some additional excitement.
Dotted around the hill are luxurious safari tents pitched under rustic thatched roofs, with welcoming touches (like homemade cookies, and excellent wifi!) and a hammock from which to do some very relaxed game viewing. Other facilities on offer were an excellent in-house masseuse and a swimming pool where we could cool off, relax and work the tan between game drives.
But the big star of the show at Tortilis is the wildlife itself. We had Michael, a private guide, looking after us during our time there. He took us away from the occasional crowds of minibusses in Amboseli and gave us some spectacular views of huge bull elephants, lion, civet, hyena, honey badger and so much more. It wasn't our first safari, but thanks to the hospitality and the wildlife, it was up there with the best safaris we've ever experienced. We're now working out how and when we can return with our kids in tow!
Book your visit to Tortilis Camp Amboseli now!
Porini Amboseli Camp
A safari camp with sustainability at its heart, Porini Amboseli is easily one of the best safari lodges in Kenya. Guest tents are spacious and comfortable and contain absolutely everything you would need for a few nights in the bush, from beds with crisp linen to a desk and chair, and from a wardrobe to store all your belongings to a fully stocked ensuite bathroom. This is safari glamping at its best. 
The rest of the camp is just as impressive. The mess tent contains dining tables, sofas and a swing chair to relax during the day. There's also a campfire around which you can tell stories of the day's sightings as the staff bring an unlimited number of drinks from their fully stocked bar. There's also a little shop selling crafts made by the Masai women from a nearby village, which you're welcome to visit if you wish.
The food at Porini Amboseli was delicious; I still can't get over how the camp's staff managed to cook 2 course breakfasts and buffet lunches as well as 3 course dinners plus snacks every day in the literal middle of nowhere. The quality of the food is a real testament to the camp's staff, all of whom are exceptional, from the chefs and management to the porters and guides. Everyone made an effort to learn our names and were genuinely interested in our lives. That made it almost impossible to leave!
As with all Porini camps, Porini Amboseli is dedicated to supporting the local community and conservation of the environment. To save water, the camp uses bucket showers, where a limited amount of water is heated over a log fire before being brought to your tent. Furthermore, recycling is a big part of the camp's ethos. Plastic is virtually non-existent here, with tomato ketchup being served out of glass bottles (it's a small thing but it counts!) and drinking water given to you in aluminium flasks.
Besides the eco-focus, another of the best parts of this camp is its location. Located in the Selenkay Conservancy bordering Amboseli National Park, you can drive off road without crowds of tourist vehicles in your way, all the while having Mount Kilimanjaro as the backdrop for your photos. You can also stay out after dark and enjoy sundowners in the camp, which is impossible to do within the National Park itself. 
We had some of the best game drives out of the whole Kenya trip here thanks to the dedication of the staff and their expert knowledge of the animals. Nature walks are also possible thanks to the guides who know how to track animals and explain the plants and Masai culture as you walk through the conservancy around the camp. 
Visit TripAdvisor to book your stay at Porini Amboseli 
The Best Safari Lodges in Nairobi National Park
Nairobi National Park is unique in that it's the only protected ecosystem in the world so close to a capital city. It's just 7km away from the centre of Nairobi, but inside the park it feels like you're worlds away. All of the big 5 apart from elephants are here, and you might be lucky enough to see black rhinos hiding in the forests too. 
If you're visiting other National Parks while in Kenya, Nairobi National Park makes a wonderful introduction to the safari lifestyle or, plugged on to the end of a safari, a good way of easing back into the idea of going home.
Here's our pick of the best places to stay in Nairobi National Park:
Nairobi Tented Camp
Nairobi Tented Camp was the first accommodation of any kind to be allowed in Nairobi National Park. But its monopoly on accommodation didn't mean it skimped on quality. Far from it! The camp has just 9 guest tents, kitted out with stylish furniture, comfortable beds and en-suite bathrooms too.
The communal areas of the camp are made up of a dining room, where breakfast, lunch and dinner is served, as well as a lounge area with sofas, books and board games. While the National Park rules mean that you're not allowed sundowners within the park itself, Nairobi Tented Camp has an open bushfire area where you can sit after the final game drive of the day to enjoy a glass of wine and some snacks before dinner.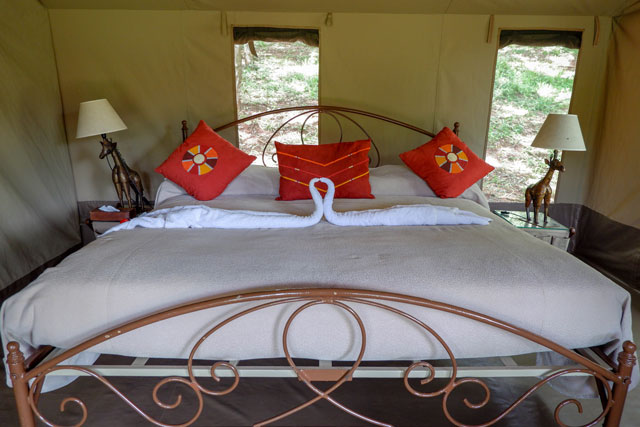 Staff at the camp are incredibly helpful and friendly, and the guides are among the best in the business. We were lucky enough to be guided by Gordon, who trained in South Africa and guided in the Masai Mara, but has now settled in Nairobi to be closer to home. He took us on morning and afternoon game drives of the park, and gave us incredible insights into the animals we found on our drives. Though we weren't lucky enough to spot the elusive leopard, we did get some wonderful sightings of lions, white rhinos and even a serval cat in the park.
Being so close to the capital, there's a real mix of guests: everything from couples of their honeymoon and families with tiny babies, to businessmen on breaks away from international business meetings. There really is something for everyone here!
Check the latest prices for a stay at Nairobi Tented Camp now!
Ololo Safari Lodge
Ololo Safari Lodge is in an enviable position on the southern border of Nairobi National Park, along the banks of Mbagathi River. The lodge itself is set on a working farm that provides the kitchen with the freshest ingredients for breakfast, lunch and dinner. Any waste is either fed to the resident chickens or turned into compost, as part of the lodge's key focus on sustainability. 
As well as the composting system, Ololo makes use of sustainable farming practices and recycling programmes. The lodge also filters water from its own bore hole, which is then filtered for guests to drink and shared with the local community. 
The lodge serves restaurant-quality meals on tables overlooking the park, and guests can also enjoy the facilities of the main lounge with its comfy furniture, a fireplace, library and wine cellar. Outside, there's a fire pit for evening drinks, sun loungers around an outdoor swimming pool, and even massage tables for the ultimate in relaxation.
Guests can choose between rooms set in converted stables and thatched cottage tents (with both stone and canvas walls!) as well as more traditional hotel rooms inside the main farmhouse. Each one offers a unique experience; some have fireplaces, while some have roll-top baths and others, rooftop terraces. They are all light and airy, and decked out beautifully with furniture handcrafted by the lodge's resident carpenters. 
***
So there you have it – 9 of the best safari lodges in Kenya. But really, no matter where you choose to stay in Kenya on safari, you're certain to have an incredible time. So go… make that dream come true.
Pin me for later >>