South Africa is one of the best countries to see wildlife in their natural habitats. Not only is it more affordable than Tanzania, Kenya and Botswana, it's also home to all of the Big 5 and a plethora of other animals in its national parks and private game reserves. But where's best to stay when observing its wildlife? I've asked some of my favourite travel bloggers to recommend the best South Africa safari lodges. In this post, we've got some fantastic options for you – from budget camps to the most luxurious safari lodges in South Africa.
>> Visiting South Africa? Check out my 2 week South Africa itinerary for some more inspiration. Click here!
The Best South Africa Safari Lodges
Africa on Foot in Klaserie Private Nature Reserve – recommended by me!
Africa on Foot is an intimate safari lodge in the heart of Klaserie Private Nature Reserve – just outside Kruger National Park. The accommodation is very comfortable, with each guest/couple or family staying in one of five chalets – a mud brick hut with thatched roof. Our chalet even had an outdoor shower, which gave us an incredible encounter with monkeys while we showered in the afternoon! Guests can also opt to stay overnight in the treehouse, giving uninterrupted views of the game reserve without even leaving your bed.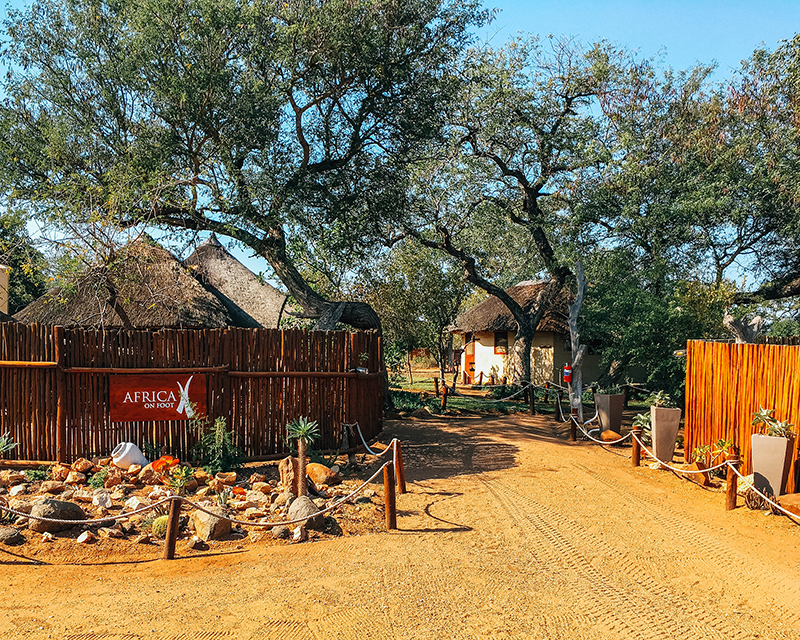 Guests start the day with a hot drink and snack in the communal lounge, before setting out on jeeps into the park. During the game drives, the guide and tracker treat guests to their knowledge of the animals and the park itself. You could be lucky enough to see all of the Big 5 in the reserve, as well as wild dogs, hippos and hundreds of bird species too. After spending the morning spotting wildlife, guests return to the lodge for a hearty breakfast cooked fresh by the staff, and then spend the afternoon relaxing in the lodge and eating lunch before another game drive in the evening. During this evening game drive, the staff lay on sundowner drinks and snacks overlooking the waterhole, while you listen out for lions roaring in the distance. After the sun has set, the jeeps head back to the lodge for a delicious dinner (vegetarian and vegan options available!) and drinks around the campfire.
The highlight of the lodge is the opportunity to go out on walking safaris, led by a highly experienced tracker who could spot tracks and disturbed plants. This led us to have a very close encounter with a rhino that I will never forget!
>> How to book: Visit booking.com to find the latest prices for Africa on Foot. Click here!
Bukela Game Lodge in Amakhala Game Reserve, Eastern Cape – recommended by Flo from Yoga Wine Travel
If you are planning on going on a wildlife safari in South Africa and want to experience eco-luxury at its best, you need to visit Amakhala Game Reserve on the Eastern Cape and stay at Bukela Game Lodge. Bukela Game Lodge offers beautiful glamping tents complete with a queen sized bed, fireplace and private terrace. The common areas are beyond cozy and it won't be long before you feel right at home. In addition to a pool and cocktail lounge, Bukela also has a viewing platform with a clear view of a popular wildlife watering hole that giraffes, elephants, zebras and warthogs like to frequent.
Because the hotel is a part of the game reserve, don't be surprised if you wake up and find that there's no water – it just means that the cheeky elephants have stopped by overnight, damaged the plumbing and helped themselves to some fresh water! At night, a ranger will also escort you back to your room from the dining room…just in case you run into some animals in the dark. You can't be more immersed in nature than at Bukela.
Though the rooms and facilities are stunning, the absolute best part about Bukela is the twice-daily game drives with their experienced rangers. The rangers at the Amakhala Game Reserve are incredibly knowledgeable and respectful towards the wildlife, and the private 18,000 acre reserve is home to the "Big 5": lions, elephants, rhinos, buffalo and leopards. There are also plenty of giraffes, zebras, wildebeest, hyenas, and a variety of antelope species – we even spotted a cheetah with three of its newborn cubs!
Follow Flo on Twitter and Instagram for more incredible yoga, wine and travel adventures!
>> How to book: Visit booking.com to find the latest prices for Bukela Game Lodge. Click here!
Amakhosi

 

Safari Lodge in Pongola – recommended by Jessy from Planet Pilgrims
As a travel designer I have the privilege of seeking out awesome accommodation for my clients. Amakhosi Safari Lodge in the Pongola region in KwaZulu-Natal is one of the places that I can't recommend enough. I've had the pleasure of staying there twice. The first time was as a single parent with my then 3 year old daughter and 2 years later I brought my entire family to celebrate my parents' 50th Wedding Anniversary. Both times were unforgettable.
The first time I arrived with my 3 year old JUST in time for the afternoon safari. 3 year olds are not allowed on safari but not to worry, the staff took my daughter and my luggage so that I could hop straight onto the safari jeep. The safari was incredible and we saw many animals up close.
What I REALLY thought was the best, for me as a single parent was the following. 
When I arrived back at the lodge, my daughter was happily munching on fish and chips. She had a bath and was ready to go to bed. The staff was playing with her and looking after her like they truly loved her.
When I went to my room to freshen up for dinner I saw that they'd set up a lovely baby cot with brand new linen, a bath was run for me and sprinkled with rose petals. A small glass of Sherry was waiting for me.
This entire experience, after a day of driving for 7 hours, was like a dream come true for me and that's why I never forgot. A few years later I took my entire family and we equally had the most wonderful family time with stunning safaris and absolutely delicious food and wonderful service.
Visit the Planet Pilgrims blog if you're wondering what to wear on an African Safari, or follow along with Jessy's adventures on Twitter and Instagram!
>> How to book: Visit booking.com to find the latest prices for Amakhosi Safari Lodge & Spa. Click here!
Waterside Lodge at Thornybush – recommended by Kathryn from Becoming You
Bumbling through the African bush on the back of a safari vehicle is my happiest kind of holiday. Give me sunrise starts, bird-spotting, towering fever trees and a red dust coating my face and I'm smiling, add in an awesome animal sighting and I'm sold! As a South African I've had the privilege of visiting quite a few of the top safari lodges in South Africa, so choosing a favourite was hard, but when it came to it the animal sightings I experienced at Thornybush were certainly the most incredible and that is what most people want when going on an African safari.
On our first game drive at Waterside Lodge, Thornybush we stumbled across one of the most rare animals to catch a glimpse of in the wild, Wild Dogs, a whole pack lazing about the sand of a dry river bed. Later, on the same game drive, we had yet another incredibly rare sighting – one that even got our experienced ranger excited!
Finding lions on safari is the holy grail so we were thrilled when we came across four lionesses sauntering down a dirt road looking like they had not a care in the world, within moments they sprang into action having had their senses were pricked by a herd of innocent impala. From our vehicle we watched as they silently stepped into their hunt formation and executed the most incredible act of nature before our eyes. A kill!
To have witnessed a lion kill from start to finish may have been the pinnacle animal viewing experience of most safaris, but our visit to Thornybush kept delivering and the next morning we were fortunate to find a lazy leopard relaxing for a few hours amid the branches of a lead wood tree – and, as our experienced ranger crept ever closer, we were able to see the leopard's stomach rise and fall with each breath! My very first leopard sighting was surely one that will remain hard to beat!
After all these adrenalin pumping encounters, heading back to the serenity of Waterside lodge at Thornybush was always welcome. At this gorgeous luxury lodge, the few hours between game drives can be spent enjoying a dip in the pool then reading a page or two of your book from a lounger overlooking the river before succumbing to a nap while listening to the choir of cicadas above your head…
Read more about Kathryn's stay at the Waterside at Thornybush over on her blog, or follow her on Twitter and Instagram!
>> How to book: Visit booking.com to find the latest prices for Thornybush Waterside Lodge. Click here!
Tau Game Lodge in Madikwe Game Reserve – recommended by Elaine and Dave from Show Them The Globe
As a safari obsessed family we love nothing more than checking into an awesome safari lodge and chasing the Big 5 in the African Bush. Our most recent safari jaunt took us to the Tau Game Lodge in the Madikwe Game Reserve, one of the largest game reserves in South Africa with 76,000 hectares to explore.
We opted for Madikwe as the reserve offered everything we wanted: Madikwe is home to Africa's Big 5 which includes rhino, leopard, lion, elephant and buffalo and is a malaria-free reserve, an essential for us when travelling with our son who was just 2 months old at the time!
We stayed in the amazing Tau Game Lodge, a family-friendly lodge which overlooks a natural watering hole. The lodge is the perfect escape and we enjoyed the excitement of the guided game drives and indulging in the great food and relaxing spa treatments before returning to our beautiful lodge.
Our wildlife sightings included elephants, cheetah, rhino and buffalo and we were even lucky enough to spot the elusive wild dogs, one of the world's most endangered mammals. Watching the African sunset while enjoying sundowners in the bush was a highlight of every evening drive. Our bedroom terrace overlooked the lodge's watering hole and there was a constant wildlife presence outside our window – we even had an elephant come within a few meters of our room which was an amazing experience!
Tau Game Lodge and the Madikwe Game Reserve are located a 4 to 5 hour drive from Johannesburg and sit along the South Africa/Botswana border.
Read the Show Them The Globe blog for more advice on travelling on safari with a baby.
>> How to book: Visit booking.com to find the latest prices for Tau Game Lodge. Click here!
Vuyani Safari Lodge in Moditlo Private Game Reserve – recommended by Glen from Couple Castaway
We stayed at The Vuyani Safari Lodge for 5 nights in May 2018. The lodge is based within the Moditlo Private Game Reserve in Hoedspruit, just a stone's throw from Kruger National Park.
The secluded honeymoon suites provide the perfect setting for feeling at one with the reserve and feeling all by yourself so you can enjoy your stay in a lovely private setting.
It's not all relaxation though. With 2 game drives per day included in the stay you will be getting 5am wake up calls for your morning drive and will go out again at 3pm for the second drive lasting about 3 hours each (longer if you happen to find one of the big 5 which is likely to happen). The evening drive includes a stop by a lake to watch the sunset whilst sipping a cocktail or a glass of wine.
The reserve has an abundance of wildlife and you will certainly be spoilt with the range of animals you'll come across, including a friendly pair of Cheetah brothers who were rescued and raised on the reserve. The reserve has the big 5, see if you can spot them all!
The staff here are second to none and cannot do enough for you. You will experience world class food where the chef will cater for any and all dietary requirements. You'll never be hungry!
Head over to the Couple Castaway blog for more of Glen's adventures, or visit them on Twitter and Instagram!
>> How to book: Visit booking.com to find the latest prices for Vuyani Safari Lodge. Click here!
Phinda Mountain Lodge in Phinda Private Game Reserve – recommended by Claudia from My Adventures Across The World
Phinda Mountain Lodge has to be one of the best safari lodges in South Africa. Managed by And Beyond, it is located in Phinda Private Game Reserve, a 3 hours drive from Durban, in KwaZulu Natal. It can be reached by car, but here also are charter flights from all over the country, including Cape Town.
What makes the lodge and Phinda amazing is the safari experience. Here, guests have a chance to see all the Big Five, and to do so in a completely responsible and ethical way. Rangers are accompanied by trackers, and jeeps hardly ever carry more than 6 passengers. No more than 3 jeeps at a time are allowed to view animals, and depending on the animal no more than one. Rangers are perfectly trained to look for the animals, and to make sure all guests get the best experience possible.
The lodge itself is a fantastic experience: completely immersed in nature, this is the kind of place where animals roam freely. Nyala love to drink from the guests' plunge pool (there is one in each room) and even elephants have been caught to do so. Rooms are very large and comfortable, and all feel like a little private enclosure. There is a very comfortable king size bed, a bathroom with a shower and a separate Victorian style bath tub, with And Beyond beauty products range. And if the comfort of the room isn't enough, there even is a spa for incredible treatments.
The view from the dining area is fantastic, and the food served at the property simply excellent. Breakfast is scrumptious, and so is lunch. Dinner location varies every night, and guests can find themselves dining in the boma or even in the middle of the forest, for an incredible al fresco experience.
All personnel is kind, ready to help and incredibly professional.
Phinda Mountain lodge certainly isn't a budget option, but it is worth every penny!
Follow Claudia's Adventures Across The World over on Instagram and Twitter.
>> Deciding between a Private Game Reserve and a National Park? Read my blog post to help compare the two. Click here!
Mala Mala Main Camp in Sabi Sand Game Reserve – recommended by Flora from Flora the Explorer
Mala Mala is a private game reserve located within the Sabi Sand Game Reserve. At 33,000 acres, it's the largest and oldest private Big Five game reserve in South Africa. There are three camps on the Mala Mala site: 'Main Camp' which caters for fifty guests, 'Sable' for families, and 'Rattrays' for just sixteen guests, which allows for a more intimate experience.
I spent three days at Mala Mala Main Camp, where I stayed in a private room designed like a traditional South African hut complete with a huge bed, work space, outdoor shower and unfenced deck outside to watch for wildlife. Not that there was much time spent in camp: Greg, our ranger, aimed to have us in the jeep as much as possible during our stay, and over the course of five morning and afternoon game drives we saw every member of the Big Five along with two separate kills (impala brought down by five lionesses and a pair of leopards) in one day! 
Sabi Sand shares 19kms of unfenced border with the Kruger National Park, allowing wildlife to move freely between the two. It meant that our sightings were basically constant, whether it was a group of thirteen hyenas bathing in a watering hole, a troop of baboons racing along the riverbank, a tree filled with vultures or even the white rhino we spotted at the gates of Mala Mala on our way back home. If you're looking for a luxurious safari experience, Mala Mala is a great choice!
Mala Mala is a 40 minute jeep ride from Skukuza Airport.
You can follow more of Flora's adventures on Twitter and Instagram.
>> Read more about the incredible wildlife encounters in South Africa by clicking here!
Naledi Bushcamp just outside Kruger National Park – recommended by Lucy from On The Luce
Located in a private game reserve on the edge of Kruger National Park, Naledi Bushcamp is that rare safari lodge – small, luxurious and affordable. The camp only has three suites, but some have more than one bedroom so at most there are 11 people staying at once. Rooms have private terraces and some come with outdoor showers or plunge pools. And because you're right out in the bush the animals often come to you – we even had monkeys making a dive for our lunch one day.
The day starts with a 5am wake up call before a three-hour morning game drive in an open-top jeep. After a big breakfast there's free time to relax by the pool or find a quiet spot to curl up with a book. Or Naledi offer a few different activities. There's a walking safari or a trip to a hide – we were dropped off in a shelter in the bush for two hours (with a coolbox of G&T so we weren't roughing it) and watched birds and giraffes at the watering hole in front of us. After lunch there's more free time before the afternoon game drive which includes sundowner drinks and snacks, followed by drinks by the campfire and a three-course dinner outside by candlelight.
The food is a real highlight at Naledi, with lots of fresh produce and local dishes, ending up with a big braai on the last night. The staff help make it special too – each night a different member of staff eats dinner with the guests so you can find out more about their lives. There's a really friendly ethos and lots of special little touches that make it feel luxurious. And all your food and activities are included in the price, so the only extras are alcohol and tips.
Head over to Lucy's blog to read more about a day on safari in South Africa, or follow her on Instagram and Twitter!
>> How to book: Visit booking.com to find the latest prices for Naledi Bush Lodge. Click here!
Rhino River Lodge in Manyoni Private Game Reserve, Zululand – recommended by Lerato from Life From A Bag
Rhino River is a five-star eco lodge located inside the Manyoni Private Game Reserve in the heart of Zululand in KwaZulu Natal. The family owned property brings next-level exclusivity to the usual safari experience, by only accommodating 24 guests at a time, offering hearty South African cuisine and warm hospitality. The open-fronted dining and lounge areas have panoramic views over the property. Meandering paths connect the communal areas with the swimming pool and rooms.
The lodge offers three types of accommodation: double en-suite luxury rooms for two guests, family chalets for four guests or two-bedroom private safari homes for up to four guests. Rooms have air-conditioning, ceiling fans, private verandahs, mosquito nets, coffee and tea making facilities, and a fully-stocked minibar. Their simple decor blends contemporary design with tribal art and artefacts handpicked from across Southern Africa.
The game reserve is home to the Big 5 (rhinos, elephants, buffaloes, leopards and lions), cheetahs, birds and African wild dogs. There is an estimated 3000 wild dogs remaining in the world, so waking up at 5am to track wild dogs and learn about these endangered carnivores, followed by a post game drive breakfast of coffee, the iconic South African Amarula, Ouma Rusks and biltong made the visit to Rhino River Lodge special.
For more unique things to do in South Africa, visit the Life From a Bag blog or follow Lerato on Twitter and Instagram!
>> How to book: Visit booking.com to find the latest prices for Rhino River Lodge. Click here!
***
So that's it! Our list of the best safari lodges in South Africa, as recommended by travel experts. Now tell me – have you stayed in any of these reserves? I'd love to hear your thoughts on the best South Africa safari lodges in the comments below!
Like this? Pin it for later >>
Disclosure: This post contains affiliate links, which means I could receive a small commission if you click a link and go on to purchase something recommended in the post. It doesn't cost you any extra, but helps keep this blog up and running, so thank you for your support!