Copenhagen in winter conjures up images of hot chocolate, log fires and snowy streets. Yes, the days are chilly and the nights long, but where better to spend a winter break than Copenhagen in Denmark – the place that literally invented hygge?
In this post, I share what makes winter such a special time to visit, as well as the top things to do and best places to stay in Copenhagen. 
Things to do in Copenhagen in winter
If you're wondering what to do in Copenhagen this winter, here's our pick of the 'must dos' to keep you entertained.
Head out on a walking tour of the city
Despite the cold, most of Copenhagen's beauty is on the outside thanks to its picturesque parks and cobbled streets, so it's a shame to spend all your time inside. The main sights listed below are all within walking distance of each other, so you can find refuge in them to avoid freezing completely.
Consider a City Sightseeing bus tour 
If walking doesn't appeal, a hop-on hop-off bus tour is a great way to see the City from the comfort of a seat. It's an especially good thing to do in Copenhagen in winter, because buses are also usually heated, meaning you can use it to warm up after a particularly chilly day.  
Tours feature some of the most famous buildings and statues in Copenhagen with an audio guide to give you an insight into life in the city.
>> Check out the latest prices for hop-on hop-off bus tours in Copenhagen now
National Museum of Denmark
The National Museum of Denmark is free to visit and houses collections dedicated to Denmark's history and culture. We learnt about the Vikings, Nordic traditions and culture, as well as exhibits from other continents and countries so there's always something new to learn.
Little Mermaid
The Little Mermaid is a statue based on Danish author Hans Christian Andersen's fairytale. The statue is a bit out of the way of most other sights, but you can still walk to it, or take a bus tour that will let you off for a few minutes to take photos. 
Rosenborg Castle
Rosenborg Castle was built for King Christian IV as a hunting lodge and summer house, a magnificent building quite typical of Danish architecture. The castle is now home to exhibits from Christian's life, the crown jewels and beautiful grounds. If it's cold enough, you may witness the ducks both swimming and ice skating on the frozen moat surrounding the castle. Entry to the castle is included in the Copenhagen card.
>> Invest in a Copenhagen Card to save money on your trip
Rundetårn
Rundetårn is a great way to see the whole City from above thanks to its viewing platform at the top. Plus, with a slope winding its way all the way to the top, it's not even strenuous to get up there! The core of the tower is hollow, and there's a glass floor near the top for people brave enough to stand on it. 
Canal boat tour
Being full of canals and surrounded by water, there's no better way to see Copenhagen than from the water. Most of the boats that traverse the waterways have an outdoor viewing platform, but the wind chill in the winter time can be unbearable. Choose a canal boat tour that has a covered area to keep you warm as you travel along the canals to the neighbourhoods of Nyhavn, Christiansborg and out to the sea to get a good view of the new Opera House and the Little Mermaid's back. 
>> Book a Canal Boat Tour of Copenhagen on GetYourGuide now!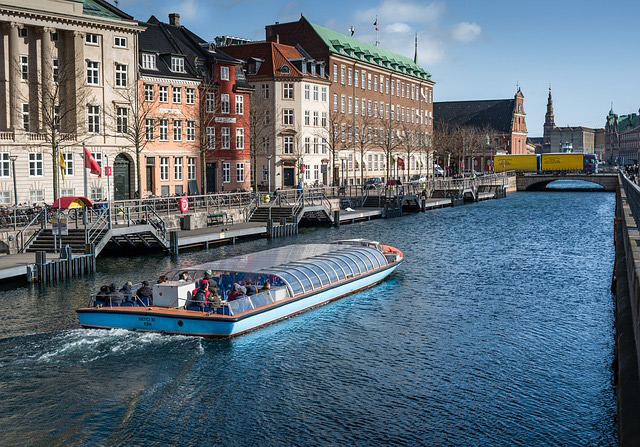 Nyhavn
Nyhavn is probably the most photographed area of Copenhagen, and certainly one of the most recognisable. It's a lively area with good restaurants and bars but, scared of falling in to a tourist trap, we avoided them. For us, it was a nice place to wander and take photos of the sailboats moored up alongside colourful and disorderly terraced buildings.
Amalienborg Palace
Amalienborg Palace is the Copenhagen winter home of the Danish royal family and has been turned into a museum with exhibits from the royal family's lives. To be honest, the building is more impressive than the inside, but as entry was included in our Copenhagen cards, it was worth a visit. 
Tivoli Gardens
Tivoli Gardens is an amusement park on most must-do lists, but other than in the run up to Christmas, but unfortunately it is closed in January. It's worth checking opening hours and days before you book so you don't miss out. There's still plenty to see without Tivoli, though!
Best time to visit Copenhagen during the winter months 
There's a lot to look forward to throughout winter in Copenhagen, from the festive lights and Christmas markets in December, to lower January prices and romantic walks of February. When will you visit? 
Copenhagen in December 
Of course, the main focus of Copenhagen in December is Christmas. There are plenty of Christmas markets where you can enjoy gløgg – a mulled wine with raisins and almonds, and aebleskiver – pancakes with jam and sugar, whilst shopping for the perfect gift. Take your pick from the markets along the port of Nyhavn which opens in early November, or the centrally located Højbro Plads which is styled with glitzy lights and log cabins.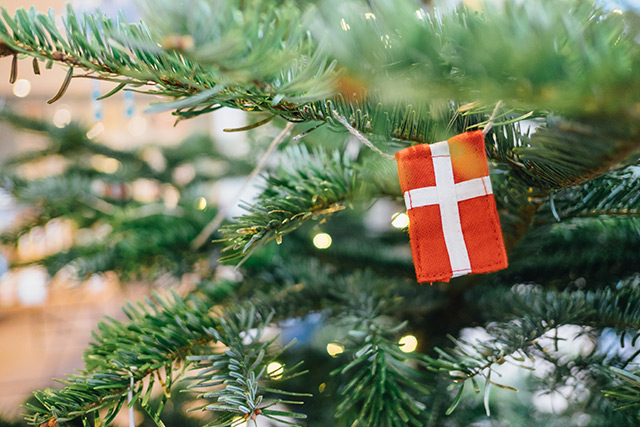 For other festive activities, head to Tivoli Gardens – an amusement park that comes alive in December. You can wander through the gardens to admire the beautiful decorations, meet Santa in his grotto or tuck into delicious Christmas treats in the food hall. 
>> Discover the best places to stay in Copenhagen this winter!
Copenhagen in January
While January can bring attractive price drops and dwindling crowds, there is one big compromise when visiting Copenhagen this month: Tivoli Gardens, one of the biggest tourist attractions in the city closes in the first week of January. So if Tivoli Gardens is high on your to-do list for a winter break, consider visiting at the very beginning of January before it closes on the 5th January 2020, or after it reopens in February.
Copenhagen in February
Despite being the coldest month of the year, February is a very romantic time to visit Copenhagen thanks to its focus on Valentine's Day. If you decide to visit this month, consider a romantic meal in one of the city's Michelin Star restaurants or visit one of the city's may saunas to warm up. 
The weather in Copenhagen in winter
The weather in Copenhagen is usually one of the biggest concerns people have before booking a trip. Being a Scandinavian country, the temperatures can drop considerably in Denmark in winter and snow is common. However, if you know what to expect and how to dress appropriately, you'll stay cosy and warm throughout your trip. 
| | | | |
| --- | --- | --- | --- |
| Month | Average High c/f | Average Low c/f | Av. Hrs of Sunshine |
| December | 4c/39f | 0c/32f | 1 |
| January  | 2c/36f | -2c/28f | 1 |
| February | 4c/39f | -3c/27f | 2 |
Despite needing to pack your warmest clothing, the cold and snow should not affect your trip. The Danes are used to the wintry weather, so transport will still run and businesses will stay open. 
>> If you're considering Europe this winter, why not visit Athens for New Year's Eve or Mallorca?
Where to Stay in Copenhagen
Copenhagen has some wonderful places to stay. Here's my pick of the cosiest centrally-located hotels that will suit every budget. 
CitizenM Copenhagen 
Like other hotels in the CitizenM chain, the Copenhagen Radhuspladsen is decorated in a funky, modern style and each room comes complete with a tablet from which you can control the tv, lighting and room temperature. Located just 650 yards from Tivoli Gardens, the hotel is very centrally located meaning you won't have to walk far in the cold to reach all the main sights. 
Rooms start at £99 for a night, but you'll have to pay extra if you want a taste of their delicious breakfast buffet. 
Absalon Hotel
The Absalon Hotel in Copenhagen is one of the largest and oldest in the city, with double rooms starting at £120 a night. Having recently undergone extensive refurbishment and interior design by the Designer's Guild, it's a stunning hotel decorated in blues and greens, with welcoming sofas, funky lighting and digital fireplaces in the bar where you can thaw out after a freezing day in Scandinavia. 
The hotel is just a few minutes' walk from central Copenhagen train station, so within easy walking distance to most of the major sights including Tivoli Gardens and City Hall.
>> View the full range of Copenhagen hotels available this winter on booking.com
Wakeup Hotels 
Wakeup Hotels is a small chain of budget hotels in the city centre of Copenhagen, where a room in the winter can cost around £70 a night. All rooms are stylishly decorated and have flat screen TVs for cosy nights in, but you can also hire bikes from the hotel to explore the local area and work up a sweat (if possible, in winter!) 
Two of the Wakeup Hotels (Bernstorffsgade and Carsten Nieburhs Gade) are located a few minutes' walk from Tivoli Gardens, while the other (Borgergade) is around the corner from Amalienborg.
Nimb Hotel
Now for something very special – I mean over £300 a night special, there's only really one option. Nimb Hotel is set in the Tivoli Gardens, in a beautiful Moorish style building that looks simply magical when lit up at night. Rooms contain four poster beds, while some also have fireplaces and free-standing baths for extra luxury. The bar can be found in an opulent ballroom decorated with chandeliers and a log fire to help you warm up after a busy day exploring the city. 
What to wear in Copenhagen in December/January 
Owing to the freezing temperatures, you'll need to pack plenty of layers, snow boots  and thick coats. This can be troublesome if you're travelling hand luggage only and need to wear most of your clothes on the plane, just like we did! 
Consider taking plenty of layers, including long-sleeved t-shirts, woolly jumpers and cardigans. Remember to pack hats, scarves and gloves too to keep your extremities toasty. 
And don't worry about being too hot once you go inside a restaurant or museum – everywhere has coat hooks and lockers to leave your coats so you won't need to carry bulky coats or overheat once inside.
>> Have a look at Cotswold Outdoor's range of winter boots for your trip
…
Despite being incredibly cold, winter makes a fantastic time to visit Copenhagen. After all, where else can you witness hygge in all its cosy, warm, comforting glory?
Have you ever been to Copenhagen in winter? What were your favourite places to visit?