After becoming totally fed up of my fear of flying, I decided to book on to the easyJet Fearless Flyer course. In this review, I share my honest opinions of the format, experience and leaders of the course, and answer that age old question… do fear of flying courses actually work?
Being scared of flying AND totally addicted to travelling is a terrible combination. We're meant to be excited about visiting a new destination, not feeling sick at the thought of getting there, aren't we?
I never let the fear stop me from getting on a plane, but I would spend entire flights (sometimes up to 12 hours) gripping the seat, squealing during turbulence and staring out the window to make sure we weren't actually falling.
Still, I knew deep down that flying was safe, but I couldn't shake the anxiety that seemed to come out of nowhere a few years ago.
I read loads of fear of flying books, listened to relaxation podcasts and watched countless YouTube videos of real-life flights taking off and landing safely, but nothing seemed to work for me.
It was time to book on to a fearless flyer course.
I researched loads of different courses before settling on easyJet's. For me, easyJet looked the best because it had some really positive testimonials, the location was easy to get to and it offered better value for money than others.
So what actually happens on an easyJet Fearless Flyer course? And is it worth it? Read on to find out…
Disclaimer: I paid for my own ticket to the easyJet Fearless Flyer course, and the reviews above are my totally honest opinions. I'm well aware that everyone has different fears, and I genuinely felt that certain aspects of the course helped me. As an affiliate for Amazon and other retailers, I earn from qualifying purchases.
My EasyJet Fearless Flyer Course Review
The course is split across two days, starting with a theoretical Ground Course that covers both the science of planes and flying, as well as the science of fear and relaxation. The second day is where you get to put it all into practice on an Experience Flight, where you're taken on a short flight to test out your new found knowledge and techniques.
Let me take you through my experience of each of these aspects.
The theory behind psychology and fear
When I arrived at the Sofitel in Gatwick I was shown to a room with 70 other people, all feeling as nervous as I was. It took me a little while to notice R Kelly's 'I Believe I Can Fly' was playing as we all sat down. Though it was cheesy, it immediately put me at ease and got me talking to the lady next to me.
Then, one of the course's founders and a qualified psychologist, Lawrence Leyton, bounded onto the stage. Over the course of a couple of hours, he took us through the science of fear and what our brains are actually doing when we're experiencing flight.
I'll admit that I struggled with some parts of the theory. For some reason I have a hard time picturing an image getting smaller and smaller, turning black and white and disappearing into thin air. That said, there were plenty of people around me who immediately looked more relaxed. Perhaps I just have no imagination?
The relaxation techniques that Lawrence taught us next did work for me, however. Learning how to breathe, how to 'tap' yourself calm and how to deal with panic attacks was a revelation. I'm sure I'll be using these techniques in many more situations than just flight.
>> If you're considering the fearless flyer course in Gatwick, why not stay overnight at the Sofitel? Book your stay now!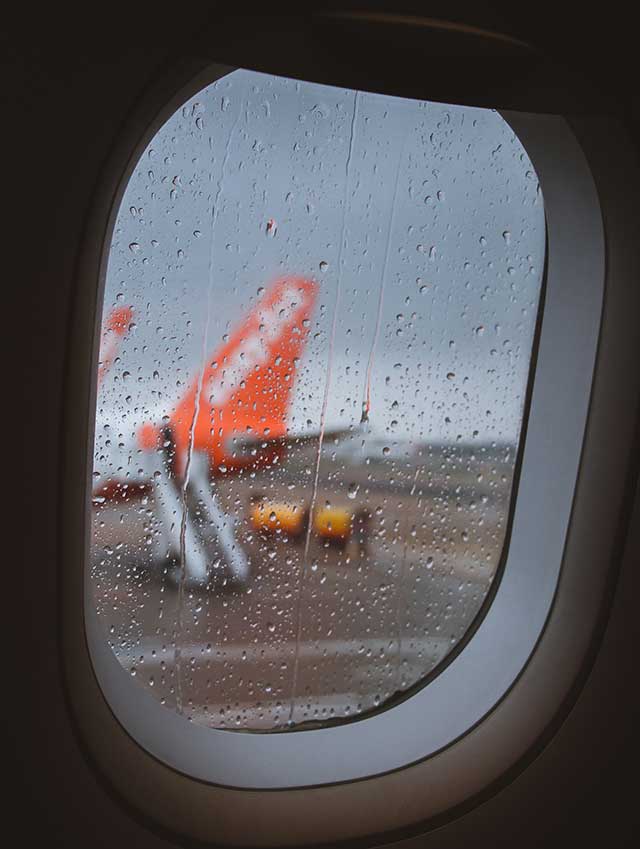 The Captain's presentation
Next, Lawrence invited an experienced easyJet captain on to the stage to explain how planes fly and all the processes they have to follow before, during and after the flight.
My brain still can't fully get around the idea of flight – how a metal tube suspended in the sky can stay there, shuttling you from place to place. But the captain explained everything very clearly, including what turbulence is and why it's safe.
We were then invited to ask questions, which is where I plucked up the courage to ask about the difference between flying on large, commercial jets like those that easyJet fly, and the small turboprops like I would be flying on in Kenya. She explained that they still have to follow all of the procedures and regulations, and that flying was just as safe in a small plane. That put me at ease, for a while at least.
At the end of the Ground Course, we were all sent home with instructions on where to be for the flight the next day, as well as a cheat sheet of relaxation techniques and a reminder of the other things we learnt during the day.
The experience flight
The next day, after a great night's sleep at the Sofitel, I was nervous but excited for my experience flight.
I knew it would be the part of the course that would help me the most, as I wasn't going to get over my fear of flying sat in a classroom.
On the morning of the flight, I barely ate any breakfast I was so nervous about the thought of the flight. But, I made my way to the check-in desk, picked up my boarding pass and was ushered through premium security before I even realised what was happening.
At the gate, I got chatting to a couple of people on the course and we all shared our concerns and our future holiday plans. It was a great distraction but also helped us to remember why we were there and what it was all for.
Once we were on the plane, Lawrence reminded us of our relaxation techniques and helped us to feel calm ahead of the flight.
Then, there was a lot of waiting around as the ground crew discussed the flight plan with the captain and waited for clearance to take off. Sadly, this waiting was too much for some passengers who decided to get off – their anxiety getting the better of them.
I'm so glad I persevered.
The flight was incredible.
The captain that had presented yesterday joined us in the cabin for the whole flight and took over the tannoy to explain every tiny sound, every slight bump and every small detail about the flight we were taking in real-time.
It was a relatively smooth flight, despite storms being forecast on our route. It only lasted 20 minutes and there wasn't even time to get a cup of water from the crew before it was time to put our seatbelts back on and get ready for landing.
For the first time ever, I found myself wishing the flight was longer.
After landing, the pilots emerged from the flight deck to say hello and congratulate us. Then we all walked down the steps with huge grins on our faces and into the welcoming arms of Lawrence and the team.
We did it!
Following the course
A few days after the course, I received an email giving me access to an ongoing support network which included the option to buy additional videos, fact sheets and even an MP3 player to take on all future flights.
I bought the MP3 player in hopes that if I ever got nervous on a flight, I could listen to the recordings from the course, reminding me that flying is safe and how to relax.
Overcoming a fear is like training a muscle, and you have to practice to make sure the fear doesn't return. The support network is there to help with this, and it's great to know you're not alone once you finish the course.
Do Fear of Flying/the easyJet Fearless Flyer courses work?
Two weeks after the course, I was heading on a trip to Monaco. I was calm through all of the parts of flight that normally scared me – take-off, turbulence and landing. In fact, I hadn't felt that calm in years!
I even spent 8.5 hours on a flight to Nairobi without even an inkling of fear.
However, when it came to the thought of stepping foot on the tiny turbo prop planes that I would be going on in Kenya (the main reason behind my booking onto the course) the nerves kicked back in.
So, I practised my breathing techniques, grabbed my MP3 player and strapped myself in.
Despite feeling scared, I knew for sure the nerves I was feeling were a hundred times less than they would have been without the course.
And, actually, the flight was fine. It was smooth as anything and one of the best flights I've ever had. Sure, the wind made the small plane move than a larger jet but, other than that, there was no real difference.
We had beautiful views out over the Kenyan plains, and I watched the pilots laughing and completing their paperwork in front of me for reassurance that everything was okay.
Even when the pilot had to perform a go around when the airstrip was covered with a herd of cows, I wasn't scared, I wasn't a mess, I didn't grab my husband's hand at any sign of movement. I actually enjoyed it.
Sure, I cried on that flight, but this time it was out of relief.
I could finally say goodbye to my fear of flying. easyJet's Fearless Flyer course had kicked its butt.
>> Scared of flying? Check out my top tips for staying calm on flights next!
***
If you have any questions about the course itself, do let me know in the comments and I'll be happy to answer them!