Visiting Monteverde's Hanging Bridges features right at the top of most itineraries for Costa Rica, but what if you're scared of heights? Don't worry, I've been there (literally) and there are plenty of ways to cope. The very fact you're even questioning whether you should visit the suspension bridges in Costa Rica suggests you want to – so your next question shouldn't be if, but when?
As most fears are connected to the fear of the unknown, let me take you through what the Hanging Bridges in Monteverde and other parts of Costa Rica actually involve. I'll also highlight their benefits and help you decide whether or not they're for you.
What happens when you visit the hanging bridges at Selvatura Park?
While in Costa Rica, I visited the hanging bridges at Selvatura Park, but I imagine the experience will be very similar across most other parks in Monteverde and the rest of the country. Take a look at the different hanging bridge parks you can visit in Costa Rica here.
Once you've bought your ticket at the main entrance, you'll walk along a path into the rainforest to find the first bridge. Then, you'll walk across the bridge (stopping to see the sights if you wish – or you can keep on walking). At the other side, you'll continue through the forest until you reach your next bridge and so on. Each bridge will be a slightly different height and length to the ones that came before it to give you a unique perspective on the forest.
As the bridges work as a loop, once you're over halfway, it makes sense to keep going rather than turn around and come back the other way. This is something worth keeping in mind if your fear is debilitating. Once you're over a bridge, the only way back to the entrance is to either finish off the loop by walking over all the other bridges or turning around and walking over the one you've just crossed.
But try not to let that put you off – once you've conquered the first one, the others will be easy.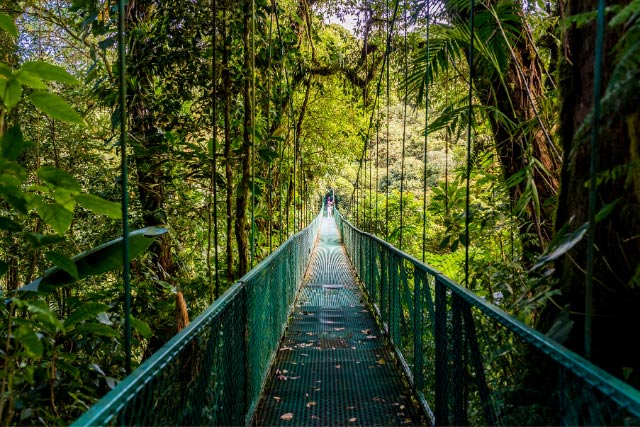 What are the Hanging Bridges like? Are they scary?
I'll be honest with you. As I approached the first of the hanging bridges, I was terrified of going over them and even shed a tear or two at the thought.
But I was determined to cross them. And once you do a couple, you may find you get used to them and actually start to enjoy the experience – that's what happened to me! I quickly forgot how high up I was and enjoyed pointing out the birds that flew above us and the other animals in the trees.
Another thing to bear in mind is that the ground below you is largely obscured by the trees and clouds of humidity under the bridge. It's difficult to see the forest floor unless you look directly down and in between the tree branches beneath you. That made me feel very safe – as if there was a giant canopy of trees helping to keep me up.
Are the Hanging Bridges safe?
Yes, the Hanging Bridges are perfectly safe. According to Selvatura Park itself, they're the only bridges that have been approved by the College of Architects and Engineers of Costa Rica. This makes sure they follow strict standards of construction and materials for their purpose. They're made from huge steel cables that are proven to support more than they need to. Once installed, they're regularly checked and maintained by staff at the park to keep them safe.
Yes, the hanging bridges do sway and wobble slightly if people pass you, but not to a very large extent. And, honestly, that's the beauty of the bridges. Imagine how much more disruptive it would be to nature if there were huge columns built into the ground to support the bridges. They are built as suspension bridges for a reason, to minimise the impact on the environment, and with that comes a slight wobble.
There are strict rules on the number of people that can be on a bridge at any one time, and this figure is always much smaller than the number of people the bridge can actually carry. That means the bridges are never pushed to their limits.
Why you should still visit the Hanging Bridges, even with a fear of heights
I can completely understand why you may not want to visit the Hanging Bridges if you're scared, but there are plenty of reasons why you should fight the fear and do it anyway.
The beautiful scenery
A huge benefit of crossing the hanging bridges is to get a unique viewpoint of the cloud forest that you simply wouldn't get unless you were above it. It would be difficult to get views out over the tops of the trees without crossing a bridge or two along the way – don't you think? With that in mind, it really is worth facing your fear of heights and crossing the hanging bridges to enjoy the view.
Plus, even when you're not on a hanging bridge, the trails you take to reach them are worth the journey too. Along the pathways, you could spot a beautiful scene you wouldn't have the privilege to see the forests that are otherwise completely closed off to visitors.
Opportunities to see rare wildlife
One of the main reasons the hanging bridges exist is to give you a unique perspective on the area without needing to trample across the forest floor and thereby damaging habitats along the way.
Plus, as counterintuitive as it might sound, walking across the hanging bridges may actually allow you to get closer to the wildlife than if you were walking through the forest. Birds are difficult to spot when looking up, but looking across to them from a hanging bridge is easy. Similarly, jaguars are almost impossible to see through the thick undergrowth and will likely run away from you as soon as they hear a tourist's footsteps walking towards them. But from a hanging bridge? They might not even know you're there.
Some visitors have been lucky enough to spot incredibly rare species like these from the hanging bridges, including jaguars stalking along the forest floor and even the most beautiful bird in Costa Rica – the resplendent quetzal from among the treetops.
Fan of Costa Rican wildlife? Make sure you don't miss my guide on the best things to do in Manuel Antonio!
Experience an activity that's unique to Costa Rica
Visiting the hanging bridges is an activity that features on most Costa Rica itineraries, and certainly every list of things to do in Monteverde. It's not something that you can do everywhere, so you should definitely make the most of it while staying in a jungle lodge in Costa Rica. 
A sense of achievement
Perhaps the biggest benefit of all, just imagine the sense of achievement you'll get after facing your fears! In my opinion, that feeling is worth every tear or drop of sweat. Plus, once you've conquered the bridges, just think what else you could do and see on your trip to Costa Rica. What about ziplining next? 😉
5 tips for crossing the Hanging Bridges if you're scared
If you do decide to cross the bridges but still feel scared, there are a few things you can do to make yourself feel more comfortable.
Stay with someone you trust and who understands your fear – When I first arrived at Selvatura Park, I walked across the first few bridges holding on to my husband's arm. This helped me feel safe and much calmer as I got used to the feeling of being so high above the forest floor. But by the last few bridges, I was skipping across them on my own!
Cross the bridges with a group of people – If you're anything like me, you might feel more comfortable when you're distracted from your fear. And the best way to do that for me is to surround myself with other people.
Avoid the tendency to look down – If one of the biggest triggers of your fear is looking down, avoid doing so! Thankfully, there's plenty to see when you look up and out across the scenery. Keep your focus on the main reason you're at the hanging bridges in the first place – to admire your surroundings and potentially spot wildlife along the way.
Don't think about how high up you are – At the beginning of each bridge, you'll see a sign telling you how high and how long the bridge is. If knowing these statistics is a trigger for you, avoid looking at them. Instead, walk straight past them and out onto the bridge. One thing I found was that once you're on a bridge, it will feel very similar to the one you were on before it, no matter how much higher or longer it was.
Explain your fear to the front desk – I could recommend mentioning your fear of heights to someone at the ticket office at Selvatura Park. When I did this, the gentleman very kindly offered me a money-back guarantee. He said that if I couldn't make it over the first one without feeling terrified, he would refund me the money I paid. Now if that's not an incentive to at least give it a go, I don't know what is!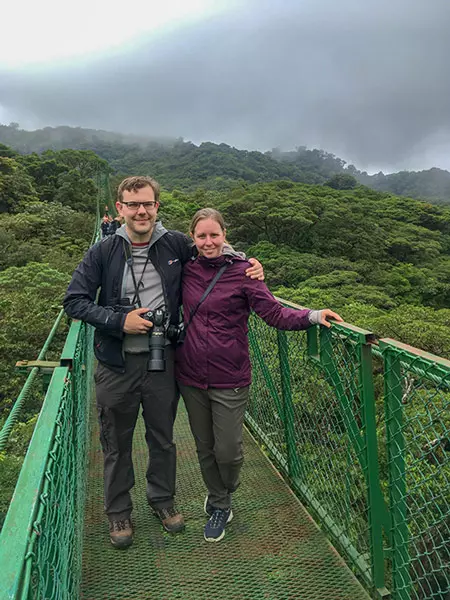 Which Hanging Bridge to visit with a fear of heights
There are plenty of Hanging Bridges to visit in Monteverde, but my favourite is Selvatura Park. Not only does it have very understanding staff who offered to give me my money back if I couldn't carry on without turning around, but the bridges there are very well maintained and safe too.
Selvatura Park also has a hummingbird garden which, if you don't manage to walk across the hanging bridges, will keep you entertained while you're waiting for the rest of your group.
Or, if you've conquered your fear of heights and fancy having a go at a zip line, you can do that here too!
For even more hanging bridge options in Costa Rica, have a look at the full list available on Viator or GetYourGuide below.
***
With or without your fear of heights, it really is worth giving the hanging bridges a go. I found that the thought of them was so much worse than the reality. A trip across the hanging bridges actually became the highlight of my trip to Costa Rica. I would really encourage you to fight the fear and do it anyway – you won't regret it!