Knowing what to wear in a tropical rainforest can be tricky. Do you pack your normal travel gear and hope for the best? Or is it worth investing in jungle clothes that are made for the tropics? 
In this post, I'll share my pick of the best tropical rainforest clothing that will keep you comfortable, fashionable and stylish while jungle trekking in places like the Amazon rainforest or Costa Rican jungles. 
For safari gear, head over to Really Wildlife for a full packing list!
Long-sleeved tops
Long-sleeved shirts, t-shirts or tops are the first item in this list of jungle clothes for a reason! Rainforests and jungles are full of creepy crawlies and mosquitos that would love to prey on your arms. Sleeves will not only provide a protective barrier for these biting insects but also keep the sun's rays from burning your skin.
Choose long-sleeved tops made of cotton or other lightweight and fast-drying fabrics for the most comfort. You're bound to sweat, so this will keep you as cool as possible while still providing plenty of protection. 
Very thin button-down shirts worn over a tank top will also keep you cool, but do bear in mind that some insects can bite through thin fabric so many not protect you as much as you need.
My top picks for ladies:
My top picks for gents:
Head to Craghoppers.com to view their full range of jungle clothes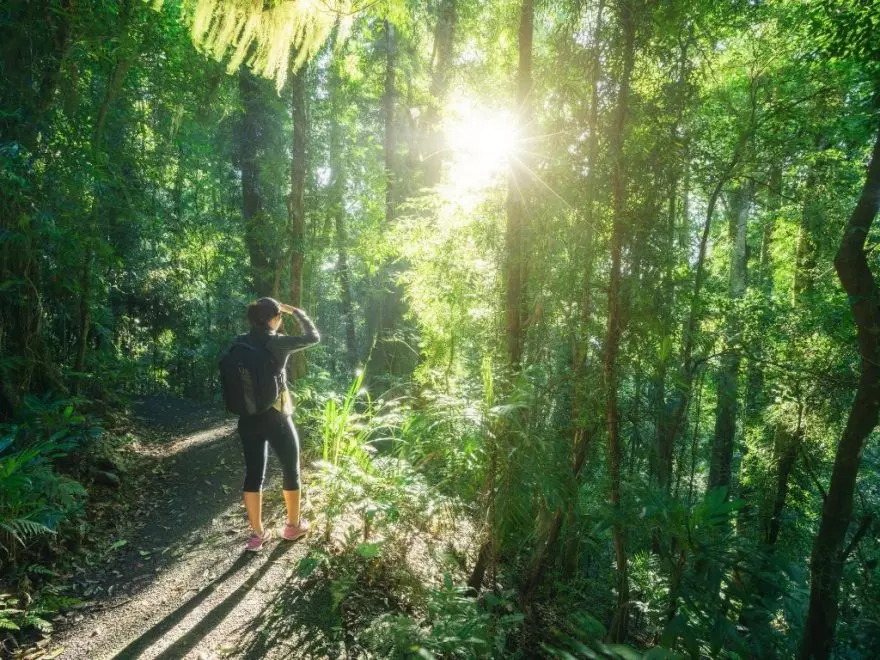 Light sweaters or cardigans
It may sound crazy to include warm items like sweaters in a list of jungle trekking clothes, but it can actually get cold in the jungle, especially at high altitudes. The cloud forests in Costa Rica are a great example of this, as I could happily wear four layers to maintain a comfortable temperature. 
Even if you travel to more equatorial places where the humidity and heat can be unbearable, taking thin hoodies or sweaters that you can layer up is a really good idea. Wearing a light sweater or cardigan over a tank top in the evenings after a cold shower will keep your arms and shoulders protected from biting insects too. 
My top picks for ladies:
My top picks for gents:
Raincoats
Raincoats are an absolute must in the rainforest. It's in the name after all! Though it sounds obvious, make sure you buy a waterproof jacket. Some coats are described as showerproof, which means water may still seep in through the seams, leaving you a little soggy. It's also best to find a lightweight, breathable raincoat that will keep you cool during a humid downpour, and then easily stuff into your backpack once it's over. 
It may be tempting to choose a raincoat with a funky pattern or bright colours, but insects are attracted to these colours so it may not be a good idea. Muted colours like greens and beiges are best.
My top picks for ladies:
My top picks for gents:
Long trousers/pants
For the same reason that long-sleeved tops are must-have clothes to wear in the rainforest, long trousers or pants will protect your legs from insect bites as well as creepy crawlies on the ground. Cropped trousers or shorts are pretty pointless, as it really is best to protect your whole leg. 
Choose lightweight materials that keep your legs cool, dry quickly and wick away sweat. Loose-fitting is best, as anything too tight like leggings will make you too hot. If you're worried about insects climbing inside of your trousers, you can always tuck them into your socks. 
My top picks for ladies:
My top picks for gents:
For the full run-down of Craghoppers' range of insect repellent clothing, Nosilife, read my full review!
Waterproof Trousers (Optional)
We had heard that waterproof trousers would be useful, but in reality, we found our trousers didn't get that wet, even in the heaviest of downpours. That said, if you still feel the need to take waterproof trousers, you will probably get away with a single pair.
My top picks for ladies:
My top picks for gents:
Visit Cotswold Outdoor to see their full range of outdoor clothing
Hiking Boots
A trip to the rainforest or jungle will usually involve long walks and hikes along uneven terrain. It's therefore important to pack a pair of sturdy hiking boots that are comfortable and will support your feet. 
Make sure you buy a pair well in advance of your trip, giving you time to wear them in. After all, the last thing you want is a set of painful blisters the first time you wear them in the jungle! It's still a good idea to take blister plasters with you to keep you comfortable.
My top picks for ladies:
My top picks for gents:
Comfortable Shoes
When you aren't trekking through a jungle or hiking through the rainforest, it's good to have a pair of comfortable shoes to give your feet a rest from stiff hiking boots. When you're travelling, going for dinner at your hotel or visiting tourist attractions outside of the jungle, they will come in incredibly handy. 
My top picks for ladies:
My top picks for gents:
For my honest review of Allbirds shoes, have a read of my Allbirds Mizzles review or my Allbirds Tree Skippers review next!
Socks
Socks are essential clothes for trekking in the jungle, and while it is possible to wear normal socks, it's best to pick up a few pairs that are made especially for hiking. This will mean that they're long enough for your trousers to tuck into, to protect your legs from climbing insects and leeches. Your ankles are one of the most common areas for insect bites, so do be prepared to cover them up.
Look out for socks made from merino wool or a vegan alternative to provide a comfortable barrier between your feet and stiff shoes. These materials are also great at regulating temperature so your feet won't get too sweaty. 
My top picks for ladies:
My top picks for gents:
Pyjamas
Make sure to pack a light cotton long-sleeved top and bottoms to wear in bed at night. After all, mosquitoes are most active at night! Despite the heat, you'll still be comfortable in pyjamas if they're designed to keep you cool, whilst protecting you from biting insects. 
My top picks for ladies:
My top picks for gents:
Light Scarf
A large light scarf will have many uses while jungle trekking. As well as protecting your neck from the sun and mosquitoes during the day, you can also unfold the scarf to cover your shoulders, wear as a sarong or use as a blanket when travelling or in buildings with super-strong air conditioning.
My top picks:
Sun Hat
Sun hats are essential clothes for the rainforest. One with a wide brim will protect your eyes and head from the sun, while a waterproof baseball cap will do this and more. If your raincoat doesn't have a hood, or you simply don't want to wear it up all the time, a cap will keep the water out of your face during rainstorms. 
My top picks:
Accessories
Now we've covered the best tropical rainforest clothing, let's look at other essential accessories to pack in your luggage. 
Backpack
A day pack is an essential piece of rainforest kit to store all of your valuables in while jungle trekking. In a day pack, you can store your sunscreen, sunglasses, camera equipment, water bottle, insect repellent – basically everything you'll need for a day in the jungle! 
Opt for a waterproof backpack to keep your valuables dry and protected from the rain and humidity. 
My top picks:
Mosquito Repellent 
Even with long sleeves and trousers, it's best to wear insect repellent on exposed skin. Those critters will always find somewhere to bite if you don't!
There are lots of different mosquito and insect repellent products available, but it's widely said that those containing DEET are most effective in tropical areas. However, some research suggests that DEET can be harmful to those with sensitive skin, so it's best to do our own research first. 
My top picks:
Insect Bite Remedies
No matter how much you prepare, a couple of insect bites are inevitable. With that in mind, it's best to pack a few bite remedies to help alleviate any itchiness and swelling. 
My top picks:
Reusable Water Bottle
With the humidity and heat in tropical rainforests, it's critical to stay hydrated while you're out and about. Avoid buying bottled water to reduce your plastic consumption, as most eco-friendly lodges should provide free filtered water on tap for you to fill up your reusable bottle with.
There are plenty of water bottles available, but try one with a specially designed filter to make sure you have access to clean water no matter where you are. This means you can fill up from the tap or any source of freshwater (not salty!) and drink it safely. 
My top picks:
Read my review of Water To Go's filter bottles to find out if it's right for you.
***
So there we have it! Packing jungle wear clothing for your next trip will be a breeze with this list of essential items and outfits. 
Like this? Pin it for later >>