Skiing is expensive. There's no two ways about it. With the average ski holiday costing upwards of €1,500 for a week in France per person (excluding flights!), it could take years to save up for. Not to mention the time and effort it takes to reach a ski resort is enough to put some off completely. With so much to consider when you book a ski trip, is skiing worth the expense and effort?
In this post, I break down the cost of an average ski holiday and seek to uncover whether the experience outweighs the money you spend on transport, accommodation and equipment.
Preparation: The cost of ski clothing
If you're going skiing for the first time, there are a few things I recommend investing in pre-trip to keep you warm and toasty.
It really helped me feel fully prepared to have bought warm, comfortable clothes that would protect me from knocks and the freezing temperatures. My pre-trip packing list included ski jacket, fleece, base layer, salopettes, gloves, hat, goggles and snow boots. They were worth every penny!
Average cost: €120 per person for a full ski outfit.
Is the preparation worth it? Absolutely. You need to feel warm, comfortable and protected on your trip. This is money well spent.
Transfers: Reaching the ski resort
If I'm totally honest, the journey to reach a ski resort is always going to be painful. First you'll need to get to the airport in your home country, take a flight to the nearest airport to your ski resort and then travel by coach or car up the windiest and highest mountain roads for around 3 hours to reach the resort. I found myself gripping the seat in front of me with my knuckles turning white as I contemplated the sheer drops either side of the road!
Though the journey was long, that only added to the anticipation and there was plenty of beautiful scenery to keep me occupied.
Average cost: €140 per person for a return transfer from the airport to your ski resort.
Is the transfer worth it? It would be pretty difficult to enjoy views like these without the journey!
Accommodation: The cost of staying at a ski lodge
There's plenty of choice for places to stay when on a ski trip, ranging from shared dormitories and apartments to luxury hotels and chalets. Whichever you choose, accommodation is likely to be the most expensive part of your ski holiday. It's also one of the most important so you can rest and thaw out after a physically demanding day of skiing and apres-ski.
Imagine being able to enjoy this view every morning – stunning. That's what we were treated to at the Hotel Aigle des Neiges, Val d'Isere, a 4* hotel slap bang in the middle of the resort and just a few minutes' walk from the ski slopes. But with the hotel's superior double rooms costing upwards of €2,400 ($2,650) for 6 nights, it doesn't come cheap.
There are cheaper places to stay, but I loved our hotel because it was comfortable, warm and welcoming. It also had everything you could need to get away from the snow, including a spa and an excellent restaurant and bar complete with open fires.
Other options for places to stay in Val d'Isere include:
Average cost of accommodation: With so many different types, tastes and standards of accommodation, and with costs depending so much on when you go, it's difficult to give an average. To give a very rough average figure, expect to pay €1,000 per week for two adults.
Is the accommodation worth the cost? While you don't spend much time in your accommodation while skiing, it's still worth spending the money to stay somewhere warm and comfortable on your trip.
Equipment: Ski rental
Ski boots and skis are an essential part of your trip. You can hire them from shops at the resort, which is a great idea if you don't want the hassle of bringing your own from home. It's best to book rental in advance to save up to 50% on the walk-in price and to make sure they've got your size available.
There are a few different levels of ski equipment, ranging from the cheapest and most basic (perfect for beginners) up to more advanced skis for better maneuverability and traction. Whichever you choose, make sure they're comfortable as you'll be spending a lot of time in them!
Average cost: A basic set of beginners skis and ski boots will cost around €80 to hire for 5 days on the slopes.
Is ski rental worth it? Skiing is virtually impossible without ski equipment, so unless you have your own, yes – ski rental is worth it.
Skiing: The cost of lift passes
While you don't strictly need lift passes if you're a complete beginner and want to stay on the nursery slopes, you'll soon get bored once you get your confidence up. To enjoy the rest of what the resort has to offer, you'll need to invest in a ski or lift pass.
There are likely to be different versions of ski passes for the resort you're staying in, so make sure you do your research before booking anything in advance.
Average cost: Lift passes can cost in the region of €50 per day, so you can save some money if you don't plan on skiing every day of your trip.
Are lift passes worth it? You won't be able to make the most of your holiday without a ski pass, so this is one investment you can't scrimp on.
The cost of skiing lessons
Skiing is surprisingly daunting. If you don't believe me, try strapping two planks to your feet and hurtling down a slippery hill.
Before I left for my first ski trip, I took a ski lesson at Snozone in Milton Keynes. Having the opportunity to learn to ski on real snow with an expert coach meant that, when I actually got to the resort itself, I felt confident I had at least a few of the basics down.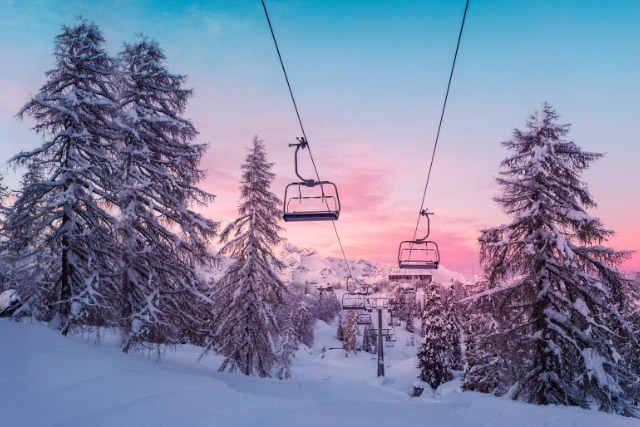 Ski lessons at the resort are even more invaluable for both adults and children. The ski instructors are there to keep you safe, help you improve your technique and show you the ropes slopes. But above all, they're there to make sure you have a great time! Most lessons take place in the mornings, leaving you free to enjoy yourself in the afternoons.
Check out the reviews of ski instructors before you book anything to make sure the instructor is right for you. Group lessons are obviously cheaper than private ones, so it's up to you to decide whether you need one-on-one time or just want to get by with the basics.
Average cost: €259 for an adult beginner group lesson every day for 5 days.
Are skiing lessons worth it? Despite being one of the most expensive parts of a trip when you look at it per hour, lessons give you a solid grounding and a lot more confidence on the slopes. In that sense, yes they are worth it.
Food & Drink: Apres-ski and meals
Apres-ski is an absolute riot. It literally means 'after skiing', and includes any form of entertainment available to skiers when the ski lifts shut and the sun goes down. Val d'Isere offers designer shopping, hiking and other sports, but the most popular form of apres-ski involves food and drink.
There are numerous bars in the centre of the resort, all with special offers and loud music to keep you busy until it's time for dinner. One of the most famous places to spend apres-ski is La Folie Douce – a massive open-air dance party held at the top of a mountain with DJs, cabaret acts and dancers. It's the most fun ever. If you're a party addict, I'd even go so far as to say the apres-ski is worth a visit to Val d'Isere all on its own.
When it comes to lunch and dinner time, alpine cuisine makes the ideal comfort food. It's heart-warming, filling and delicious and ranges from cheese fondues and schnitzel to raclette and hearty stews. Though the food is high in calories, it's just what you need to keep warm after a chilly day exercising on the slopes.
Average cost of food & drink: Allow €100 per day for food and drink for 2 adults if you're staying in a hotel and need to eat out. You can save some money by self-catering and just paying for groceries.
Is the apres-ski worth it? Yes! You go on holiday to enjoy yourself, so you might as well put some money aside for decent food and drink to keep you energised while you're there.
***
Is skiing worth it? The overall verdict
Though skiing can be difficult to master (especially as an adult!) the feeling of freedom you get when sliding down a hill surrounded by your friends and admiring incredible views is definitely worth it.
A holiday on the slopes is something that everyone should try at least once. You might just need to win the lottery before you can afford to do it again…!
Have you ever been skiing? Do you think it's worth the money?