South Africa is full of surprises. Not only can you have incredible wildlife encounters in the country's many national parks and reserves, but you can also soak up the lively atmosphere of cities such as Cape Town and Johannesburg. As it is such a vast country, it can be difficult to decide what to do and where to go in South Africa. But I've made that all easy for you with this post dedicated to the best South Africa holiday destinations. Read on to find out there really is something here for everyone…
My pick of the top South Africa holiday destinations
Cape Town
Cape Town tops the list of the best places to go in South Africa for many travellers. There's so much to do in this wonderful city, from the fascinating District Six Museum, which tells the story of Cape Town during apartheid, to the modern V&A Waterfront – the place for dinner and drinks. But of course, I can't talk about Cape Town without mentioning Table Mountain and its flat-topped summit that towers over the city. Brave the climb or take the cable car to the top and enjoy unparalleled views out over the city and its picturesque coast.
On the journey up, you'll also be able to spot Robben Island – the place that Nelson Mandela called 'home' for 18 years while imprisoned for political crimes. If you have time, Robben Island is also well worth the visit. You can take the ferry over to the island from the V&A Waterfront, and then jump on a bus for a tour of the island by a former prisoner. It really is fascinating! Wildlife lovers can also get their fix in Cape Town thanks to the adorable (but endangered) population of African penguins on Boulders Beach. The beach is a protected habitat for the birds, so you'll need to donate to its conservation before you're allowed to roam free with them. Boulders Beach is a little way out of the city centre in an area called Simonstown, but it makes a great base from which to explore the beautiful Cape of Good Hope.
It's easy to spend weeks exploring everything Cape Town has to offer, but we found it easy to cram everything we wanted to see into 3 days. Have a look at my blog post dedicated to the best things to do in Cape Town for more ideas.
>> For more places to visit in Cape Town, take a look at my 3 day Cape Town itinerary! Click here!
Stellenbosch
Stellenbosch is a dream for wine lovers. There are hundreds of wineries in the area, some offering tours of the vineyards, others simply a place to relax and drink their produce. Simonsig is one of the oldest and most traditional wineries in South Africa, and offers cellar tours and wine tasting in their beautiful gardens. You can choose between two different wine tasting menus, and if you're celebrating a special occasion, they might even bring out the bubbles!
Slightly further east of Stellenbosch, the Franschhoek Wine Tram is definitely on my bucket list for next time. It's a hop-on, hop-off tram tour that takes visitors across the Franschhoek Valley on a vintage, open-air tram. At each stop, you could treat yourself to a wine tour, a spot of lunch or simply just stroll through the vineyards.
The Garden Route and Tsitsikamma National Park
The Garden Route is a much-travelled area of South Africa, spanning 200km along the southern coast between Tsitsikamma National Park and Mossel Bay. The Garden Route is characterised by pretty towns and beautiful scenery, so it's well worth hiring a car and setting your own itinerary here. If you're a beach-goer, visit Knysna. Nature lover? Tsitsikamma National Park is the place for you. With scenes like these, it's not hard to work out why the Garden Route is one of the best places to visit in South Africa.
Nature lovers and adrenaline junkies will love Tsitsikamma National Park in equal measure. It's a huge nature reserve full of green forests and beautiful hiking trails. There's plenty to do here, from zip-lining through the trees and kayaking off the coast to simply taking it all in from the comfort of your deck chair. Storms River is where most people stay when they visit Tsitsikamma National Park. It's a little town full of backpackers guest houses, restaurants and bars, making it the perfect place to rest your head after a busy day in the park.
>> If you want a ready-made itinerary for a 2 week trip to South Africa, including the Garden Route, check out my blog post here.
Oudtshoorn
Oudtshoorn is known as the Ostrich capital of the world because of, unsurprisingly, the thousands of ostriches that call it home. The area is full of ostrich farms, which you can pay to visit but I would not recommend it. Some farms offer ostrich rides, or a bizarre thing called ostrich massages, and you really can't be sure whether they are properly cared for. It's possible to spot the ostriches roaming free, so it's even better to wait for this opportunity instead.
The Cango Caves are another popular site in Oudtshoorn. There are two different types of visit – the standard tour and the adventure tour. The standard tour is a relatively casual stroll through the caves – no equipment required! It takes you to the first part of the caves, where it's wide open and airy. You get to see some incredible formations made of stalactites and stalagmites, including one called The Weeping Willow. For the more limber and adventurous amongst you, you could try the adventure tour. Not recommended for anyone suffering from claustrophobia, this tour takes you deep into caves and may require you to crawl on your belly through very tight spaces. There's a demonstration tunnel in the foyer, so make sure you're comfortable with that before attempting the adventure tour!
Drakensberg
The Drakensberg is a mesmerising mountain range spanning South Africa and Lesotho. The name Drakensberg means 'mountains of dragons', and it's easy to see why here. The landscape is breath-taking, and almost mythical, with the peaks of the mountains resembling the spiny back of a dragon. Doesn't it look like something out of a movie? Rumours have it that J.R.R Tolkien used it as his inspiration for the Misty Mountains in Middle Earth!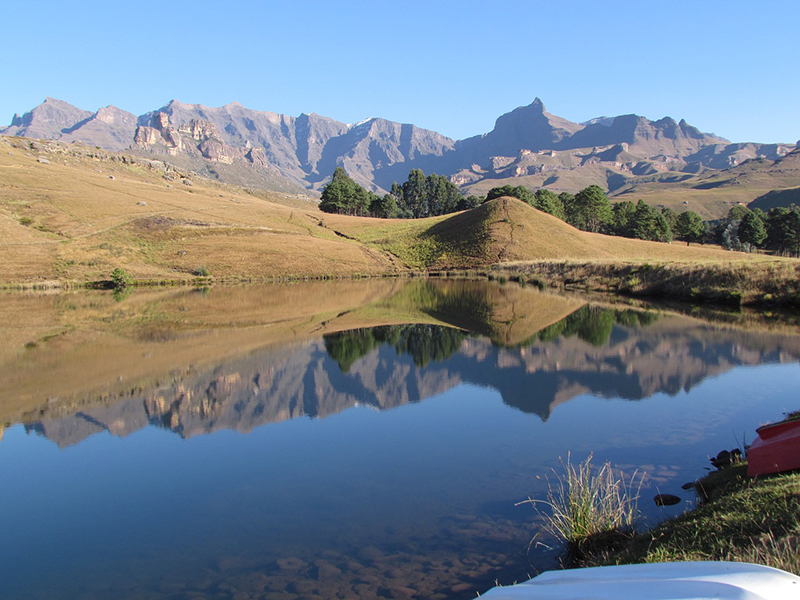 As well as simply admiring the scenery, there's a wealth of activities to choose from from mountain biking and climbing, as well as hiking trails up into the mountain caves to see 2,000 year old Bushman cave paintings. Get Your Guide* has some fascinating guided day trips to the Drakensberg*. Take your pick from their offers below…
>> Find the latest prices for day trips to the Drakensberg* on Get Your Guide now! Click here*!
Johannesburg
Johannesburg is, in fact, South Africa's largest city and deserves its place on this list of the best places to visit in South Africa. Many people just use it as a base from which to go on safari, but there's plenty to do here too. In the city, you could visit the Apartheid Museum to learn about South Africa's tumultuous history of segregation. If political history is your thing, you'll also likely be fascinated by a visit to Constitution Hill – a museum set in a former prison. The museum tells the story of South Africa's political past, with exhibits on high profile prison inmates (including Nelson Mandela) and its military fort.
Regularly topping the list of things to do in Johannesburg is a guided tour of Soweto, the city's largest township. Here, you can visit Nelson Mandela's old home, as well as those of other famous politicians. It's a fascinating place, and I highly recommend taking a guided tour while you're there to really soak up the atmosphere, ask questions and really immerser yourself in the area. Get Your Guide* has some great options.
>> Check out Get Your Guide's selection of tours to Soweto*. Click here*!
Go on safari to Kruger National Park
Being an animal lover, it would be wrong for me not to include Kruger National Park on my list of places to go in South Africa! You can have some incredible wildlife encounters in the country. Kruger National Park itself is just under 20,000km square and home to all of the big 5. Klaserie Private Nature Reserve shares unfenced borders with Kruger National Park, and is easily my favourite place in South Africa to spot wildlife. It was here whilst staying at Africa on Foot* that we had an incredible face-to-face meeting with three rhino while on a walking safari, and also spotted a pack of super rare wild dogs on the hunt. We loved every minute.
Aside from Kruger National Park and its private nature reserves, there are many other options of places to see wildlife in South Africa. Addo Elephant Park, for example, is home to the largest population of African elephants in the country as well as a pride of lions too.
>> Read about the best safari lodges to stay in South Africa in my dedicated blog post. Click here!
***
So there we have it! My favourite South Africa holiday destinations and I hope you'll agree – there really is somewhere for everyone! Have you ever been to South Africa? If you have, I'd love to hear what your favourite places are. Share your top tips in the comments below!
Like this? Pin it for later >>