Athens in winter should be right at the top of your bucket list. With so many reasons to go (winter sun? yes please!) and things to do in the Greek capital (how about everything, just with shorter queues?), you're certain to have a great time.
Imagine Greece and you'll probably think of a stunning Greek island and beach. Or if you're a city lover like me, you'll picture Athens and its glorious ancient sights. In either case, I bet your imagination has conjured up bright blue cloudless skies and soaring summer temperatures Now, imagine those same Greek scenes in winter. Make you shiver? It shouldn't do… there are many benefits and things to do in Athens in Winter that shouldn't just be reserved for summer.
Things to do in Athens in Winter
Visit the Acropolis
A trip up the Acropolis hill has to be at the top of every visitor's things to do in Athens list. It certainly is on mine! And for good reason. Though not as well maintained as the roman equivalents, the Ancient Greek temples and buildings at the top of the Acropolis are still pretty spectacular – just ignore the crane mending the hole in the centre of the Parthenon! As well as the buildings, you'll be treated to magnificent views of the city from the top of the hill.
See other Ancient sights in Athens
If you buy the combined ticket to the Acropolis, you'll also get access to many other buildings and ruins in central Athens including the Roman Agora, Temple of Dionysus and Temple of Zeus. I enjoyed wandering around all of them, imagining the people that used to live there in ancient times.
The New Acropolis Museum
This is another must-visit if you ask me. It's home to artefacts that were once on the Acropolis, including the last remaining marble statues from the Parthenon. There are also videos and exhibits showing you what life would have been like back then, so I found myself learning a lot on our two hour visit. A word of warning: do pay attention to the tiny no photo sign at the entrance to some areas. Those guards are mean.
Changing the Guard
Every hour on the hour, the area in front of the Presidential Mansion fill with tourists all desperate to get a peek of the guards in their little coats, short skirts and bobble shoes. But what they're really here to see is the way the guards march. Their slow motion goose-stepping march is pretty funny to watch.
Get lost in the backstreets in the foothills of the Acropolis
This area of Athens is relatively untouched by tourists, but it was one of my favourite parts of the city. With the houses' white walls and blue roofs, you'll feel like you're on a Greek island, even if the slightly cooler air tries to convince you otherwise.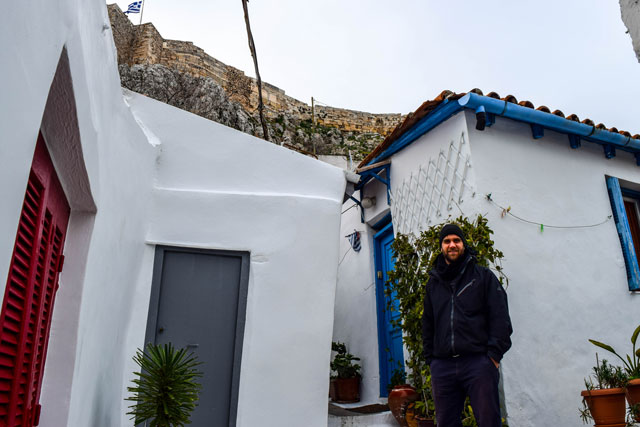 Where to eat and drink in Athens
One of my absolute favourite things to do in Athens (in winter especially) is visit restaurants and bars! We found some great little places that are highly worth a visit – Klimataria, a local's tavern with live music and an incredible menu; and Falafellas, a brilliant street food stall serving the best falafel in town. For drinks, we loved the Central Hotel's rooftop bar, which has stunning views of the sun setting behind the Parthenon in winter; and 360 Cocktail Bar in Monastiraki Square with yet more views (and yummy wine!)
Spending New Year's Eve in Athens
New Year's Eve in Athens is fantastic. It can be as crazy (think organised club nights where even the 16 year olds don't get home 'til gone 6 am), as subdued (most of the restaurants have set menus in New Year's Eve so shop around and book early! We ended up eating at a friends house), or as cheap as you like (at midnight we all congregated to the Herodion Hotel's rooftop bar where we watched fireworks behind the acropolis. Fantastic). Forget London or New York, Athens is the place to be on December 31st.
For more information on how to celebrate New Year's Eve in Athens, check out my dedicated Athens NYE blog post now >>
The benefits of visiting Athens in Winter
The advantages of visiting Athens in the winter months are certainly convincing. Not only will you benefit from the cooler (but still mild!) temperatures, you'll also get much more bang for your buck as the prices drop dramatically in the off-peak season. If you're not already convinced, let's sum up the best reasons to visit Athens in winter:
Flights and hotels are remarkably cheap
Even in between Christmas and New Year, the flights to Athens are quite cheap. Now this made me worry and wonder whether there are actually things to do in Athens in December. But when the flights to Greece are this cheap, it's worth finding out for yourself isn't it? And, guess what, there are loads of things to do in Athens in winter. Keep reading to find out my favourites.
There are far fewer tourists in Greece in winter
During the winter months, everything is a lot calmer and you don't need to fight your way through crowds to get that perfect shot of the acropolis or wake up at the crack of dawn to be first in line for tickets. Win win in my book.
Athens is still one of the warmest European cities in winter
If you're looking for some winter sun, Athens is a great place to go. In fact, I much prefer going to hot countries when they're slightly cooler than normal. This means that there is no wearing yourself out by walking to the acropolis in the baking heat. But do watch out… it can get really really cold. It was a balmy 5 degrees when we were there and it even snowed! I'm told this is highly unusual though, so you might even think yourself lucky to see the white stuff.
All major sights and attractions stay open
Despite it being the low season, all the major sights stay open in Athens, even in December. Saying that, if there are sights you are desperate to see, do check before you travel just in case opening times have changed since I wrote this.
>> If you like visiting Europe on the off-season, why not try Mallorca? Read my post about the best things to do in Mallorca in winter, or try Copenhagen next!
***
Have you ever been to Athens in Winter? Or any other part of Greece? If not, why not? Would you consider going?
Pin for later >>