Planning your trip to Costa Rica? With so many things to do in Manuel Antonio, you'll want to make sure this coastal wildlife haven is firmly on your itinerary. 
If you're unfamiliar with Manuel Antonio, let me tell you a little more. Manuel Antonio National Park is located on the west coast of Costa Rica, just south of the capital San Jose. Together with the towns that surround it, Manuel Antonio is a nature and beach lover's paradise. From watersports and activities to guided tours of the national park itself, there's plenty on offer.
So let's dig into my pick of the 12 best places to visit and things to do in Manuel Antonio, Costa Rica.
1. Self-guided wildlife spotting and walks
It would be wrong to visit Manuel Antonio without heading to Manuel Antonio National Park first! This beautiful area of wilderness is home to many of Costa Rica's animal species, including sloths, capuchins and reptiles. Once inside the park, you'll follow a boardwalk through the forest, keeping your eyes peeled for wildlife around you. 
The boardwalk leads to a beach where you can swim, sunbathe or simply walk along the beach trying to spot sloths in the trees above you. 
From there, there are pathways that lead you up to Cathedral Point where you'll find even more wildlife. It was in this part of the park that we were surrounded by a troop of monkeys, so it's well worth the hike if you can manage to walk a bit further.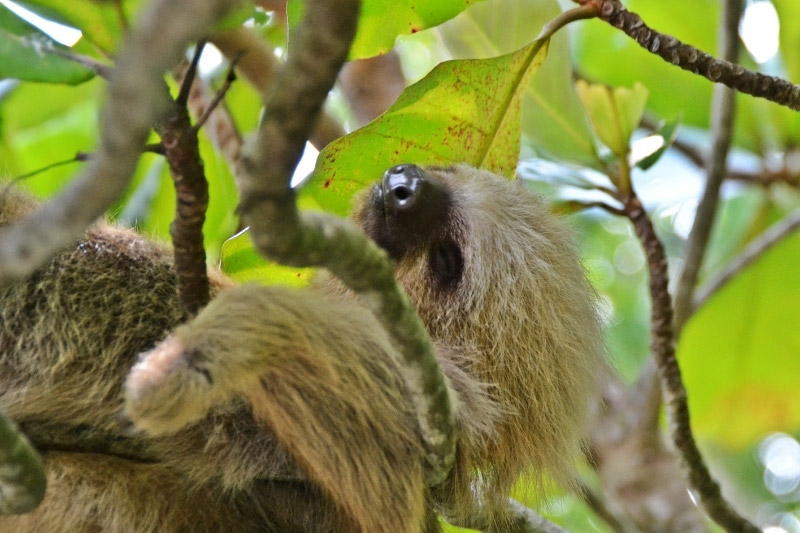 2. Guided tour of the National Park
One of the best ways to explore the park is with a guide. Those sloths aren't going to find themselves! Well… you know what I mean…
Official guides bring telescopes with them to help them spot sloths in trees, as well as many other tiny creatures that you would be hard pressed to find without. The guides really know their stuff and will be able to share lots of information as to the park itself and the animals that live there. 
With the help of a guide, we managed to spot both species of sloth, racoons, Capuchin, howler and spider monkeys, agoutis and plenty of birdlife too. Just make sure you pack your bug spray or pack mosquito repellent clothing as if you're anything like me, you're bound to get bitten here!
3. Party boat tour on the Pacific Ocean
With Manuel Antonio's enviable position on the coast of the Pacific Ocean, a great thing to do here is take the opportunity to spend the day on a party boat. There is a variety of companies and boats to choose from, with all departing from the nearby town of Quepos.
Depending on the boat and company you choose, you may have food and drinks included in the price of your ticket. Some have slides and scuba equipment to help you enjoy the beautiful water, while others have nets where you can relax above the water while you sail. 
All offer you the chance to spend the day enjoying the beautiful scenery as you sail past Manuel Antonio's beaches and further out into the ocean. Make sure you pack your camera!
4. Manuel Antonio and Espadilla Sur Beaches
For beach lovers, there's plenty for you to do in Manuel Antonio too. Once you have walked through the other side of the national park, Manuel Antonio beach offers a picturesque, and therefore really popular, place to sunbathe, swim and relax. Venture a little further to reach Espadilla Sur Beach for a slightly more private rest away from the crowds.
5. Boat trip or canoeing in the mangroves
In nearby Paquita, there are numerous companies offering tours of the mangroves and Rio Cotos. 
Most offer both kayaks and a boat tour where you can sit back and relax while your driver and spotter point out wildlife and other points of interest along the banks. For the more active and adventurous among you, consider a kayak tour. Though it will be at a much slower pace, the serenity and peace and quiet afforded by kayaks means you will be able to see wildlife closer up without disturbing them. 
Once back from your trip, you'll be given a home-cooked meal to restore your energy and a chance to discuss the day's sightings with other guests.
6. Explore Quepos
As the largest town in the areas, Quepos offers local shops, cafes and bars if you've exhausted those in central Manuel Antonio and at your hotel.
A bus travels between Manuel Antonio National Park and Quepos, so for a few dollars you can reach the town in around 20 minutes.
7. Drink in a plane at El Avion
El Avion is a popular restaurant halfway up the hill from Manuel Antonio. The terrace has an incredible view out over the ocean and a spectacular sunset, which is well worth visiting for this alone. 
The restaurant's namesake is the famous CIA/Iran Contra Plane, which rests in the centre of the building. The interior has been stripped and fitted with a fully-stocked bar that guests can drink from and even climb into the cockpit for a fun photo opportunity.
The food is also delicious (with plenty of vegetarian options!), making El Avion one of the best places to visit in Manuel Antonio for a meal or to drink and relax. 
8. Explore the hill between Manuel Antonio and Quepos
Alongside El Avion, there are plenty of other hidden gems on the hill between Manuel Antonio and Quepos. 
As well as the local stores and shops, there are some wonderful cafes including my favourite, Falafel. This authentic, homely and casual falafel bar offers some of the best vegetarian food in Costa Rica thanks to the freshly cooked, local ingredients and warm, laid-back decor. 
9. Wander around the town
The little town by the entrance of Manuel Antonio National Park also has a series of excellent bars, restaurants and tourist shops. Many of the bars and cafes are set over the road from the beach, so you can sit back with a cocktail as you watch the waves rolling in over the sand or to enjoy a meal with a view.
10. Visit Rainmaker Conservation Project
A little outside Manuel Antonio (but well worth the journey) is Rainmaker Conservation Project. This privately owned rainforest was home to the very first aerial walkway in Central America, and is now a tourist attraction dedicated to conserving the flora and fauna of the area. If you've already visited Monteverde on your trip, you'll know exactly what to expect!
Visitors can either enjoy a self-guided tour along the hanging bridges and trails or pay extra to join a private guide to learn as they walk. Along the way, you'll see plenty of animals and birds, as well as a series of waterfalls and plenty of lookout points from which to admire the spectacular scenery.
For ideas on what to pack for your trip to the jungle, read my post about jungle clothes next!
11. Try Scuba Diving
The marina in Quepos is home to a number of companies offering scuba diving trips out to the Pacific Ocean from Manuel Antonio's coast. Divers will be treated to sightings of a huge array of marine life in and around the coral reefs, including puffer fish, parrot fish, sea turtles and octopus. If you're really lucky, you could see manta rays, stingrays and white-tipped reef sharks as well as dolphins and humpback whales beaching at the surface.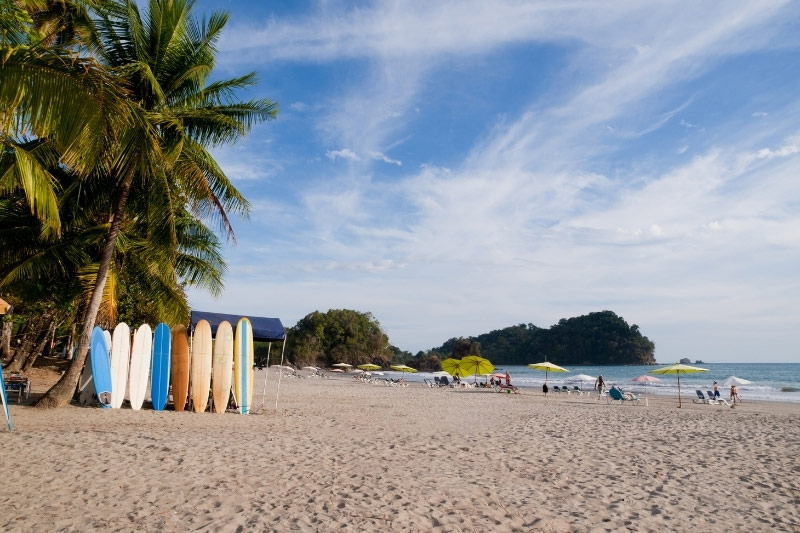 12. Go Surfing
Espadilla Beach is ideal for surfing if you're a beginner or have surfed a little in the past. Though it doesn't offer the same thrilling waves as other coastal areas in Costa Rica, it's still a beautiful place to surf. There are a few different stands along Manuel Antonio beach that rent surfboards and offer lessons, but make sure you choose a reputable company that values safety over budget.
***
I hope this list of things to do in Manuel Antonio has proven that it richly deserves a place on your Costa Rica itinerary. From opportunities to spot wildlife to numerous different ways to explore the local area, there's plenty to do here, no matter what your preferences. 
Like this? Pin it to your Costa Rica board for later >>