Every so often you come across the quintessential English pub. It's got stylish, cosy interiors and roaring fires ready to thaw your fingertips in winter. It's also got an enticing terrace overlooking a river to help you welcome an English summer. The St. George & Dragon in Wargrave, Berkshire, has got all of that, and more. To my delight, that 'more' is the most extensive vegan menu I have ever had the pleasure of choosing from. I simply couldn't wait to tuck in.
A Review of the Vegan Menu at The St. George & Dragon
In many of the pubs I've visited recently, vegans have had the miserable choice between a simple salad or a trusty plate of chips. Thankfully, The St. George & Dragon in Wargrave has gone beyond the Veganuary trend. Their vegan menu is now a permanent fixture, offered to everyone when they arrive. In fact, there are more vegan options on the vegan menu than there are vegetarian options on the main menu! This is great news for people like me – I'm technically vegetarian, but I do try to eat vegan whenever I possibly can.
Though I was delighted with the sheer amount of vegan food on the menu, I was also a little concerned that quantity did not always equal quality. But, I'm happy to report I shouldn't have worried. The food was great too. Let me tell you about it…
The Vegan Starters
Vegans at the St. George & Dragon have a choice of a vegan soup of the day, roasted lentil falafel and pan-fried mushrooms for their first course. I was lucky enough to try the falafel as a canapé, served with a beetroot hummus. Both the falafel and hummus rivalled the dishes I tried in Jordan last year in terms of flavour (sorry, Jordan). The falafel itself was warm and very tasty, and I would definitely order it again.
For my starter with dinner, I chose the pan-fried mushrooms served in a spicy Asian-style broth with a large rice paper cracker. The flavours of this dish were incredible – slightly sweet but also sour, and a little spicy but moreish too. I finished every last drop.
The Vegan Main Courses
For their main course, vegans have a choice of a wholefood salad, a plant-based burger, a caramelised onion tart, a vegetable flatbread, spiced coconut curry and a slow-roasted tomato, basil and almond bake. It was this course that I had the hardest time choosing because I think I would have enjoyed them all.
Yet, I don't think I ate a single one.
Let me explain.
Despite ordering the caramelised onion tart filled with roasted red peppers and lentils, served with pesto, beetroot hummus and toasted seeds, it wasn't until I saw the dish arrive at the table next to us that I realised I had been given something very different.
On my plate was a vegan version of the vegetable tart available on the main menu, filled with sweet potato, onions and tomatoes. While the tart I was given was still very tasty, it's not something I would have ordered had I seen it on the menu.
I'll just have to go back one day to try the caramelised onion tart 🙂
The Vegan Desserts
While vegan desserts are relatively common across menus these days, the menu at The St. George & Dragon still managed to outshine others. There's a choice of a pineapple tart tatin, a chocolate tart, blackcurrant mousse, a treacle & pecan tart and a coconut sorbet.
The pineapple tart tatin I chose for my dessert was the standout dish of the whole meal. I was really impressed with how the pastry was made with vegan ingredients, yet still tasted rich and buttery. The pineapple was sweet, and I simply couldn't get enough of the coconut milk sorbet that it came with. It's the kind of dessert I would order every time without feeling like I was missing out. Props to the chef on this one!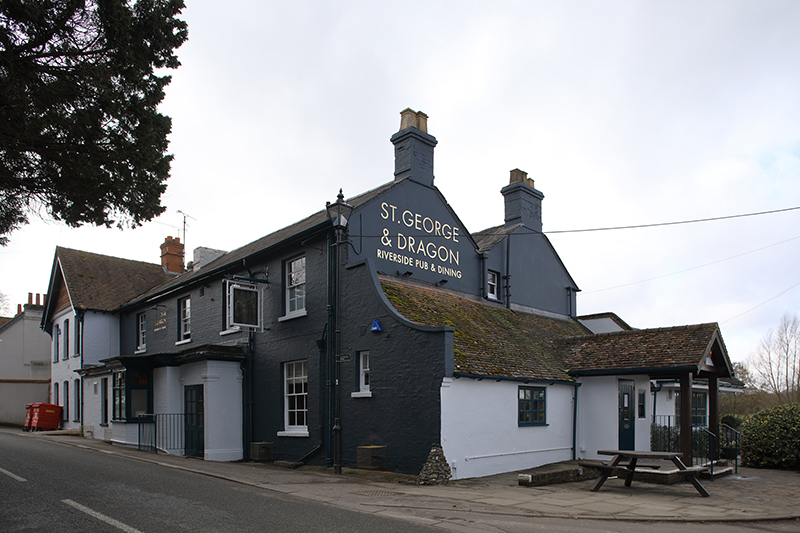 ***
The vegan food available at The St. George & Dragon in Wargrave goes to show how easy it can be for pubs and restaurants to cater for those following a plant-based diet. But even if they don't, I know I've found a great place to keep me going for a little while longer yet.
Disclaimer: I was invited to attend the press night at The St. George & Dragon in Wargrave, and received complimentary food and drink in return for this review. Regardless of the gift, opinions are, as always, my own.