In a city famed for its tapas bars with full legs of ham framed in the windows, you may think it a struggle to be vegetarian in Barcelona. Yet, this hip, cosmopolitan city has come a long way from its traditional Spanish roots. It is now home to some of the best vegetarian and vegan restaurants in Europe, let alone in Spain. 
In this post, I'll share my absolute favourite places to eat in Barcelona as a vegetarian, including tapas. Think the best vegan restaurants, vegetarian-friendly cafes and even some flexitarian options too to keep your meat-eating companions happy. 
100% Vegan Restaurants & Cafes 
La Trocadero
La Trocadero offers 100% vegan fast food in an enviable location, just a few minutes' walk from la Sagrada Familia. This funky cafe offers bright, comfortable seating in an industrial-style dining room with retro touches all around. It's a great place to sit, eat and chill! 
The menu features 11 vegan burgers, including plant-based chicken style burgers, hamburger style burgers, falafel burgers, mushroom burgers, beetroot burgers and more. I chose the 'Crunchy', which is similar to a McChicken sandwich, with lettuce, vegan mayonnaise and red onion. Yum!
If hot dogs are more your thing, you'll have a choice of four vegan sausages topped with vegan cheese, avocado, vegan bacon or a classic mustard, ketchup and crispy onion style. Sides and other yummy vegan extras include nachos, hummus, chips (fries), salads, nuggets and pinchos. 
Vegan Junk Food Bar
The Vegan Junk Food Bar chain started in Amsterdam, and the branch in Barcelona is the company's first international venture. Everything the company does is focused on its sole purpose – to help promote sustainability by serving up delicious plant-based junk food. 
Menu choices range from their own versions of vegan beef, fried fish, Shawarma and ribs served in burger buns with all the trimmings, to loaded fries filled to the brim with sauces, veggies and your choice of vegan 'meat' too.   
Though we didn't personally stop at the Vegan Junk Food Bar to eat, everything on the menu looked incredible. It will be my first stop the next time I'm in Barcelona! 
Flexitarian/Vegetarian and Vegan-Friendly
Oassis Natural Kitchen
Located over the street from Casa Batlló, Oassis Natural Kitchen is a day to night-time cafe that serves delicious lunches and dinners. Their focus is on fresh, local ingredients and healthy combinations, such as salads, poke bowls, burgers and pizzas.
Though the menu does feature meat, it's from sustainable sources, while food and other waste is managed to minimise the kitchen's environmental impact. That said, there are plenty of vegetarian and vegan options to keep everyone happy. Over half of Oassis' pizzas are vegetarian or vegan, and the bases are made from a hand-kneaded dough with very little yeast and a long fermentation period to help promote healthy digestion. The 'Brutal' is especially delicious, featuring gorgonzola, goat cheese, mozzarella, pear, walnuts and rocket on a tomato sauce base. 
One of the burgers on the menu is naturally vegetarian, partnered with hummus and salad on quinoa bread. However, if you mention you're a vegetarian to the staff, they will happily replace the beef burger in any of the other burger choices with a soy veggie burger. I tried the 'Cheese Cheese & Cheeeese!!!', which is a very fitting name for the burger topped with goat's cheese, Emmental, brie, salad as well as a Mexican and Ranch sauce. It was delicious enough to make me come back in the evening to try something else! 
The drinks menu is just as impressive, offering everything from hot coffees, teas and iced lattes to homemade lemonade and soft drinks. For something more alcoholic, you can choose from a long beer and wine list, as well as a delicious menu of cocktails and mocktails that features all the classics like mojitos, daiquiris and caipirinhas. Yum! 
Flax & Kale
Flax & Kale proudly owns its niche as a flexitarian restaurant in Barcelona, boasting that while 80% of its menu is vegetarian or entirely plant-based, the other 80% features oily fish. This is sure to keep any pescatarian or meat-loving companion happy!
Starters at Flax & Kale include kale chips, individual tacos, watermelon, avocado and mango salads, as well as stunning open sandwiches. The first is a salmon sashimi toast with avocado, while the second is a mushroom with a vegan coconut cream and white wine sauce, which I just had to try. It was absolutely delicious, but so filling. I really didn't need a main course after that! If you're gluten-free, don't worry – you're well catered for too. In fact, my husband said it was the best gluten-free bread he had ever had! High praise indeed.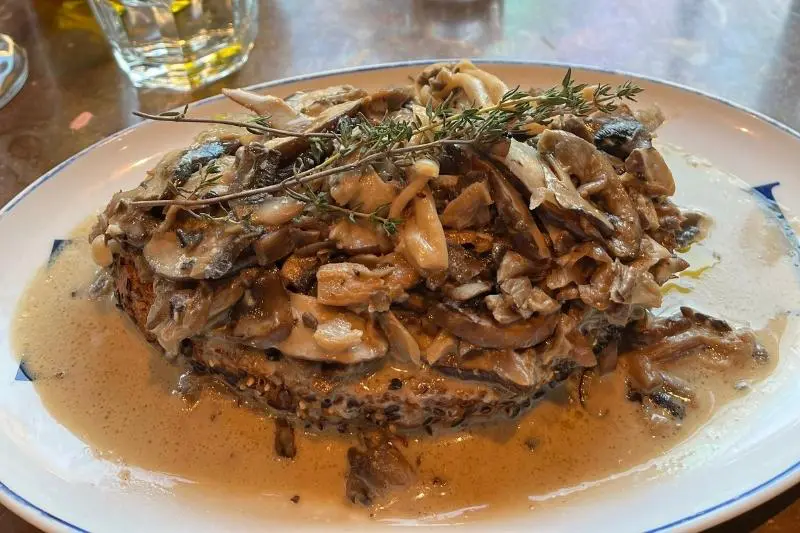 For the main course, you can try salads, pasta, burgers, tacos and rice dishes. There are even a couple of raw dishes, including a raw vegan lasagne and raw zucchini blossoms filled with a vegan cashew cream. In the unlikely event you're still hungry at this point, there are plenty of cakes, ice creams, pies and cheesecakes to choose from. 
The flagship restaurant itself is very laid-back with modern interiors and a New York loft style and vibe. The kitchen is completely open, and holds sustainability at its core. Power is renewable, while the water is purified in-house using a process of reverse osmosis.  
Cal Trapella
Responsible for my favourite vegetarian meal on our latest trip to Barcelona, Cal Trapella is a fantastic little restaurant. Hidden away in the backstreets of Eixample, it attracts more locals than tourists, which gives it a wonderful atmosphere! The fact the menu is only available in Spanish also adds to the authenticity.
Make sure you mention you're a vegetarian to the staff. They're always on hand to help make recommendations or decipher the modern Catalan menu, which included vegetarian tapas. You can enjoy the most delicious mushroom and spinach croquettes, their own take on patatas bravas, open sandwiches filled with goat's cheese and tomato, truffled mashed potatoes with a poached egg, a veggie burger or a rice dish. They also have a number of options that can be made vegan if you ask.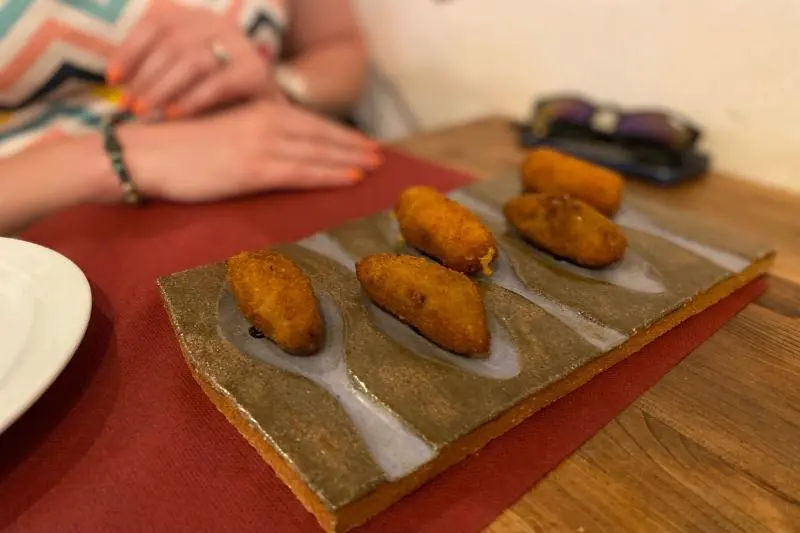 The food here is sensational, and they have a great (reasonably priced!) wine list too. So much so, this might just be my favourite place to eat as a vegetarian in Barcelona. 
Honest Greens
How many 'vegetarian-friendly' places have you been to where salads are the only veggie option? Happily, there are plenty more choices than a few limp leaves at Honest Greens. But even better? Their salads are actually incredible.
I opted for the summer special salad, which consisted of a cherry gazpacho, peaches, watermelon, spinach, rocket (arugula), kale, cherry tomatoes, olives, candied walnuts, pesto and a generous ball of oh-so-creamy burrata. After eating the whole thing, I found myself saying, "if I could only eat one vegetarian thing for the rest of my life, it would be this". Coming from the world's biggest macaroni cheese fan, that's quite some praise!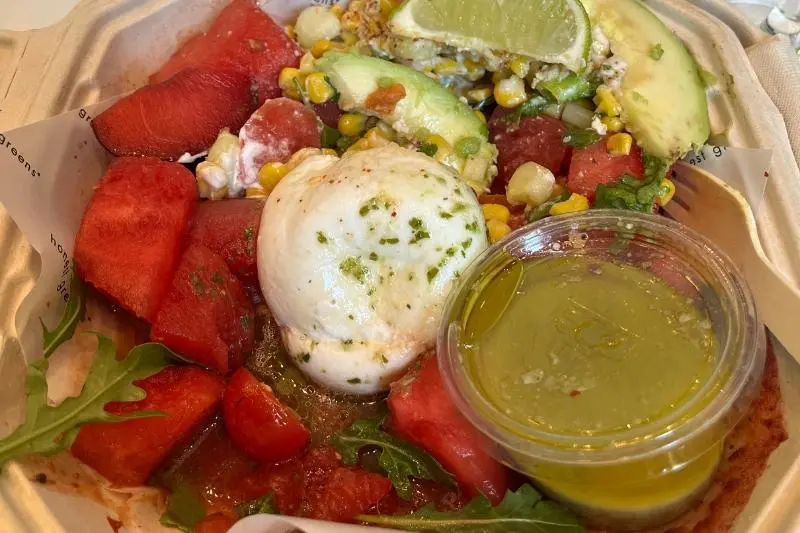 But if a salad still doesn't tickle your fancy after that, Honest Greens remains a great place for vegetarians to eat in Barcelona thanks to the other great options at your disposal. Think market plates crammed full of tempeh or falafel, greens and bread, rice and poke bowls or the entirely plant-based sides, sharing plates, desserts and snacks. Vegans are certainly in for a treat here! 
Despite being a small chain, if you decide to 'eat in' at one of their central Barcelona cafes, you'll enjoy hip, laid-back and rustic surroundings. Be warned, the queues can be long but they do move quickly. 
Or, you could do what we did and use the app to order ahead. From the comfort of our hotel room, we browsed the menu, ordered exactly what we wanted and were then given a time to collect it. Easy as (vegan) pie! 
Mimo's Born
Mimo's Born is a great little tapas-fusion restaurant on the edge of Barcelona's Gothic Quarter. With a menu full of traditional Spanish favourites and Asian twists, it's a great option for vegetarians and meat-eaters alike. 
Veggie choices include a selection of croquettes (I never can say no to vegetarian croquettes, and these ones were amazing!), a vegetarian paella, cheeses, pasta, vegetables with Asian spices and flavours, potatoes and salads. I was tempted by the goat's cheese salad after spotting a delicious-looking plate on the table next to me but, again, the burrata option had my vote. The portions are huge, so make sure you go hungry! 
A special mention must go to their drinks too: the Barcelona Sangria made with cava is exceptional! 
We booked a table in advance using TripAdvisor and were offered space either on the terrace or in the air-conditioned interior. On a boiling hot day in July, heading inside was a great choice, not least because of the 15% surcharge payable if you choose the bustling terrace.  
Taller de Tapas
For a tourist-friendly tapas bar with a few locations around central Barcelona, look no further than Taller de Tapas. With a menu full of tapas you would see in most Spanish tapas bars, it's not going to give you too many surprises, but it does do the classics well. 
The choice of vegetarian tapas includes Padron peppers, mushroom croquettes, patatas bravas, a classic Spanish tortilla, crispy aubergine with goat cheese, breaded brie cheese with berry jam and much, much more. Make sure you check the specials menu too if you want to try something a little different. From there, I ordered a tortilla made with gorgonzola cheese, which I wouldn't order again, but I'm glad to have tried!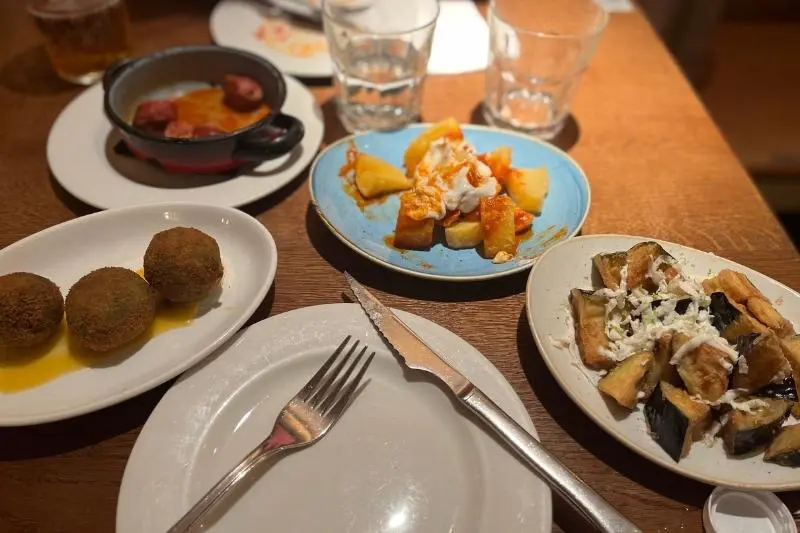 Taller de Tapas isn't likely to win any awards for its quality of decor, but portions are big, prices are decent and the service is friendly too. The location just west of Las Ramblas is a restaurant I first discovered on my first trip to Barcelona ten years ago, so the nostalgia is very real each time I go back!
La Terraza de Anna
This rooftop bar on the top floor of Room Mate Anna offers a gorgeous aerial view of Casa Batlló while you sip on a glass of something cold. Try the Cava Sangria for an even fruitier, lighter twist on the classic Spanish cocktail, made with vodka, orange juice and cava. Yum! 
Though I have only personally stopped at La Terraza de Anna for drinks, I looked at the menu and spotted a few options I wanted to try as a vegetarian. Think salads, tapas and pasta, which I spotted on the table next to ours and it looked great! 
Citrus
Citrus restaurant and sushi bar only has two vegetarian sushi options on the menu, so it's a good job they're tasty and filling enough for a meal! The veggie futomaki features avocado, mango, cream cheese, carrot and green asparagus, while the vegan gunkan features quinoa and soy sauce wrapped in cucumber. But if sushi isn't your thing, you could also try the vegetarian bar snacks or the larger plates, including pasta, salads and stir-fries too.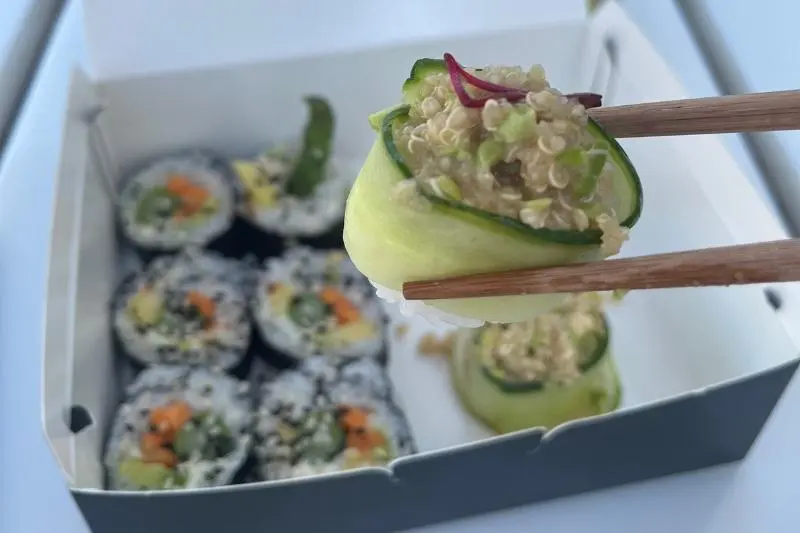 Take a seat indoors in the stylish, modern restaurant, and you'll get another great view of Casa Batlló. Or, you could do what I did and order a takeaway; I wanted to make the most of the private terrace in our hotel room!  
***
So there you have it – the best places to eat in Barcelona if you're vegetarian, vegan or simply trying to reduce your meat consumption. ¡Buen aproveche!