When we were booking our Thai honeymoon, one question plagued us more than any other. No, it wasn't 'Chang or Singha?' or 'Green or red curry?', but 'Krabi or Phuket?' We had heard many things about Phuket, but Krabi seemed to be its closest rival and we were keen to find out why. After lots of research and many sleepless nights (I'm joking) we chose Krabi. Here's why.
The scenery
The thing that stood out most to us when we looked at pictures was just how stunningly beautiful Krabi was. I mean, just look at those limestone cliffs. I'm sure Phuket has equally striking scenery but, to us, Krabi was a paradise we couldn't say no to.
Krabi is also home to one of the most beautiful beaches in Thailand, Railay Beach. I must admit we completely ran out of time, so didn't actually get to visit. I strongly recommend it to anyone that visits Krabi, though, for its sparkling sand and emerald green water with a backdrop of lush green jungle.
Incredible Diving Trips
Krabi also makes a great base for diving trips out to the islands of Phi Phi. And that's just what we did. Kon-tiki diving school has offices across Thailand, including one at our hotel. After a disastrous snorkelling trip in Mexico a few years back, I was dead nervous about trying it again. However, after speaking to staff in the Kon-tiki office, I felt at ease enough to book a snorkelling spot on the full day Exotic Phi Phi Cruise, while Tim took a scuba spot.
On the day of the trip, we were met at Ao Nang beach by staff and other divers before we soaked up the beautiful scenery on our way to Phi Phi Don. We had an hour to explore the island and its souvenir shops and beach before our diving began at Viking Bay. Here we were lucky enough to see the whole cast of Finding Nemo – clownfish, blue tang, even a turtle! Thankfully no sharks, even though they are known to frequent the area…
After lunch back on the boat, we went to our second and final dive spot of the day, Koh Yung. My snorkelling instructor was just wonderful – she could tell I was nervous and let me hold on to the life ring for as long as I needed (the whole day). I will forever be indebted to her for restoring my love of the sea! Tim's scuba instructor was just as good and gave him one-to-one tuition for his first time underwater.
This was definitely the highlight of our trip to Krabi, and something we would never have experienced in Phuket. (There is a Kon-tiki office there too though, in case you're wondering..!)
Things to do in Krabi
Now this is something many die-hard Phuket lovers would challenge us on, but our research on Krabi resulted in a much longer 'must do' list than Phuket. The main street in Ao Nang (Krabi) is home to numerous Thai massage parlours, bars, restaurants and souvenir shops, but this only really kept us busy for half a day. Instead, there are a huge number of excursions you can go on from Krabi, and our love for food meant we jumped at the chance to do a Thai cookery class.
After a pick up in Ao Nang, we were driven to a house a little way out of town and home to the Siam Cuisine Thai Cookery school. We were met by our wonderful teacher who explained all the ingredients used most often in Thai cooking. Then, with expert oversight, we were taught to cook our choice of one of each of a salad, soup, noodle dish, stir fry, curry paste and curry to cook in our three-hour session. All the food was delicious (if I do say so myself!) but my god it was filling. Make sure you arrive hungry!
Direct access to mainland
The real selling point for us was that Krabi is on the mainland, and only a car ride away from many more sights. You can book excursions via your hotel or any of the tourist offices along Ao Nang beach.
Because of my love of anything buddha shaped, we decided to visit the Tiger Cave Temple that got its name from the fact there used to be tigers roaming around the caves before it turned into a temple. Apparently, there are tiger paw prints on the walls, but we didn't see any. The caves are now home to hundreds of Buddha images, and our guide explained the different meanings behind the poses and Buddhist traditions.
Unfortunately, we had the worst day of rain so it was too slippery to take the 1,237 steps up to the summit of the mountain. Not willing to waste our day, we instead headed down the ~200 steps into more caves, which was probably equally as dangerous in hindsight! One lady in our group fell over but thankfully wasn't hurt.
Our full-day excursion also included lunch and a visit to the natural hot springs and emerald pool. The springs and pool were both incredibly busy, which made it difficult to relax. That's why we took the opportunity to trek through the jungle to find the blue pool away from the crowds of Thai schoolchildren and locals. The water in the blue pool was the most beautiful colour, but its temperature and the fact it's surrounded by quicksand makes it too dangerous to bathe.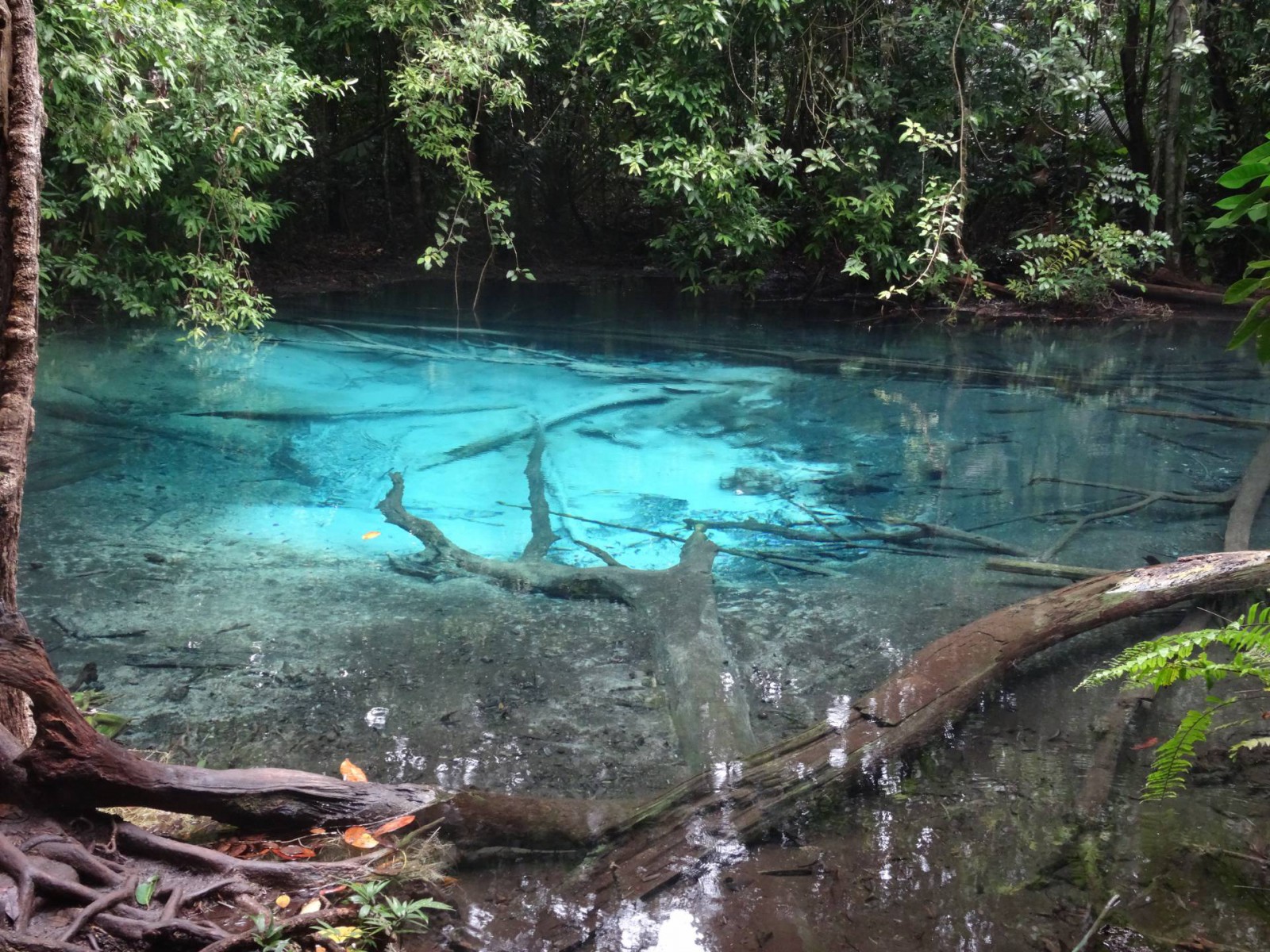 Now I know they're amazingly beautiful and isn't it wonderful that they're completely natural? But I preferred our hotel jacuzzi – at least you get it to yourself!
Peace and quiet
This is the reason most people choose Krabi over Phuket. Krabi is just so much quieter and it's still relatively free of tourists (at least in comparison to Phuket). This was partly thanks to our chosen hotel, the Centara Grand Beach Resort and Villas, hidden in its own private bay and accessed only by speedboat. We felt like James Bonad! (There's an inside joke for you there…)
It was, without a doubt, the best hotel we have ever stayed in. Our room was huge and had stunning views out over the ocean. We even had a jacuzzi on the balcony. Beat that, hot springs! Also, because it was our honeymoon, the staff had laid out petals on the bed and in the bath, and left us with a bottle of bubbly and a cake! It was such a sweet touch.
Now the hotel may not have been overrun with tourists, but it was certainly overrun by something similar. Monkeys! The little blighters were everywhere, sitting on our balcony and rooting through bins – there was even a sign in our room warning us to keep our windows and doors closed so they couldn't come in and steal our bananas – of which we had none.
The only downside was that the speedboat between Ao Nang and our hotel didn't run that late. If you wanted a night out in Ao Nang you could still walk back over the hill through the monkey territory, but it was treacherous enough with a sober head and in daylight. The thought of doing it with a full belly and fuzzy head was just too much for us! This meant we mostly ate and drank at our hotel, but when the food looks and tastes this good, who cares?
~~~
So if you want a taste of Thai beach life without the overwhelming feeling of a tourist trap, Krabi's the place for you too. Saying that, I certainly wouldn't say no to a trip to Phuket in the future either!
Have you been to both Krabi and Phuket? Which did you prefer?