If you're planning a trip to South Africa, Cape Town should be right at the top of your 'must visit' list. This fabulous city is full of natural wonders, historical sights and beautiful people with a fascinating past. If you've only got 3 days to spare, this post of my favourite things to do in Cape Town will help you make the most of your time.
>> If Cape Town is just the start of your South African adventure, read my ultimate guide on how to spend 2 weeks in the rainbow nation
Day 1 – Explore the Cape Peninsula
Cape Peninsula Drive
The Cape Peninsula is the curvy bit that sticks out on a map of Cape Town, just south of the main city. It's a stunning piece of land, characterised by craggy cliffs, hidden coves and turquoise blue waters. Even hardcore city dwellers can appreciate the beauty of this area.
Numerous tour companies offer day trips of the Peninsula, but it's just as easy to self-drive. The full drive along the peninsula will take you past cute little towns and neighbourhoods such as Camps Bay (a celebrity hot spot), Simon's Town (South African naval base) and Fish Hoek (pretty coastal town). We found most of our time was spent admiring the views from various lookout points along the way. You really do need to spend a day on the peninsula to do it justice, including Boulders Beach and Cape Point.
Keep an eye out for the local wildlife on the drive. We were lucky enough to spot kudu, ostriches and dassies, as well as the famous jackass penguins on Boulders Beach.
⏰ Open 24/7 – Spend a full day on the peninsula route
Free – perfect for doing Cape Town on a budget!
Cape Peninsula, Cape Town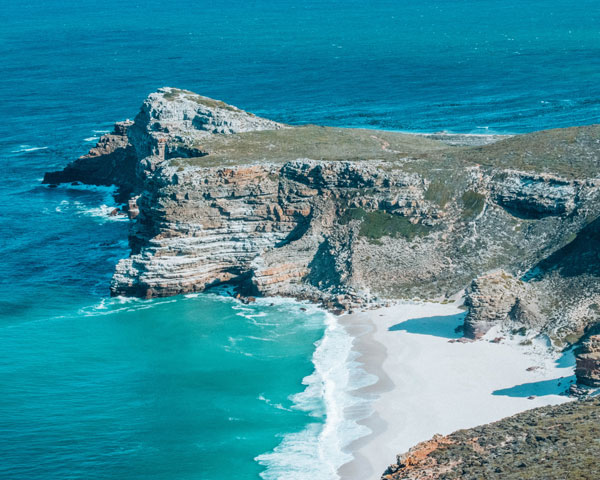 Cape Point
Cape Point is the very tip of the Cape Peninsula, and is set within the Cape of Good Hope Nature Reserve. Reaching the Point signals you're about halfway around your self-drive or organised tour of the Cape Peninsula! Once you're in the Reserve, you can have your photo taken at the most South-westerly point of Africa – there's even a sign to prove it! Next, you can either walk up the hill or take the Flying Dutchman funicular up to the old lighthouse. If you're extremely lucky and there at the right time (roughly June-November) you can spot whales from up here, or just admire the spectacular 360 degree views out to the ocean.
⏰ Open 6:00-18:00 (depending on the season) – Spend 1-2 hours here
R145 per person
Cape Peninsula, Cape Town
Boulders Beach
Now here's something you might not know about South Africa: it has penguins! And you can see them at Boulders Beach. They are jackass penguins, so-called because of their calls that sound like donkeys.
There are two walkways to follow around the beach. Most people follow just one, the one that goes straight forward from the entrance. However, there is another one if you head to the right at the fork. This takes you more into the undergrowth, past little make-shift nests where you might be lucky enough to spot baby penguins. This route is much quieter and you are treated to a really good angle from which to see the penguins splashing about in the water or hanging out in between boulders.
While you're in the area, look out for Coffee & Gelato – the little hole in the wall ice cream shop for a fabulous treat.
⏰ Open 08:00-17:00 – Spend 1-2 hours here
R25
Kleintuin Rd, Simon's Town, Cape Town
Day 2 – Learn the history and geography of the city
Table Mountain
A trip to Table Mountain tops most travellers' lists of things to do in Cape Town. For a leisurely ride with spectacular views, take the cable car up to the summit. Don't be frightened when the cable car floor starts to move – it rotates throughout the 5 minute journey to give everyone the best view of the mountain and Cape Town below. Or, if you're super fit and healthy, you might like to hike your way to the top.
You could spend hours up there, taking photos, admiring the views and drinking hot chocolate from the cafe (it gets pretty cold up there!) Look out for the little dassies that call the mountain their home. They're funny little creatures, whose closest living relative is actually the elephant!
⏰ Cable car is open 08:00-20:30 (depends on the season) – Spend 2-3 hours here
R275-305 for a return trip (depending on the season)
Tafelberg Rd, Gardens, Cape Town, 8001, South Africa
Bo-Kaap
The most colourful neighbourhood in Cape Town, Bo-Kaap has a fascinating story to tell. During apartheid, the repressed Muslim residents were made to wear dark, dreary clothes and live in houses void of any decoration. As soon as apartheid was over, the residents responded to their oppression in the best way possible: by painting their houses in beautifully bright colours. The whole place is an instagrammer's dream if you're looking for things to do in Cape Town that are worthy of a picture on your grid!
⏰ Open 24/7 – Spend 30 minutes here
Free
Bo-Kaap, Schotsche Kloof, Cape Town
Castle of Good Hope
The Castle of Good Hope is the oldest building in South Africa still used today. It was built in the 17th century as a fort by the Dutch East India Trading Company. Now, it's a museum full of artefacts and paintings from Cape Town's colonial past.
It's fun to wander around the top of the castle, where you get an awesome view of the Town Hall balcony where Nelson Mandela gave his first speech as a free man. Of course, the Table Mountain backdrop is also pretty spectacular. If you visit between 10-12 on Monday-Friday, you'll also be treated to ceremonial displays of the gate unlocking and the firing of the signal cannon.
⏰ Open daily 09:00-17:00 – Spend 1 hour here
R50
Darling St & Buitenkant St, Foreshore, Cape Town
District 6 Museum
For those with a keen interest in South Africa's history of apartheid, the District 6 Museum is one of the best places to visit in Cape Town. The museum tells the story of former residents who were forcibly removed and their houses destroyed when the area became a designated whites only zone. Amongst the exhibits, you'll find photos, momentos and belongings left behind during apartheid. The whole thing is heartbreaking but a worthy tribute to those affected. You can choose to guide yourself around the museum or join a guided tour from a former resident for fascinating insights.
⏰ Open 9:00-16:00 Monday – Saturday – Spend 1 hour here
R40-55 per person
25A Buitenkant Street Cape Town
Day 3 – A day at the seaside
Robben Island
No list of things to do in Cape Town would be complete without mentioning Robben Island. Nelson Mandela's former prison island has opened its gates to visitors for a fascinating tour.
Book in advance to get a timed ticket – I recommend the morning to give you plenty of time to do something else in the afternoon. The whole experience takes around 3 hours. Your entrance ticket covers everything including round-trip ferry to the island, a coach tour, entrance fees and guidance.
The boat journey can be quite choppy, so take sea sickness tablets and focus on the horizon to negate the effects! The guides appreciate a tip if you feel they deserve it.
After a 30 minute boat trip from the V&A Waterfront, visitors are met by a coach and taken around the island. With commentary all the way around, visit the quarry where Nelson Mandela once worked, the village and a lookout point back to the mainland. The tour culminates in a visit to the prison where you're guided around by a former political prisoner.
It's incredibly eye opening to hear stories about apartheid and Nelson Mandela directly from the people that knew him. The tour finishes with a quick walk past his former cell before you pile back into the boat for your return trip to Cape Town.
⏰ Boats depart daily between 8:00-17:00 (depends on season) – Spend 4 hours here
R340 per person
Nelson Mandela Gateway, V&A Waterfront, Cape Town
V&A Waterfront
The Victoria & Alfred Waterfront is a lively area of Cape Town – full of restaurants, bars and shops. Once you finish your tour of Robben Island, your boat will drop you off in the heart of the waterfront. You are then free to wander around the harbour in the afternoon. If you're looking to buy souvenirs, this is the place to do it. The market is full of handmade goods from clothes and jewellery to Christmas decorations and art. You can also pick up a delicious lunch and dinner here too, making it a great place to base yourself.
⏰ Open 24/7 – Spend 2-3 hours here
Free
V&A Waterfront, Cape Town
>> If you're visiting Cape Town on a budget, head on over to The Travelling Pinoys blog to find the ultimate budget travel guide to Cape Town
***
What are your favourite things to do in Cape Town? Share your advice in the comments! Want to save this for later? Pin me to your travel boards!