They say that wildlife photography is one of the hardest to master. Yet, it's incredibly satisfying when you get it right. Let me tell you how to improve your wildlife photography with my top tips on taking better photos of animals.
I am a wildlife travel and photography fanatic. Most of my trips have involved seeing animals in their natural habitat. I have seen tigers in India, leopards in Sri Lanka, lions in South Africa, and I've got the photos to prove it. I get more compliments on my wildlife photography than any of my landscapes, portraits or architecture shots. So I like to think I'm doing something right! And now I'm going to share my top tips to improve the photos you take on your next wildlife holiday.
Be patient
I guarantee you'll find the phrase 'patience is a virtue' on all wildlife photography top tips lists, but it is absolutely critical! The fact that animals move is the main reason that people find wildlife photography so difficult. You could be watching a lion for an hour, just waiting for it to move or wake up. But sod's law dictates that the lion will only move as soon as you put your camera down. If you wait long enough, the animal you're watching will undoubtably make it worth your while. Keep your camera trained on the animal because you never know when they might do something interesting!
Invest in the right equipment
Now I'm not saying you need to go out and buy a brand new camera, but it really helps to have some key pieces of equipment if you're serious about wildlife photography. First up, if your camera allows for interchangeable lenses, invest in a telephoto lens. This will help you to get some close up shots without invading your subject's habitat. I would recommend something similar to a 55-300mm, which will give you a great range of shots from wide angles to close ups. The other pieces of kit I recommend are spare camera batteries and memory cards. You can use up both incredibly quickly if you're not careful, so it's always worth having spares.
>> Read more: If you're really interested in photography, check out my other post on how to take better travel photos
Experiment to find the right angle
My favourite style of wildlife photography is super close up, so don't be afraid to zoom in! I love capturing the expressions, detail and character of individual animals, but it's so hard to do that on a wide angle. Yet, other animals deserve to be shown in all their glory. Experiment on your shots to find out which style is best for your situation.
Aim for eye contact
Achieving eye contact is the holy grail of wildlife photography. It can turn a decent picture into an amazing one. The best way to get eye contact is to be on the same level as the animal (get down low), and then stay patient and wait for it to look at you. Try not to disturb it or get yourself into any tricky situations – just wait! When it does, keep the eye super sharp by focusing on the eye that's nearest to your camera.
Go to the right places
I'm sure it's tempting to go to zoos and other 'animal encounter' sites where sedentary animals appear to be posing for your photos, but it's just not natural, so please don't support them. You can read more about the ethics of wildlife encounters here. Instead, increase your chances of taking epic wildlife photos by seeing animals in their natural habitat. How about lions, rhinos and wild dogs in Africa? Or jaguars, capybaras and llamas in South America? Asia is blessed with some of the most majestic creatures in the world, such as tigers in India and leopards and elephants in Sri Lanka. But remember there's also plenty of wildlife available in your backyard. Just look at this cute little squirrel I found in a London park!
Use the light
This tip is true of most photography, but make sure you use the light to your advantage. Get out at sunrise or the all important 'golden hour' just before sun sets for the most beautiful light. You might even be lucky enough to capture some animals in silhouette, like this stunning sunrise in South Africa!
Practice Makes Perfect
The more you do something, the better you'll get at it. Fact. But it you're not lucky enough to live in the savannah, you can use any animal to practise on. How about that little bird that's always hanging around your garden? Or your beloved family pet? My little cat, Lanti, makes the perfect model when I'm practising my close-ups!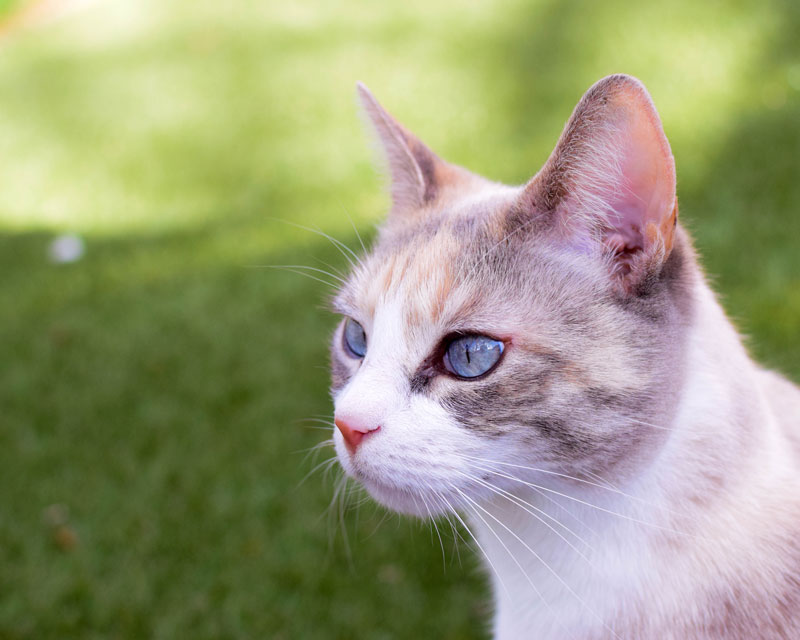 What are your top tips for better wildlife photography? Share them with us in the comments below!
Like this? Pin me for later >>>