If you're planning to spend 2 days in Vienna, this is the perfect itinerary for your whistle-stop tour. There are plenty of things to do in Vienna to satisfy all tastes, including art galleries and historic palaces to satisfy the culture vultures, as well as plenty of parks and boat trips to keep nature lovers happy.
With so much to do, you may struggle to fit it all in, but this 2-day itinerary for Vienna will help you make the most of your time.
Disclaimer: This post contains affiliate links.
Day 1 of your 2 days in Vienna
9 am: Pick up your Vienna City Card or Vienna Pass
To save money and effort in Vienna, consider investing in the Vienna City Card or Vienna Pass. Each one gives you either discounted or free entry into the main tourist attractions, as well as the opportunity to skip the queues at the most popular places too.
If you're struggling to decide between the Vienna City Card vs. Vienna Pass, here are the main differences:
The Vienna Pass gets you free entrance into all the main things to do in Vienna. But watch out, they are only valid for calendar days meaning you can only use a 1-day card up until midnight, rather than a full 24 hours. It also includes both red and blue lines of the sightseeing bus, which is a very handy way of getting around the city.
The Vienna City Card, on the other hand, costs €17 and gives you discounted entry to the main sights, as well as free public transport in the city centre. You can upgrade to include the Big Bus Tours on your card, and travel to the airport as well.
Visiting Vienna? Save time and money with The Vienna Pass | Learn More
9:10 am: State Opera House
You can pick up both the Vienna City Card and the Vienna Pass in the city centre, so take the opportunity to admire the State Opera House while you're here.
The Staatsoper is a pretty iconic building in Vienna, one that you'll walk past even if you didn't mean to as it's considered the hub of tourist activity in the city. You'll need to buy a ticket if you want to see a show, but you can also wander inside for a quick look around the foyer if you don't look too shifty.
Want to see it at night? Don't worry – you'll get an opportunity to see it beautifully lit up, later on in this 2 day Vienna itinerary.
9:30 am: Stadtpark
Vienna is a very green city with lots of famous parks and open spaces, so it's time to explore them! Stadtpark is one of the largest parks in the city centre, with two sections separated by the Wiental Kanal. It's a lovely place to wander, or simply sit and watch the world go by.
Stadtpark is also home to a popular monument of Johann Strauss, so the park is often full of tourists trying to emulate his pose. You might need to wait a little while to get the right angle for your photo!
10 am Belvedere
Belvedere is a large palace complex, just a 20-minute walk outside of central Vienna. It's made up of two Baroque-style palaces, which used to be the summer residence of Prince Eugene, but now house pieces of art, including Klimt's The Kiss.
Even if you're not an art lover, the architecture and landscaped gardens alone are worth the visit. They are made up of flower beds, trimmed hedges, fountains, water pools, sweeping staircases and manicured lawns.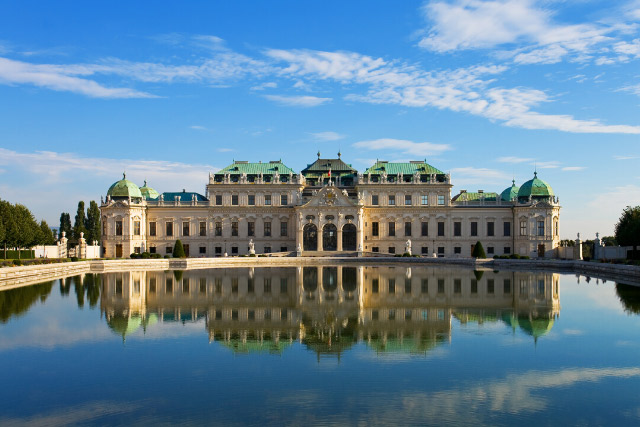 12:30 pm: Lunch at Naschmarkt
After your cultural morning, it's time for lunch. The Naschmarkt market is a 20-minute walk from Belvedere or a 10-minute tram journey to Burgring plus a 10-minute walk.
The market mainly sells frankfurters or other sausages served in bread, but there are also plenty of falafel stands to keep vegetarians in Vienna happy. You'll also find a few restaurants, bars and souvenir stands there too.
1:30 pm: Burggarten
From Naschmarkt, walk 10 minutes back to the centre to find Burggarten, another Viennese park. Burggarten's most visited sight is the famous Mozart statue, complete with a treble clef made entirely from bright red flowers. It's one of the most iconic images of Vienna and you can see why!
The park borders both the Hofburg and Albertina Palaces, so the surroundings are just as impressive as the gardens themselves. You'll also find a butterfly garden and cafe in the palm house here if you need a break from walking.
2 pm: Art History Museum & Natural History Museum
Just over the road from the Burggarten is the Art History Museum and the Natural History Museum. These two buildings stand opposite each other in perfect symmetry – but because of the sheer magnificence of the exterior, you'd expect them to house royalty rather than pieces of art and dinosaur bone. If you're not a fan of art or natural history, there's really no need to go inside because the outside architecture and gardens are impressive enough. Grecian style statues and fountains stand in very neat patterns in the central courtyard, making for excellent photos.
4 pm: Hofburg Palace
The Hofburg Palace is a 13th century palatial complex in the heart of Vienna. At over 240,000m2, this city within a city encompasses imperial residences, art galleries and museums, giving tourists plenty to see. Highlights include the Imperial Silver Collection with its lavish displays of silverware, the Sisi Museum dedicated to the life of Empress Sisi, and the Imperial Apartments where the Habsburgs lived for over 600 years.
You could easily spend a whole day exploring the whole of the Hofburg Palace complex, but if you're running out of time, the beautiful exteriors are just as impressive.
5 pm: Rathaus
Vienna City Hall, or Rathaus, is a must-visit for your 2 days in Vienna. The building is simply stunning. Designed in a neo-Gothic style of architecture, its beautiful facade and imposing tower are decorated with beautiful bright red flowers. The square in front of the Rathaus often plays host to seasonal events, from a festive Christmas market in December to an international food festival in summer.
If you fancy heading inside the building, you can take a free guided tour every Monday, Wednesday and Friday at 1 pm. No need to book – just arrive at the starting point at the city hall's information point a few minutes before the start of the tour.
7:30pm: Dinner at Pürstner
Pürstner is one of the best places to eat in Vienna if you're a vegetarian. This local restaurant is also as Austrian as it gets. The beer is Austrian, the food is Austrian, and even the decor makes you feel like you've just stepped foot in an Austrian Grandma's house. It has red table cloths, wood-panelled walls and even waiters dressed in lederhosen!
The food ranges from big slabs of meat served with potatoes and gravy for the carnivores, to yummy cheese and vegetable bakes for the veggies. And what's more, it's exceptionally good value.
9:30 pm: Night walk of the city
To walk off your hearty meal, take a wander through the city at night to enjoy it all lit up with spotlights. The places you must visit include St. Stephen's Cathedral, the Opera House and the Rathaus, as well as the buildings that make up the Imperial Palace.
10:30 pm: Head back to your hotel
You've got a busy day tomorrow so it's time to find a place to stay in Vienna. Head back to your hotel for a good night's sleep, or prop up your hotel's bar if you've still got some energy. The bar at Motel One Staatsoper is excellent!
Day 2
9:00 am: Schonbrunn
After a good breakfast at your hotel, it's time to take a sightseeing bus or U-bahn out to Schonbrunn to the south-west of central Vienna. Like something out of Versailles, Schonbrunn is a huge and wide summer palace built for the Hapsburg monarchs over 300 years ago. I'll be honest, the outside is much more impressive than its 1,441 indoor rooms. They won't let you into half of them anyway. We whizzed around the bits you can get into in about 20 minutes, and most of that was spent waiting for fascinated tourists to get out of our way. Every room is impressive, granted. But they're all similarly impressive and it's not good to drool over other peoples' wealth. So we didn't.
The gardens, however, were fantastic. Pristine lawns and hedgerows, with an enormous fountain and (other building) out the back. We could have stayed there for hours.
11:00 am: Apfelstrudel show
Also on the Schonnbrun site is Café Residenz – said to be the home of the apfelstrudel. Every day, almost by the hour, an apfelstrudel genius shows hungry visitors how to make the famous Viennese dish in a kitchen auditorium. While the baker is stretching the dough with their elbows (yes, really), everyone is given a piece to try. You could tell it had been sitting out for a while but it was still good. They give you a recipe and sell ingredients in the kitchen shop if you wanted to give it a try at home.
12 pm: Lunch at Trzesniewski
A short walk from the St. Stephen's Cathedral is Buffet Trzesniewski Dorotheergasse. It's the best place in the city to enjoy mini open sandwiches, which have now become a traditional Viennese lunch thanks to this cafe. The sandwiches come with a wide variety of toppings, from vegetables, fish and meat and you'll need about 4 per person for a light lunch. At €1.40 per sandwich, that's quite a cheap meal for a European capital city!
1 pm: Stephansdom
This huge cathedral looms over Vienna and is one of my favourite religious buildings in the world. Its roof is covered with yellow, green and black tiles making it much more interesting than your usual cathedral stone. As well as the grand statues and porticos in the main part of the building, you can visit the towers and look out over the city and the roof in more detail. If you're not scared of heights, it's definitely something for the list.
2 pm: Catacombs tour
Also in the cathedral, you can visit the underground crypts and tombs. The main tomb is reserved for bishops and other significant figures from Vienna's past, but there are smaller rooms dotted about for storing the bones of victims from the Black Plague. It's pretty harrowing but fascinating to see. I couldn't look at everything and the frequent reminder from the guide not to get left behind otherwise he'd lock us down there forever made it seem even scarier. Go if you dare… it ended up being one of my favourite things to do throughout our 2 days in Vienna!
3 pm: Boat tour
Next, it's time to soak up the sights from the comfort of a tour boat along the banks of the Danube Canal. Depending on which boat tour you select, you could enjoy local refreshments, music concerts or live commentary from guides as you float past some of Vienna's lesser-known sights.
Take a look at the different types of boat tours on offer from Get Your Guide below:
7:30 pm: Dinner at 7Stern Brau
If you're a fan of Austrian beer, head to 7Stern Brau for dinner. It's a brewery that serves an ever-changing selection of fresh beer as well as some delicious food too. Just like the restaurant from yesterday, there's something for every taste. Meat eaters will enjoy the traditional schnitzel, sausage or goulash dishes, while vegetarians have a choice between spinach dumplings, fried cheese or vegan chilli. It's all perfectly washed down with the brewery's home-brewed beer.
9:30 pm: Dessert at Cafe Museum
On the way back to your hotel, stop off at Cafe Museum for dessert. It's a beautiful little cafe with opulent surroundings, red plush chairs and waiters dressed in suits with waistcoats and bow ties. Even at 10 pm at night, Cafe Museum is still busy with locals and tourists enjoying coffee and dessert.
The Sacher torte and apple strudel with vanilla sauce, in particular, are delicious, but you really can't go wrong by ordering anything from the menu.
The Best Vienna Tours
Sightseeing bus in Vienna
The Vienna hop-on and hop-off sightseeing bus is the perfect way to get around and learn about the city at the same time. All lines of the sightseeing bus are included in the Vienna Pass and they teach you far more than you'd ever care to read about in a guidebook. What's not to love?
Guided tours of Vienna
Where to stay in Vienna
As one of the most popular city breaks in Europe, Vienna boasts a huge variety of hotels. From luxury guesthouses to boutique hostels, there's somewhere to stay in Vienna to suit every budget and taste.
Here are my top picks for the best hotels for your 2 days in Vienna:
The stylish Motel One Staatsoper hotel is just a stone's throw away from the Opera House, putting it in an enviable position in the centre of the city. The interiors of this hotel are just as attractive as its 19th-century exterior, blending modern furniture with classical plasterwork and original stone floors. You can get a double room from €82 per night. Book now!
Mercure Vienna First is a boutique-style hotel just a few minutes' walk from St. Stephen's Cathedral and many other sights in central Vienna. The interiors are stylishly decorated, from the plush bedrooms to the designer bar and restaurant. Double rooms are from €104 per night. Check out the latest prices on booking.com now.
The Hotel Marc Aurel is located in the historic old town, just a few minutes' walk from the banks of the Danube Canal and St. Stephen's Cathedral. All rooms are modern, clean and comfortably furnished, giving you everything you need for a long weekend in Vienna. The on-site restaurant serves delicious Mediterranean food as well as an extensive breakfast buffet. A double room starts at €82 per night. Book your stay today!
>> If you have 3 days in the city, check out Suitcase & Wanderlust's 3 day Vienna itinerary!
***
And that's how you spend 2 days in Vienna! I hope this list of things to do and places to visit in the city has convinced you that Vienna is the perfect destination for your next city break. It's a beautiful city well worth visiting.
What would you do with 2 days in Vienna? Share your ideas in the comments below!
Pin for later >>