If your time and budget only stretches to 24 hours in Monaco, this itinerary shows you exactly how to fill your one special day.
Monaco is a small principality in the south of France, less than an hour from Nice Airport. It's a fantastic city break destination throughout the year, thanks to its mild weather, beautiful scenery and plenty of things to do and see. However, it also has a reputation for being luxurious and a very expensive place to visit. With that in mind, most people prefer to keep visits short.
Here's how to spend one day in Monaco, in the best way possible.
What to do in Monaco for a day
8 am: Grab breakfast from a boulangerie
The boulangeries in Monaco are as good as any in France. Thankfully, you'll find plenty, all offering fresh croissants and pastries as well as delicious coffee. Go on, have a cup… You'll need one if you've only got a day to explore Monaco!
8:30 am: Head out on a walking tour
Once you're full of energy from breakfast, set off on a walking tour of Monaco, taking in all the top sights. There's really no need to hire a car or use public transport once you're here. Despite the hills and various levels, everything is within walking distance and the best way to see it all is on foot. 
Of course, no trip to Monaco is complete without at least a sighting of the famous casino in Monte Carlo. Start your walking tour here by admiring the building, the gardens in front and the supercars parked outside. The current art installation is also worth a photo thanks to the mirror that reflects the entire building and beautiful blue sky (if you're there on a good day!)
9:00 am: Visit the Japanese Garden
A relatively unknown sight in Monaco is the Japanese Garden, created in 1994 at the request of Prince Rainier III. It is a serene place to wander as it was made in accordance with Zen principles in mind. This is right down to the structures and stone lanterns that were either made in Japan themselves or created from authentic Japanese materials.
Spend some time strolling through the gardens to admire the tea house and Zen garden as well as the waterfalls and ponds where the koi carp hang out.
9:30 am: Get your speed fix along the Formula 1 track 
If you're a fan of Formula 1, you'll have heard that the famous track runs on the streets of Monaco. You can walk most of the route but, with only 24 hours in Monaco, it's probably best to concentrate on the hairpin corner outside the Fairmont Hotel and my favourite part, the tunnel.
Many residents and tourists channel their inner Lewis Hamilton by taking their cars through the tunnel, with their revs high and speed up to the max. But you can get the same thrill even if you're walking, with the echoes of the revs ringing in your ears.
9:45 am: Walk along the Harbour
From there, stroll along to the harbour to rub shoulders with the rich and famous. You could honestly spend hours people-watching down here, admiring the hundreds of superyachts and boats moored along the boardwalks.
Have some fun picking out your favourite and give it a name!
10:15 am: Grab a Gelato 
In my opinion, the best gelato stand in Monaco is set in a corner of the harbour, making it the perfect place to refuel. It's called Le Pattaya and serves almost 40 varieties of gelato, with flavours ranging from the traditional strawberry, chocolate and vanilla to more exciting flavours like tiramisu and peach.
Once you've chosen your flavour, either eat it as you continue your walking tour of Monaco or grab a pew on the harbour walls and watch the world go by.
10:45 am: Head up The Rock
When you reach the other end of the harbour, take the road around the craggy cliff to reach the elevator that connects Avenue Saint-Martin and the Oceanographic Museum. This gives you a free and easy ride to the top of 'the rock'.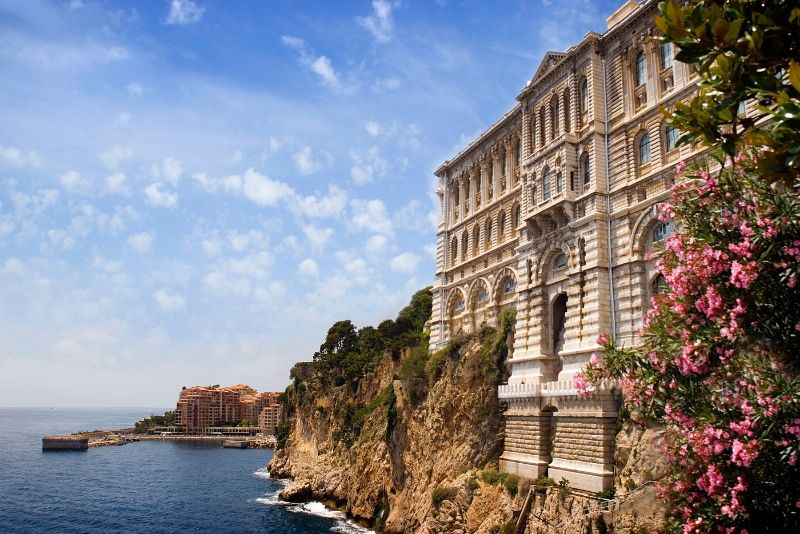 Not only will you be treated to beautiful views from the top, but there's also some major points of interest up here. For example, the Chapelle de la Visitacion museum, Saint Nicholas Cathedral and, of course, the Palace is up here too.
Make sure you're in the main square in front of the Palace before 11:55 am to catch a glimpse of the Changing of the Guard. At this time every day, the guards conduct their traditional ceremony in full dress uniform, with rifles and their small brass band too.
The whole thing takes around 10 minutes, so after that, take some time to explore the neighbourhood until you get hungry for lunch.
1:00 pm: Find somewhere for lunch 
Luckily there are plenty of places up here to eat, including budget-friendly street food stalls and cafes. Try Arrow Burger for good value food, including a range of vegetarian options, while the Italian dishes at La Tavernetta come highly recommended too.
2:00 pm: Tour The Prince's Palace
While the Prince's Palace is the private residence of Prince Albert II and his family, some parts of the palace complex are accessible by tourists. The State Apartments will open for visitors again in April 2021, and tickets cost €10 for adults. Once inside, you can explore the luxurious and opulent interiors of the Mirror Room, the Throne Room and more.
If you don't want to take a tour of the inside, or you're visiting while the State Apartments are closed, you can still enjoy exploring the grounds around the outside.
4:00 pm: Explore Fort Antoine 
Take your time wandering back down the steep hills towards central Monaco. On the way, stop off at Fort Antoine – a fortress built in the early 18th century, which now acts as an amphitheatre for open-air theatre. It's small, but a relatively unknown sight, making it well worth including in your 24 hour Monaco itinerary.
4:30 pm: Relax at the beach
Larvotto Beach is a man-made beach in Monaco and the only public one in the principality. You can take part in various water sports, go swimming in the Mediterranean or simply kick back with a book until dinner.
8:00 pm: Time for Dinner
Dinner can be one of the biggest expenses in Monaco, but there are some brilliant places to eat.
For example, Quai des Artistes is a Parisian-style brasserie set next to Hercule Port. The menu specialises in fresh seafood, so vegetarians may struggle with just one option. 
But don't worry! Being just over the border from Italy, Monaco has some excellent Italian restaurants that offer more affordable but still delicious food, including more vegetarian choices. One such place is Bella Vita. This unassuming Italian restaurant by the port is a fantastic place to eat in Monaco. You can enjoy large portions of delicious pasta, pizza and secondi as well as some fabulous wines too.
10:00 pm: Return to Casino Square 
Finish off your day in Monaco by seeing if you can spot some high rollers arriving or leaving the casino. You can simply 'hang out' in front of the casino, or you could take dessert and a drink from one of the bars nearby. Yes, they're expensive, but you're only here for a day so you might as well make the most of it!
Where to stay in Monaco
The only way to finish your 24-hour itinerary is to check in to somewhere comfortable and welcoming to sleep. Our top choices are:
Hotel de France – This simple hotel offers some of the best value accommodation in Monaco. All the rooms are bright, air-conditioned and have everything you need for a short stay. Just a short walk from the harbour, it's in a great location too. Book your stay!
Port Palace – A boutique hotel in the heart of Monaco, overlooking Port Hercule – what's not to love? You might even be lucky enough to have harbour views! As well as comfortable, beautifully designed rooms, guests will have access to the hotel's restaurant on the roof terrace. Book your stay here!
The Fairmont – One of the most well-known hotels in Monaco, The Fairmont is the building you can see behind the famous hairpin corner in the Monaco Grand Prix. Ideally located within easy reach of Casino Square, and complete with a rooftop terrace and swimming pool, there's a reason the Fairmont is so popular for visitors. Book your stay here!
How to get to Monaco from Nice Airport
There are a few different ways to reach Monaco from Nice Airport. There are positives and negatives for each one, so it's up to you to decide which is best for you:
110 Bus – The 110 Express Bus leaves once per hour from Nice Airport and takes around 50 minutes to reach the centre of Monaco. The first bus of the day leaves at 8:45 am, and the last is at 9 pm, while in the opposite direction the timings are slightly earlier, with the first bus at 6:45 am and the last at 7:35 pm. A return ticket costs 33€ per adult.
Train – Nice Saint-Augustin train station is a 20-minute walk from the airport and from there, it takes 34 minutes to reach Monte Carlo train station. Trains go every 12 minutes and cost just 4.20€ per person each way. The journey takes a scenic route along the coast, so make sure you admire the view from the window!
Taxi – By far the fastest route from Nice Airport to Monaco is the taxi. You can hail one from outside the terminal all through the night, so no matter what time your flight arrives, you'll be able to reach Monaco. The journey takes around 40 minutes and is on a fixed rate of 90€.
If you've got the budget, you can also hire a helicopter for the real superstar experience!
***
Even with just one day in Monaco, you'll get a great feel for the principality and everything it has to offer. While this itinerary covers the highlights, there's plenty more to do here that you're bound to want a return visit very soon indeed.