Being a vegetarian in Paris is very easy, if you know where to eat. While France is perhaps better known as a meat-loving country, the rise of vegetarianism in both locals and visitors has caused Paris restaurants to add more veggie items to the menu. Not only that, there's also many more vegetarian and vegan restaurants in Paris now which means the choice is better than ever.
In this post, I've listed out my favourite places to eat in Paris if you're a vegetarian, or simply looking to cut down the amount of meat in your diet.
The Best Places to Eat as a Vegetarian in Paris
Hank Vegan Pizza
Vegan food in Paris is covered thanks to Hank. As much as I dreamed of meeting him on my visit to this vegan chain in Paris, Hank is actually an acronym for 'Have a nice karma'. It's no surprise, then, that all of their three burger places and one pizzeria offer completely plant-based food and drinks. Their focus on limiting their impact on the environment whilst creating a welcoming atmosphere for their guests is admirable, and the food definitely doesn't disappoint.
At Hank Burger, each burger is made up of a yummy burger bun (gluten-free buns available too!) filled with a tofu and mushroom burger, salad and vegan cheese. Then, it's up to you to choose your favourite sauce and extra toppings to finish it off.
Hank Pizza serves vegan pizza in Paris by the slice, making it easy for you to try a couple of different flavours or share a variety with your friends. Toppings range from vegan cheese and vegetables to hazelnuts and meat substitute. They've all got one thing in common – they're delicious and completely plant-based, making Hanks one of the best vegan pizza places in Paris.
Bistrot Vivienne
Our favourite restaurant in Paris with vegetarian options is Bistrot Vivienne. As soon as we walked through the doors of this traditional French bistro, we knew we would like it here. But it was once I checked out the vegetarian section of the menu that I felt at home.
To begin your meal, sadly there's only one vegetarian option, but thankfully it's one of the best French vegetarian dishes – onion soup. Still, I had been desperate to try French onion soup since I arrived in Paris, so I was very happy to see it on the menu and give it a go. And I was not disappointed! The savoury onion broth was full of sweet red onions, and topped with chunks of bread and a layer of melted cheese.
By the time my main arrived, I was already full but still determined to try the veggie options. I picked the cheesy pasta dish over other options of lentil salad, pumpkin and rice, ravioli or a vegetable trio made up of three different dishes. The pasta was delicious, but bear in mind that it comes topped with Grana Padano cheese which is not vegetarian due to the animal rennet it contains. Make sure to ask for it without the Grana Padano and you'll be set.
Sadly we didn't have room for pudding, but everything on the menu sounded delicious. We'll definitely give them a try next time we're in Paris.
Le Potage de Charlotte
Widely hailed as perhaps the best vegan restaurant Paris has to offer, le Potage de Charlotte serves gourmet plant-based cuisine made from seasonal local ingredients. The menu at both locations offers exquisitely designed plates of food, with standout dishes being the rice and chickpea pancake starter and the black quinoa served with parsnip cream for main.
On Sundays, Le Potage de Charlotte offers one of the best vegan brunches in Paris. Paying for the set menu will get you one hot drink and one cold drink, as well as four small dishes including pancakes, avocado and chestnut yoghurt.
It's run by two vegan brothers who place sustainability and animal welfare at the heart of everything, so eating at Le Potage doesn't just taste good, but it feels good too.
Open Cafe
While it doesn't offer anything that special, Open Cafe is another safe bet for visitors looking for vegetarian options alongside their meat-eating friends or family. Another great thing to note is that the vegetarian dishes aren't limited to the normal unimaginative burgers or salads – although they feature on the menu too. In fact, the reason we stopped here in the first place is that the specials board offered a Croque Vegetarian – a veggie take on the traditional French sandwich, filled with Mediterranean vegetables and feta cheese. I had been desperate to try a Croque Monsieur since arriving in Paris but had yet to find one that didn't contain ham until we stumbled across Open Cafe.
It's a cafe by day, but turns into a lively bar at night time, which you'll be able to tell by the nightclub memorabilia dotted around, including the disco ball hanging from the ceiling and the neon lights framing the bar.
Fric Frac
Speaking of Croque Monsieur, Fric Frac is one of the best places to get Croque Monsieur in Paris, especially for vegetarians. It's a relaxed cafe with a great atmosphere up by the canal, and a great place to meet friends for lunch or a light dinner. If there's no room in the small cafe (hungry people are often queuing out the door!) you can always pick up your croque from the takeaway window outside.
But the atmosphere is all well and good, but what about the food? Well, that doesn't disappoint either. The current vegetarian option combines delicious ingredients, including goat cheese, dried fruit, honey, chives, shallots and rosemary with bechamel sauce. It all makes for a surprisingly sweet but savoury sandwich that lets vegetarians try the traditional French toastie.
Vegans can enjoy a cold version, made with asparagus, hummus, avocadoes, tomatoes, dried fruit, onions, capers, basil and mint. I'm drooling just writing about it!
Brasserie Mont
The unassuming Brasserie Mont near Luxembourg Gardens is a cosy neighbourhood bistro serving simple food and plentiful drinks. Though there are only a couple of options on the menu for non-meat-eaters, Brasserie Mont is still a good choice if you're in the area and looking for vegetarian food.
I ate the gnocchi with spinach and cherry tomatoes, and it was very tasty and filling. If you're vegetarian, make sure to ask for the gnocchi without the cheese on top because sadly Grana Padano contains animal rennet.
Cloud Cakes
If you're vegan, Paris has got you covered with patisserie too! Cloud Cakes is an unbelievable vegan cafe and bakery in Paris' 2nd arrondissement, just north of the Louvre. The coffee shop is light, modern and instagrammable to boot. With its popular breakfast menu served daily, the coffee shop is easily one of the best places to eat breakfast as a vegan in France, let alone in Paris! The croissants and pancakes are perhaps even better than their non-plant based cousins, thanks to the fresh and local ingredients used to make them.
At lunchtime, Cloud Cakes serves soups, salads and vegan grilled cheese, but make sure you save room for dessert! The cupcakes, pastries and gateaux are insanely good, so much so, you won't believe they're vegan.
Even if you don't make it to Cloud Cakes, most sweet things found in Parisian boulangeries and patisseries are vegetarian. However, make sure you look out for anything that contains jelly as it's likely to be made with gelatine.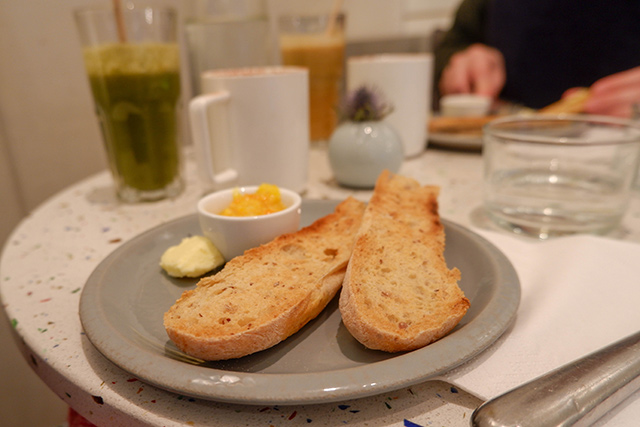 Noglu
Noglu is not only a gluten-free cafe, but most of its menu is also vegetarian too! It's also one of the few gluten-free cafes in Paris that's open on a Monday. However, if you do go on a Monday, go after 9am to make sure their delivery driver has been. They had practically run out of everything from the previous day when we arrived when it opened at 8:30am. It was only as we were leaving at 9:30am that the delivery driver turned up with trays full of delicious gluten-free eclairs, brioche and cookies. But it was too late!
Instead, we enjoyed a gluten-free breakfast of baguettes and jam, fruit juice, hot chocolate (made with coconut milk) and cookies inside this chic, modern and totally instagrammable cafe.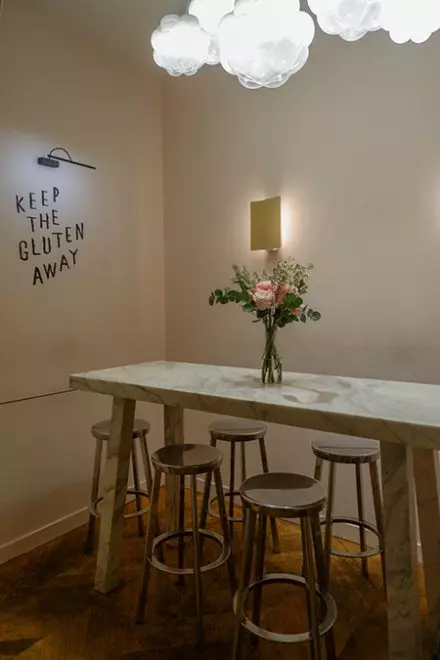 Krishna Bhavan
There are two Krishna Bhavan locations, which is great news as they're some of the best Indian vegetarian restaurants in Paris. They're warm, inviting, authentic, and the best bit? They're even open 7 days a week, which you'll come to find is actually a luxury in Paris…
The restaurants can quite get busy and hot inside, especially with the spicy dishes! But don't worry – just wash it all down with a chilled mango lassi and you'll cool off in the best possible way.
As well as a huge choice of curries served with lentils, paneer or various vegetables, the menu also contains North Indian specialities including Dosa pancakes and Poori breads. No matter what you choose, you won't leave hungry or poor as the portions are large but the prices are small.
Abattoir Vegetal
Despite its gruesome connotations, Abattoir Vegetal is actually a well-thought-through name for this vegan restaurant, set on the site of a former butchers shop. The interior of the restaurant bears no resemblance at all to its previous life, thanks to its white walls and tables, large windows and bright green plants.
The food served is largely organic, gluten-free and a far cry from the traditional vegan options of lentils and avocados. To start, choose from a fennel salad, a mezze board or a veloute. The delicious mains include a falafel burger and a rich hearty stew served with rice. And for pudding, vegans rejoice! You can have tiramisu or panna cotta. What a treat!
L'As du Fallafel
Israeli food is very popular in Paris, especially amongst vegetarians because… falafel! And where better to try it than the place that is widely regarded as the best falafel place in Paris, L'as du Fallafel. No surprise, then, that its name literally translates as 'the ace of falafel'.
Just a few minutes' walk north of Notre Dame, this unassuming restaurant makes the perfect place to stop for a vegetarian lunch whether you decide to eat in or take away. While the menu offers salads, chips, stuffed aubergine, hummus, various mezze and shawarma for the meat-eaters, you simply can't beat the falafel sandwich.
Imagine a freshly baked pitta bread, filled with shredded cabbage and carrot, chunks of cucumber, tomato and aubergine, generous portions of hummus and tahini, as well as the star of the show, crisp fried falafel balls. With so much deliciousness crammed into one soft pitta, this place is definitely worth the hype.
Yummy & Guilt Free
Waffles are another must-eat vegetarian treat in Paris, and one of the best places to try them is the small but perfectly formed Yummy & Guilt Free. This cafe is famous for serving gluten-free waffles on sticks, but they're so much better than that makes them sound!
I'll be honest. I was a bit dubious about the fact the waffles were gluten-free, but if anything, they're better than standard waffles. And the fact that they are 20% lower in calories than those made with wheat, this place certainly lives up to its name.
Though the savoury menu is limited for vegetarians, you might find a seasonal salad or vegetable topped waffle that you can eat. But, let's face it, why would you have a savoury waffle when you can have a sweet one? Take your pick from the standard waffle delicately piped with vanilla custard, salted caramel, chocolate or plenty of other sweet options. They're all delicious and light enough you could even have two!
La Galette des Moulins
If you're looking for vegetarian food in Montmartre, head to La Galette des Moulins – an unassuming bakery come cafe in the heart of the tourist streets. I stopped by after drooling at the sight of the croissants and eclairs in the window, but stayed for the vegetarian Croque Monsieur on the shelves.
After it was warmed up by the friendly cafe owner, I took it out to the covered courtyard to tuck into its crunchy outside and gooey cheesy, vegetable filling. Even though I was in Paris in winter, the patio heaters outside kept me warm until I finished every last bite.
One thing to bear in mind here is that choosing to eat inside is very casual and not particularly environmentally conscious. You'll be given a plastic tray, paper plate and plastic cutlery to eat with. To eat least save on the cutlery, opt to take your food away and eat out of a recyclable paper bag. 
You may also like my post about being a vegetarian in Barcelona!
Bretons Creperie
You can't go to Paris without trying crepes, especially as a vegetarian. While you can find them everywhere, from market stalls to street vendors, do yourself a favour and visit a fully-fledged creperie like Bretons.
This cafe, inspired by the owners' roots in Brittany, serves a choice of over 20 different savoury galettes and sweet crepes with plenty of vegetarian options. They're all made to order from a buckwheat batter, meaning they're all naturally gluten-free – depending on your choice of topping of course. Opt for various savoury combinations of cheese, eggs, salad and vegetables, but make sure you save room for dessert as the sweet options are tres bien. Chocolate spreads, salted butter, whipped cream, fruit, nuts, jams… you can have it all!
Though there are only a few tables inside, it's worth waiting around for one. The cafe's interior is warm, welcoming and full of atmosphere, thanks to the jazz soundtrack and friendly staff.
***
So ignore the tired stereotypes of frogs' legs and escargot, there's a huge choice of vegetarian food in Paris and it's pretty darn good too. From traditional French patisserie to modern vegan cuisine, vegetarians certainly won't be hungry.