Knowing where and what to eat in Marrakech, Morocco can be tricky as there are so many amazing cafes, restaurants and traditional food stalls on offer.
With so much choice, where do you decide to go?
I'm pleased to say all of the places listed below come with personal recommendation from my friends and work colleagues and, now that I've been there and tried them out, my own personal recommendation too.
Authentic Tagines and Couscous
La Terrasse des Epices was recommended to me by a work colleague. As soon as we got there, we could see why. Shady tables were set all around the outside of a terrace overlooking the heart of the Medina. They even give out sunhats if you've been silly enough to take one of the tables in bright sunshine.
The food was typical of Moroccan dishes – a myriad of flavours and aromas, with a bit of French influence thrown in for good measure. It was our first taste of Morocco when we arrived, so we wanted to try some traditional Moroccan food – stews cooked in tagines, served with couscous. The fish version comes highly recommended!
Everything was very reasonably priced and delicious too, so it's definitely worth a visit (if not two!)
La Terrasse des Epices; 15 Souk Cherifia. Sidi Abdelaziz. Marrakech Medina; Website
>> If Marrakech is just the beginning of your trip, check out this 3 week Morocco itinerary for some more travel inspiration!
Moroccan Breakfast
Thanks to the wonderful hospitality of Moroccan riads, you might not even need to leave your accommodation for dinner. For those that don't know, a riad is a traditional Moroccan house that welcomes guests to stay. Nearly all of them offer breakfast, and I'd guess most offer dinner too.
The one we stayed in, Riad Jnane D'Oh, was a beautiful example. With only four rooms the place was the perfect solitude we needed following hectic days getting lost in the souks and desperately trying to lose our tails ("you're going the wrong way! It's this way to my cousin's rip off shop!")
I'll be honest, we only ate breakfast there but as there were more staff than guests, we were pretty much waited on with teas, omelettes, fresh fruit, traditional pastries, breads and porridge. To this day, it's still the best breakfast I've ever had and it's all because we didn't want to leave.
Riad Jnane d'O; 28 Derb Arset Aouzal Marrackech Medina; Website (TripAdvisor)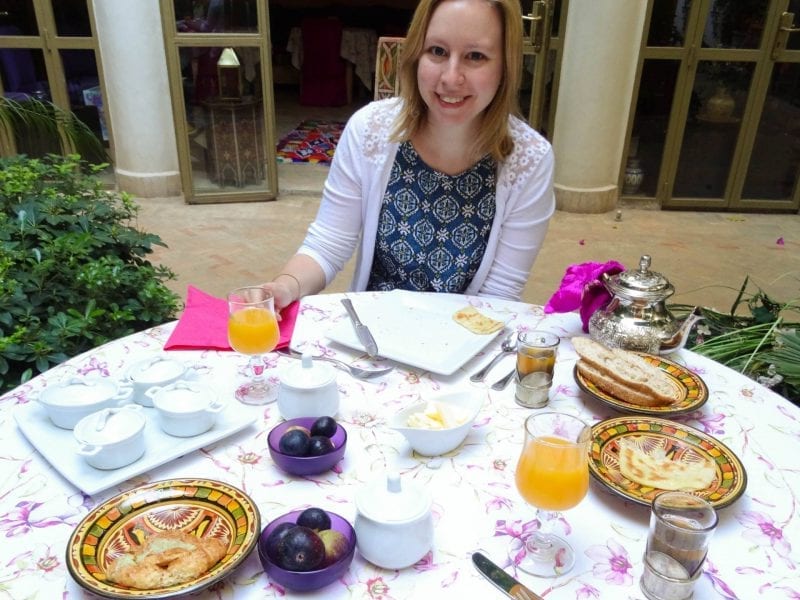 Moroccan Dinner Party Cuisine
I was surprised to find there is quite a lot of nightlife in Marrakech. While some restaurants do not serve alcohol, others make it their selling point that they do.
The Comptoir Darna is a huge restaurant designed for groups who want to eat good food in pretty spectacular surroundings. I don't remember the food that well, (and I've probably got the alcohol to thank for that), but the free cake and flowers from the staff to celebrate our anniversary was a special treat.
But to be honest, you don't come here for the food.
As soon as we had finished our main course, our table was completely cleared and a stream of barely dressed women descended the stairs to dance in on and around our table! Despite how crude that sounds, it was all done quite tastefully and we felt we had witnessed some culture there.
Just be warned – the experience comes with some of the highest prices in the city.
Comptoir Darna; Avenue Golf, Hivernage, Marrakech; Website
Moroccan Street Food
The Fna Square is an absolute riot of colour, smell and noise. You can't miss it. And after being lost in the souks trying to find it, the wide open space is incredibly welcoming. At night the square comes alive with food stalls serving fresh and tasty food with Moroccan roots.
I'll admit I didn't get to eat anything from the market as my delicate stomach and vegetarian mind told me not to. But all around us, people were enjoying themselves sat up at the long picnic tables that separate the food from the snake charmers.
Jemaa El Fna, Derb Chtouka, Marrakech
Romantic French Inspired Cuisine
Without doubt my favourite restaurant in Marrakech was in a hotel around the corner from our riad. La Maison Arabe is set in a beautiful courtyard overlooking a pool, with familiar Moroccan architecture, beautiful archways and exotic lanterns. It's an incredibly romantic setting and that's why I loved it. Tim and I had our anniversary while we were there, so it was the perfect place for a celebration.
Of course, the food has to be good too, and La Maison Arabe certainly delivered on that front. The restaurant serves a mix of traditional Moroccan dishes and slightly fancier French plates if they take your fancy. We finished off with a yummy chocolate fondant that oozed as well as any other I've tried. Yum!
La Maison Arabe; 1 Derb Assehbe, Bab Doukkala, Marrakech; Website
***
Where are your favourite places to eat in Marrakech? Did you brave the markets?
Pin for later >>>