If you're planning on visiting China in October, there's a chance you'll be visiting China in Golden Week – a national holiday that happens twice a year around the phases of the moon. While it may sound like a lovely celebration to be part of, it could also wreak havoc on your travel plans.
You see, visiting China during Golden Week is much like travelling through any other country while the locals are all desperately trying to get home to see their families.
But what does that mean for you as a tourist? Will everything be closed? Will public transport be running? Here's everything you need to know about Golden Week in China as a tourist.
When and what is Golden Week?
There are a number of Golden Weeks throughout the year in China – the first is in January or February, set around the Lunar New Year. The second, between the 1st – 7th October, is known as the National Day Golden Week because China was officially inaugurated on 1st October in 1949. This Golden Week may also take in the Mid Autumn Festival.
Each Golden Week is a national holiday celebrated in China created with the sole purpose of increasing domestic tourism and long-distance family visits. In order to celebrate Golden Week, factories and offices close giving locals the perfect opportunity to explore their own country. As a result, tourist sites tend to get very busy.
First time visiting China? Read my top tips for a wonderful stay before you book. Click here >>
What is visiting China in Golden Week like?
Many people would recommend avoiding Golden Week due to inflated prices and crowds, but it can actually make a wonderful time to visit China.
The Festive Spirit
Being a national holiday, the locals certainly know how to get into the festive spirit with special food and celebrations. During the Lunar New Year, especially, the streets are lined with golden streamers, red lanterns and twinkling fairy lights, while the Mid Autumn Festival in October is traditionally celebrated with moon cakes.
Moon cakes are beautifully decorated pastries with a variety of fillings, including red bean, lotus seed or chocolate. They're typically made and gifted during Golden Week, so a friendly local might give you one to try, and hotels often have a batch ready to greet their guests with. Some have an egg yolk in the centre symbolising the full moon. Others are filled with meat, but that might not be obvious until you bite into one. Vegetarians in China beware!
Clear Skies
If you're visiting large industrial cities like Beijing, Golden Week could bring wonderful weather. As the factories close to allow staff some time off, the tell-tale smog and pollution that hangs over the city dissipates and you'll be treated to incredible clear skies.
Visiting major tourist attractions during Golden Week
With nearly the entire population off work for the entirety of Golden Week, they're likely to be attracted to visit all that China has to offer. And with such instagrammable attractions as the Terracotta Warriors and Great Wall of China, can you blame them? This can, however, make them incredibly busy.
The Terracotta Warriors
Terracotta Warriors is one of the busiest tourist attractions in China regardless of the time of year. But during Golden Week, it's almost unbearable. I say that from experience! In the main hall, I was almost crushed in the crowds, as everyone is trying to catch a glimpse of the porcelain army. The best photos I managed to take were of the back of people's heads or the miniature models in a workshop nearby – hardly an experience to treasure forever!
It's best to plan your visit well in advance, and try to get to the visitors centre as early as possible so you'll be one of the first there. Alternatively, being one of the last there could mean you get to enjoy the view with no-one pushing from behind. Just avoid the peak times in the middle of the day and you should be fine.
The other parts of the museum were much quieter than the main hall, so you might be best to limit your visit to the other areas.
The Great Wall of China
The Great Wall of China also gets very busy. Luckily, the length of the wall means the crowds are fairly spread out, and you may also find an area where you're the only people in sight. Avoid Badaling and Juyongguan, and opt to visit lesser known sections like Jinshanling instead.
Again, try going early in the morning to enjoy the wall at its quietest. Visiting in the afternoon is also a good option, but you may be rushed to leave before the wall closes for the night.
As some parts of the wall are quite steep with little to hold on to, it's best to avoid these areas. If you see huge crowds in front of you, take it as an opportunity to rest for a while and admire the view until the crowds have dissipated in front of you.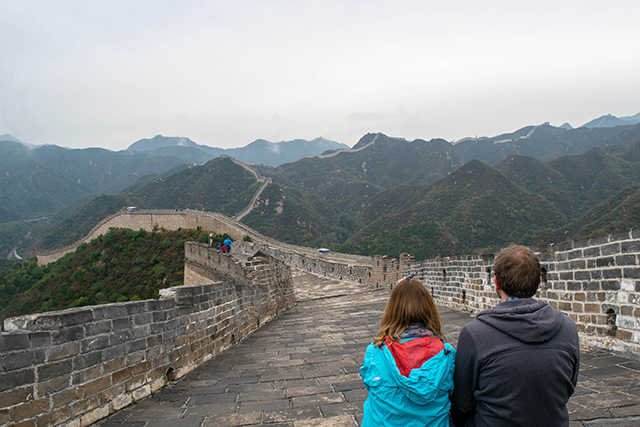 How to avoid the Golden Week crowds
Other than my tips above, the best way to avoid the crowds at popular sights would be to head out on an organised tour through a company like GetYourGuide. The local guides are certain to know all the best ways to avoid the crowds (if you want to!)
Here's just a small selection of their recommended tours of China, but there's plenty more where that came from on their full site:
Are opening hours affected by Golden Week?
Owing to the captive audience, most tourist attractions in China will stay open during Golden Week to cater for the increased number of tourists this time of year. Opening hours of well-known sights are mostly unaffected as a result.
However, you may struggle to find restaurants that are open as usual, as this is a time for families to eat together at home. Make sure you check opening hours with individual restaurants once you find one you like.
Using transport during Golden Week
Public transport is very busy during the holidays, so it's highly recommended to book a seat on a train or a sleeper cabin far in advance of your travels to guarantee there's space.
If you choose to travel by bus, you should also be aware that the roads are incredibly busy with locals choosing to drive. Keep an eye on traffic updates, and allow a lot of extra time for your journey.
Places to stay in China during Golden Week
Remember that you'll be competing with plenty of domestic tourists for hotel rooms in the national holidays, so it's best to plan your stays far in advance.
Not sure where to spend Golden Week? Check out my recommendations in my Perfect 9 Day Itinerary. Click here >>
Here's a few of my favourite cities to visit during Golden Week, and my recommended places to stay:
Where to stay in Beijing
China's capital is home to the famed Tiananmen Square and Forbidden City, as well as being within driving distance to certain parts of the Great Wall. Beijing comes alive during Golden Week, with celebrations marking the Lunar New Year and a military parade for China's National Day on 1st October. There is plenty of choice for hotels in Beijing, but my favourites include:
Michael's House Beijing is a wonderful hotel offering an authentic stay with its traditional decor and architecture. It's located in a quiet street in the Haidian District, a 20 minute drive away from Tiananmen Square. If you book far enough in advance, you could get a double room during Golden Week for $75 per night
For a stylish stay in the commercial district (which is likely to be deserted during Golden Week!) try the Shangri-La Kerry Hotel. It's a modern hotel with a huge range of facilities and a delicious buffet breakfast. A double room costs from $130 per night
The incredible Peninsula Beijing is the perfect place for a luxury visit to Beijing. It's within walking distance of the Forbidden City, though the traditional Chinese interiors of the Peninsula may mean you never want to leave it. Double rooms start at $330 for a night during Golden Week, but it's worth it…
Where to stay in Xi'an
Xi'an is home to the Terracotta Warriors and one of the oldest, best preserved city walls in the country. It's a must visit during Golden Week if you don't mind the crowds! Some recommended places to stay include:
The Grand Park Xi'an is a centrally located hotel close to the south gate of the city wall. The stylish rooms combine authentic design with contemporary comfort, and some even have views of the wall itself! A double room during Golden Week starts at $96 per night.
The Campanile Xi'an Bell Tower is, unsurprisingly, conveniently located 550 yards from the Bell Tower. Rooms are modern, clean and comfortable and there's plenty of facilities to keep you occupied too. You can stay in a double room for $76 per night during Golden Week.
The Eastern House Boutique Hotel is a super stylish and modern hotel in the heart of Xi'an. The interiors are impeccably styled with oriental touches and modern features, and the food is excellent too! Double rooms start at $170 per night.
Where to stay in Shanghai
Shanghai is my favourite city in China, thanks to its modern architecture and cosmopolitan style. You'll be spoilt for choice for places to stay here, but why not try…
The Radisson Blu Hotel Shanghai New World is set in the heart of Shanghai, close to the People's Square. Rooms are comfortable and modern, but the standout feature of this hotel is the rooftop bar with incredible views out over the city. You can stay in a double room here over Golden Week for $113 per night.
Much like other hotels in the chain, the Campanile Shanghai Bund Hotel offers great value for a stylish and modern stay in Shanghai. This one is located just a few minutes walk from the Bund waterfront and its famous skyline. A standard double room will cost around $80 per night in Golden Week.
Just a few minutes walk from the Yu Garden, the Renaissance Shanghai Yu Garden Hotel is a peaceful haven in bustling Shanghai. Rooms are full of luxury touches, including freestanding baths, sumptuous linen and some even have city views that rival that of the top floor swimming pool. Prices start at $120 per night for a standard room.
---
So whether you're planning to be in China to celebrate all that Golden Week has to offer, or if you've only just discovered your trip coincides with it, follow these tips for a holiday to remember.