The next stop on our Tour de Thailand was Chiang Mai – a northern city famous for its mountainous landscape, temples and night market. And guess what? We saw it all.
Fascinating temples with stunning views
Chiang Mai is home to hundreds and hundreds of Buddhist temples, the most famous of which is 1,000 metres up Mount Suthep just outside the city. It's said that a white elephant carrying a religious relic climbed up the mountain and died on the spot where the temple was built. There's a white elephant statue there to mark the story.
The journey up was almost as fascinating as the temple itself. The road was incredibly steep but we saw some heroic cyclists pedalling all the way – I was in complete awe! Luckily, we had a minivan take the strain for us and we were treated to the most wonderful view of Chiang Mai from the top. The temple itself was a riot of gold leaf and buddha statues. Although it was busy with tourists, I felt a huge sense of serenity and calm up there. It was my favourite temple visit in Thailand.
We also visited Wat Chedi Luang in the historic centre of Chiang Mai. The main temple is in ruin following a major earthquake in 1545, after which the famous emerald buddha was moved to a different province. One of the other buildings has a slightly creepy wax statue of a monk who had reached nirvana.
We enjoyed wandering around the site and spotting monks in their bright orange robes. It was a great visit, and another sight definitely worth putting on your Chiang Mai to do list.
Top Tip: Remember to cover your shoulders in places of worship. And if you want to use the toilet at Wat Chedi Luang, take your own flip flops or slippers. They have spares available there, but you just don't know where they've been…
The best khao soi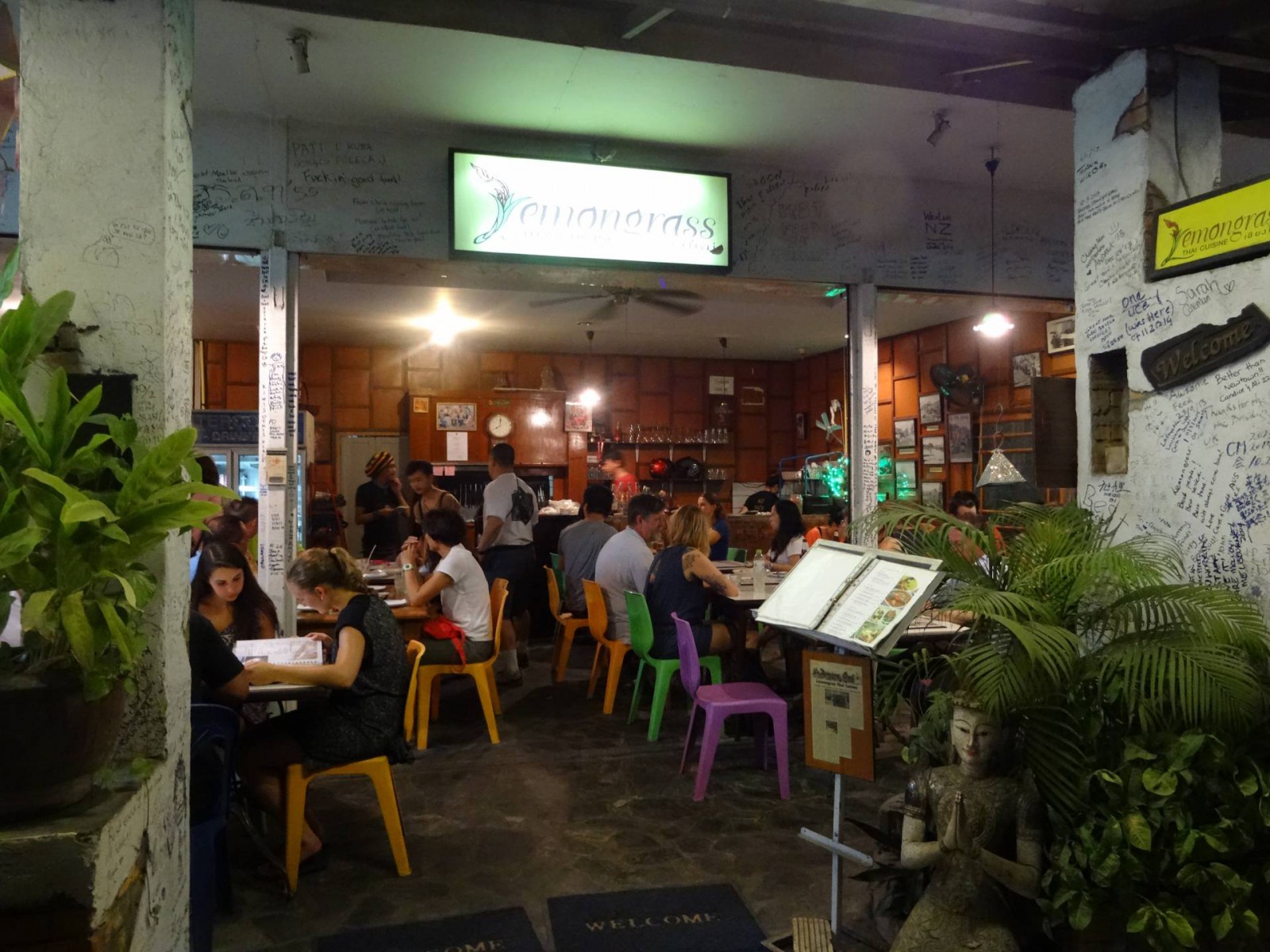 Now, it wouldn't be a wouldbetraveller blog post without some mention of food, would it? Lemongrass is a wonderful little restaurant, just a few steps from the Night Bazaar. It is deliciously rustic with visitor graffiti all over the walls and waiters that looked more like Thai backpackers than staff. But that's why I loved it – I felt so at home.
It was also where I had my absolute favourite meal of the entire trip – khao soi, a curry-like noodle broth and one of the best things to eat in Chiang Mai. I'm salivating just at the thought.
Top Tip: As we left Lemongrass, there were people queuing half way down the street to get in, it was obviously popular. Arrive early and prepare to want to stay the whole night if you do go.
Bamboo rafts
After a visit to an elephant camp, we were treated to a bamboo raft back along the water. It's possibly the most relaxing and serene thing you can do in the whole of Thailand. The land was just so peaceful – we could only hear the movement of the water and the faint chirps of tropical birds. Plus, give me a hat and you're on to a winner.
Top Tip: Please please PLEASE consider going to one of the more ethical elephant camps. The Patara Elephant Farm receives rave reviews as you spend a whole day with an elephant, learning how to take care of them and riding bareback to avoid the heavy and downright dangerous metal seats so many camps throw on elephant backs. Their website even states it is "not for those who expect to see elephant dancing and perform tricks or walk on their two legs". Hell, I'm tempted to go back to Chiang Mai just so I can visit this place.
An average hotel
The Duangtawan Hotel was a bit of a disaster if I'm totally honest. Our air conditioning unit broke (bad) and ended up flooding the entire room (worse) so we were upgraded to a suite (not so bad). Unfortunately Tim had contracted a really nasty tummy bug (we're not sure from where… we'll blame Bangkok) so he stayed in bed while I made the most of our separate living room and free movie channels that played Die Hard on repeat. I swear before this trip I had never seen Die Hard, but now I know all the words. "No f*cking sh*t lady. Does it sound like I'm ordering a pizza?"
That reminds me.
Top Tip: Don't order the pizza! It was like a shortbread biscuit with a cold tomato and whole garlic clove jam and a sprinkling of melted cheese on top. Gross gross gross. At least it was memorable, I guess?
The Night Bazaar
One thing the hotel was good for, though, was its location. It was just a few steps from the famous Night Bazaar – an absolutely huge outdoor market that just seemed to go on forever. It sells everything you could ever wish to buy – food, clothes, souvenirs, accessories, gadgets, toys, massages and cut-price brands. But it's not just a place to go for the shopping. There are mini stages all over the bazaar with Thai dancers and music, all decorated with lanterns and lights. It makes a great night out all on its own!
Top Tip: Our guide book that says if it's sold outside, it's fake. We weren't sure which bits of the market counted as 'inside' so we just assumed it was all fake. You should probably do the same.
~~~
The biggest Top Tip of all: Go to Chiang Mai! It is a region of juxtaposition – peaceful countryside and temples are just a few minutes' drive from the hustle and bustle of the most fantastic market I've ever been to. One thing's for sure – you'll never get bored.
What are your top tips for visitors to Chiang Mai?